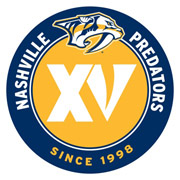 Nashville, TN - The Nashville Predators held on to defeat the Florida Panthers Tuesday night 4-3, at Bridgestone Arena, as neither team would give any ground.

Shea Weber got the scoring started at 9:23 of the first period, as he fired a bullet past Jacob Markstrom from the blueline on an assist from Mike Fisher.

Florida would tie it, scoring first in the second period, when a turnover by Nashville wound up with Florida's Scott Gomez on the right wing. Gomez passed to a trailing Jonathan Huberdeau who was entering the offensive zone. Gomez slid around Kevin Klein and slid the shot under Predators goalie Pekka Rinne at 1:16.

Score was tied at 1-1.

Mike Fisher then gave the Predators a 2-1 lead at 12:48 of the second period, as he converted off a Florida turnover while racing off the bench. Fisher became the first Nashville Predator to reach two goals for this season with that score.

Marcel Goc tied it up again for Florida at 13:30 of the second after Predator Victor Bartley misplayed the puck. Score tied at 2 apiece.

The Predators came out storming to start the third period, and it was evident they meant business from the opening face-off. Craig Smith broke the 2-2 tie at 1:22 of the third, as Florida was in the middle of a line change. Smith took a loose puck off a passing play from Shea Weber and Gabriel Bourque that ended up in front of the Panther goalie, Markstrom, and converted easily.

Nashville then took a two goal lead for the first time of the game, when Patric Hornqvist took a sharp angle shot past Markstrom at 5;13, and the Predators led 4-2.

Florida's Matt Gilroy would keep it close for the Panthers with 8:27 remaining in the contest, when his centering pass was inadvertently tipped into the net by Nashville's David Legwand, who was back-checking on the play.

Nashville goalie Pekka Rinne had another outstanding night, blocking 22 of 25 shots by the Panthers.

The Predators wrap up their five game homestand Thurday night at Bridgestone Arena when the LA Kings come to Smashville.

Puck drops at 7:00pm.
Box Score
Florida Panthers 3 – 4 Nashville Predators
October 16th, 2013
| | | | | |
| --- | --- | --- | --- | --- |
| | 1 | 2 | 3 | T |
| Florida Panthers | 0 | 2 | 1 | 3 |
| Nashville Predators | 1 | 1 | 2 | 4 |
Scoring Summary
1st Period
09:23
NSH
S. Weber (1) Slapshot – ASST: M. Fisher (3), C. Wilson (2)
1 – 0 NSH
2nd Period
01:16
FLA
J. Huberdeau (3) Wrist shot – ASST: S. Gomez (3), M. Weaver (1)
1 – 1 Tie
12:48
NSH
M. Fisher (2) Backhand shot – ASST: C. Smith (3), S. Jones (2)
2 – 1 NSH
13:30
FLA
M. Goc (3) Slapshot – ASST: J. Winchester (1), S. Matthias (2)
2 – 2 Tie
3rd Period
01:22
NSH
C. Smith (1) Backhand shot – ASST: G. Bourque (1), S. Weber (2)
3 – 2 NSH
05:13
NSH
PPG – P. Hornqvist (2) Backhand shot – ASST: D. Legwand (2), F. Forsberg (1)
4 – 2 NSH
11:37
FLA
M. Gilroy (1) Wrist shot – ASST: T. Fleischmann (6), B. Boyes (2)
4 – 3 NSH
Penalty Summary
1st Period
12:55
FLA
N. Bjugstad Hooking – 2 min against C. Wilson
04:36
NSH
C. Smith Interference – 2 min against S. Gomez
2nd Period
NONE
3rd Period
04:19
FLA
M. Gilroy Interference – 2 min against M. Hendricks
Florida Panthers skaters
| No. | Player | Pos | G | A | P | +/- | PIM | S | Hits | BkS | GvA | TkA | PP TOI | TOI |
| --- | --- | --- | --- | --- | --- | --- | --- | --- | --- | --- | --- | --- | --- | --- |
| 7 | D. Kulikov | D | 0 | 0 | 0 | 1 | 0 | 1 | 2 | 1 | 1 | 0 | 0:48 | 21:46 |
| 11 | J. Huberdeau | C | 1 | 0 | 1 | 0 | 0 | 1 | 0 | 1 | 1 | 1 | 0:33 | 17:58 |
| 14 | T. Fleischmann | L | 0 | 1 | 1 | -1 | 0 | 2 | 1 | 0 | 0 | 0 | 0:45 | 15:48 |
| 16 | A. Barkov | C | 0 | 0 | 0 | -1 | 0 | 2 | 1 | 1 | 0 | 0 | 0:45 | 16:17 |
| 17 | J. Winchester | C | 0 | 1 | 1 | 1 | 0 | 0 | 1 | 0 | 0 | 0 | 0:00 | 12:41 |
| 18 | S. Matthias | C | 0 | 1 | 1 | 1 | 0 | 1 | 1 | 0 | 1 | 0 | 0:42 | 16:22 |
| 21 | K. Barch | R | 0 | 0 | 0 | 0 | 0 | 0 | 3 | 0 | 0 | 0 | 0:00 | 7:53 |
| 23 | S. Gomez | C | 0 | 1 | 1 | 0 | 0 | 0 | 0 | 0 | 0 | 1 | 0:33 | 15:26 |
| 24 | B. Boyes | R | 0 | 1 | 1 | -1 | 0 | 2 | 1 | 0 | 0 | 0 | 0:45 | 15:16 |
| 27 | N. Bjugstad | C | 0 | 0 | 0 | 0 | 2 | 0 | 1 | 0 | 0 | 0 | 0:00 | 9:48 |
| 32 | K. Versteeg | R | 0 | 0 | 0 | 0 | 0 | 1 | 0 | 0 | 0 | 0 | 0:27 | 15:42 |
| 43 | M. Weaver | D | 0 | 1 | 1 | 0 | 0 | 1 | 2 | 1 | 1 | 0 | 0:00 | 17:12 |
| 44 | E. Gudbranson | D | 0 | 0 | 0 | -1 | 0 | 3 | 1 | 4 | 1 | 0 | 0:00 | 19:20 |
| 51 | B. Campbell | D | 0 | 0 | 0 | 0 | 0 | 2 | 0 | 2 | 1 | 0 | 1:54 | 21:37 |
| 57 | M. Goc | C | 1 | 0 | 1 | 1 | 0 | 3 | 0 | 0 | 0 | 0 | 0:42 | 17:53 |
| 77 | T. Gilbert | D | 0 | 0 | 0 | 1 | 0 | 1 | 0 | 0 | 1 | 1 | 1:12 | 18:07 |
| 82 | T. Kopecky | R | 0 | 0 | 0 | 0 | 0 | 4 | 1 | 1 | 0 | 0 | 0:48 | 13:50 |
| 97 | M. Gilroy | D | 1 | 0 | 1 | -1 | 2 | 1 | 0 | 0 | 1 | 0 | 0:06 | 20:52 |
Florida Panthers goaltenders
| No. | Player | Saves – Shots | Sv% | PIM | TOI |
| --- | --- | --- | --- | --- | --- |
| 25 | J. Markstrom | 26 – 30 | .867 | | 58:48 |
| 30 | S. Clemmensen | 0 – 0 | .000 | | 0:00 |
Nashville Predators skaters
| No. | Player | Pos | G | A | P | +/- | PIM | S | Hits | BkS | GvA | TkA | PP TOI | TOI |
| --- | --- | --- | --- | --- | --- | --- | --- | --- | --- | --- | --- | --- | --- | --- |
| 3 | S. Jones | D | 0 | 1 | 1 | 2 | 0 | 2 | 0 | 2 | 0 | 1 | 2:00 | 20:40 |
| 4 | R. Ellis | D | 0 | 0 | 0 | -1 | 0 | 1 | 0 | 0 | 0 | 0 | 0:45 | 15:44 |
| 6 | S. Weber | D | 1 | 1 | 2 | 2 | 0 | 2 | 2 | 1 | 0 | 1 | 2:00 | 22:14 |
| 7 | M. Cullen | C | 0 | 0 | 0 | 1 | 0 | 3 | 0 | 0 | 0 | 0 | 0:45 | 13:57 |
| 8 | K. Klein | D | 0 | 0 | 0 | -1 | 0 | 0 | 0 | 3 | 0 | 0 | 0:09 | 23:20 |
| 9 | F. Forsberg | C | 0 | 1 | 1 | -2 | 0 | 0 | 0 | 0 | 1 | 0 | 1:38 | 15:26 |
| 11 | D. Legwand | C | 0 | 1 | 1 | -2 | 0 | 1 | 2 | 0 | 0 | 1 | 1:47 | 15:39 |
| 12 | M. Fisher | C | 1 | 1 | 2 | 1 | 0 | 3 | 1 | 1 | 0 | 1 | 1:07 | 16:50 |
| 15 | C. Smith | C | 1 | 1 | 2 | 2 | 2 | 4 | 1 | 1 | 1 | 3 | 1:07 | 13:52 |
| 24 | E. Nystrom | L | 0 | 0 | 0 | -2 | 0 | 4 | 4 | 1 | 0 | 0 | 0:00 | 17:59 |
| 25 | V. Stalberg | L | 0 | 0 | 0 | -1 | 0 | 2 | 1 | 0 | 1 | 1 | 0:09 | 10:07 |
| 26 | M. Hendricks | C | 0 | 0 | 0 | 0 | 0 | 1 | 6 | 0 | 0 | 0 | 0:00 | 14:43 |
| 27 | P. Hornqvist | R | 1 | 0 | 1 | 1 | 0 | 3 | 1 | 0 | 1 | 0 | 1:38 | 14:13 |
| 28 | P. Gaustad | C | 0 | 0 | 0 | 0 | 0 | 0 | 1 | 0 | 2 | 1 | 0:00 | 14:25 |
| 33 | C. Wilson | C | 0 | 1 | 1 | 0 | 0 | 1 | 0 | 0 | 0 | 0 | 1:07 | 14:14 |
| 42 | M. Ekholm | D | 0 | 0 | 0 | -1 | 0 | 0 | 0 | 3 | 1 | 1 | 0:09 | 21:15 |
| 57 | G. Bourque | L | 0 | 1 | 1 | 2 | 0 | 2 | 0 | 0 | 0 | 1 | 0:09 | 14:47 |
| 64 | V. Bartley | D | 0 | 0 | 0 | -1 | 0 | 1 | 0 | 0 | 0 | 1 | 0:00 | 14:20 |
Nashville Predators goaltenders
| No. | Player | Saves – Shots | Sv% | PIM | TOI |
| --- | --- | --- | --- | --- | --- |
| 30 | C. Hutton | 0 – 0 | .000 | | 0:00 |
| 35 | P. Rinne | 22 – 25 | .880 | | 59:09 |
About Hank Bonecutter
Hank Bonecutter is a forty year broadcast veteran and former radio station owner. His career included, talk-show host, journalist, writer, and producer.  He is president of Bonehead Promotions, an advertising consulting and media firm. He is the owner of www.clarksvillesportsnetwork.com and www.nashvillesportsnetwork.com, and is a contributing author/journalist for Clarksville Online.

Hank worked at several Nashville radio stations, including WKDF, WLAC, WKQB and WKDA.

He hosted and produced Clarksville's longest running morning talk-show, "The Bone Show," from 1994-2012.

Hank is also a stand-up comedian, having performed at some of the top comedy clubs in Tennessee, Kentucky and Georgia.

Hank produced a series of stand-up comedy shows, "Comedy on the Cumberland, " in Clarksville to benefit local charities.

You can follow Hank on Facebook and Twitter, @bonecutter01 and @boneheadnews.

Web Site: http://www.clarksvillesportsnetwork.com/
Email: hbonecutter@clarksvilleonline.com
Sections
Sports
Topics
Bridgestone Arena, Craig Smith, David Legwand, Florida Panthers, Gabriel Bourque, Hockey, Jacob Markstrom, Jonathan Huberdeau, Marcel Goc, Matt Gilroy, Mike Fisher, Nashville, Nashville Predators, Nashville TN, National Hockey League, NHL, Panthers, Patric Hornqvist, Pekka Rinne, Predators, Preds, Scott gomez, Shea Weber, Smashville, Tennessee, Turnover, Victor Bartley