Ice Storm Warning In Effect ... [Click here for more information]
Vaccine coming to BACH medical homes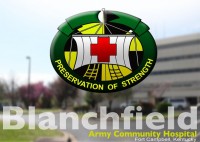 Fort Campbell, KY – For the first time in Fort Campbell history, Blanchfield Army Community Hospital's Preventive Medicine team will offer the influenza vaccine to all TRICARE beneficiaries with a military ID card at two Fort Campbell locations, the Post Exchange and the Commissary.

The vaccine is expected to arrive at Fort Campbell during the next week and become available within BACH medical homes very soon.

All TRICARE beneficiaries 6 months or older, including Soldiers, Retirees and Family members may receive the flu vaccine at no cost October 23rd at the Post Exchange from 8:00am to 4:00pm and again October 30th at the Commissary from 8:00am to 4:00pm.

"We expect these flu vaccination events to be especially convenient for beneficiaries to stop by and get vaccinated while they are already out shopping at the PX or Commissary," said Preventive Medicine Chief Capt. Samuel Peik.

Peik explained that patients assigned to a BACH medial home, including the Screaming Eagle Medical Home, will be able to get vaccinated during a regularly scheduled appointment or as a walk-in service in the around the same time as the first flu vaccination event.

In addition, BACH's Preventive Medicine team will work in conjunction with nurses throughout Fort Campbell Schools in November to offer the vaccine to students during the school day.
Patients Assigned to Provider Outside of BACH
Patients assigned to an off-post network primary care manager should ask to receive the flu vaccine from their healthcare provider. If a patient's assigned healthcare provider does not offer the flu vaccine, TRICARE patients assigned to a network provider may receive the influenza vaccine with no copayment at the upcoming flu vaccination events or at participating retail network pharmacies.
To find a participating pharmacy, search online at www.express-scripts.com/TRICARE/pharmacy or call 1.877.363.1303.
Preventing the Flu
As a standard safety precaution, people can also avoid getting or spreading the flu virus by washing their hands regularly and covering their cough or sneeze with a tissue or their sleeve, instead of into their hands.
"It is extremely important that everyone eligible for the flu vaccine get immunized to protect against the flu each year," said Peik. "Healthy people may not think it is important, but healthy people come into contact with higher risk individuals every day. Children, the elderly and people who are already sick or have problems with their immune systems cannot fight the flu as easily as the general population. Don't just protect yourself from the flu, protect your family, coworkers, neighbors and friends," he said.
Sections
News
Topics
Bach, Blanchfield Army Community Hospital, Commissary, Flu Vaccine, Fort Campbell, Fort Campbell Commissary., Fort Campbell KY, Fort Campbell Post Exchange, Fort Campbell Schools, Influenza, Post Exchange, Samuel Peik, Screaming Eagle Medical Home, Tricare