Special Weather Statement In Effect ... [Click here for more information]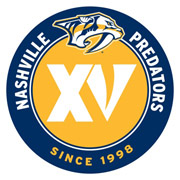 Nashville, TN - The Nashville Predators managed to gain a point, but the lost the game 2-1 n a shoot-out against the L.A. Kings tonight at the Bridgestone Arena. Anze Kopitar went top shelf on Predators goalie Pekka Rinne to send the Nashville faithful to the exits, after not settling the scored in overtime.

Nashville elected to go first in the shoot-out and Barry Trotz would send out Craig Smith, Filip Forsberg and Matt Cullen to try and get a point for the Predators. They were all stuffed by Jonathan Quick, the Kings goalie. So it came down to Kopitar, who was able to end the game with his goal.

All the scoring in this affair came in the first period as Nashville got on the board first. Matt Cullen fired a wrist shot past Quick at 10:33 of the first, with assists from Craig Smith and Gabriel Bourque.

Los Angeles would answer right back at 19:18 when Slava Voynov scored on a cross ice pass from Mike Richards that froze Pekka Rinne, and it was an open net for the taking.

Score tied at 1-1.

The second period didn't produce any scoring or penalties as both team played pretty sloppy for the most part.

With just over six minutes remaining in regulation, Predators goalie Pekka Rinne denied Mike Richards ona short handed breakaway attempt to keep the game tied at 1.

Nashville did have the man advantage during the overtime period as the Kings were called for high sticking, but couldn't convert any opportunities.

Pekka Rinne played his 300th career NHL game, and Nashville's Craig Smith has points in three straight games.
Box Score
L.A. Kings 1 – 1 Nashville Predators
Thursday, October 17th, 2013
| | | | | | | |
| --- | --- | --- | --- | --- | --- | --- |
| | 1 | 2 | 3 | OT | SO | T |
| L.A. Kings | 1 | 0 | 0 | 0 | 1 (1-3) | 2 |
| Nashville Predators | 1 | 0 | 0 | 0 | 0 (0-3) | 1 |
Scoring Summary
1st Period
10:33
NSH
M. Cullen (1) Wrist shot – ASST: C. Smith (4), G. Bourque (2)
1 – 0 NSH
19:18
LAK
S. Voynov (2) Wrist shot – ASST: M. Richards (5), K. Clifford (1)
1 – 1 Tie
2nd Period
NONE
3rd Period
NONE
OT Period
NONE
Shootout
ROUND
Nashville Predators
Los Angeles Kings
TOTAL
1
Craig Smith
Mike Richards
0 – 0
2
Filip Forsberg
Jeff Carter
0 – 0
3
Matt Cullen
Anze Kopitar
0 – 1
Penalty Summary
1st Period
05:35
NSH
P. Gaustad Tripping against M. Richards
14:53
NSH
V. Bartley Interference against M. Frattin
2nd Period
04:17
LAK
R. Regehr Holding against M. Fisher
14:26
LAK
J. Williams Slashing against S. Weber
17:20
NSH
P. Gaustad Interference against S. Voynov
3rd Period
12:30
LAK
D. Doughty Delay of game against P. Hornqvist
15:12
NSH
S. Weber Hi-sticking against D. Brown
OT Period
01:29
LAK
A. Martinez Hi-sticking against R. Ellis
Stats
Los Angeles Kings Skaters
| No. | Player | Pos | G | A | P | +/- | S | Hits | BkS | GvA | TkA | PP TOI | SH TOI | TOI |
| --- | --- | --- | --- | --- | --- | --- | --- | --- | --- | --- | --- | --- | --- | --- |
| 2 | M. Greene | D | 0 | 0 | 0 | 0 | 2 | 0 | 3 | 0 | 0 | 0:22 | 5:29 | 19:55 |
| 8 | D. Doughty | D | 0 | 0 | 0 | 0 | 2 | 3 | 1 | 0 | 0 | 5:49 | 1:35 | 28:35 |
| 10 | M. Richards | C | 0 | 1 | 1 | 1 | 1 | 3 | 1 | 0 | 1 | 5:03 | 3:15 | 20:24 |
| 11 | A. Kopitar | C | 0 | 0 | 0 | 0 | 3 | 1 | 0 | 0 | 0 | 4:27 | 1:17 | 20:54 |
| 13 | K. Clifford | L | 0 | 1 | 1 | 1 | 0 | 1 | 0 | 0 | 0 | 0:00 | 0:00 | 8:23 |
| 14 | J. Williams | R | 0 | 0 | 0 | 0 | 4 | 0 | 0 | 1 | 0 | 3:23 | 0:00 | 18:11 |
| 17 | D. Carcillo | L | 0 | 0 | 0 | 0 | 1 | 0 | 0 | 1 | 0 | 0:30 | 0:00 | 11:05 |
| 21 | M. Frattin | R | 0 | 0 | 0 | -1 | 0 | 0 | 0 | 0 | 0 | 1:36 | 0:04 | 12:31 |
| 22 | T. Lewis | C | 0 | 0 | 0 | 0 | 1 | 1 | 1 | 0 | 0 | 0:00 | 1:58 | 12:55 |
| 23 | D. Brown | R | 0 | 0 | 0 | 0 | 0 | 0 | 1 | 1 | 0 | 3:35 | 0:00 | 16:35 |
| 26 | S. Voynov | D | 1 | 0 | 1 | 0 | 3 | 1 | 1 | 0 | 1 | 5:07 | 1:18 | 20:21 |
| 27 | A. Martinez | D | 0 | 0 | 0 | 0 | 1 | 0 | 0 | 0 | 0 | 1:50 | 0:04 | 13:15 |
| 28 | J. Stoll | C | 0 | 0 | 0 | -1 | 1 | 2 | 0 | 0 | 0 | 2:56 | 3:28 | 18:46 |
| 33 | W. Mitchell | D | 0 | 0 | 0 | 0 | 0 | 0 | 4 | 0 | 0 | 0:37 | 6:17 | 24:52 |
| 44 | R. Regehr | D | 0 | 0 | 0 | 0 | 1 | 2 | 0 | 0 | 0 | 0:20 | 1:17 | 21:45 |
| 71 | J. Nolan | C | 0 | 0 | 0 | 0 | 1 | 0 | 1 | 0 | 0 | 0:00 | 0:00 | 7:11 |
| 74 | D. King | L | 0 | 0 | 0 | -1 | 2 | 0 | 2 | 0 | 1 | 0:00 | 1:02 | 14:13 |
| 77 | J. Carter | C | 0 | 0 | 0 | 1 | 7 | 0 | 1 | 1 | 2 | 4:25 | 2:56 | 22:09 |
Los Angeles Kings Goaltenders
| No. | Player | EV | PP | SH | Saves – Shots | Sv% | PIM | TOI |
| --- | --- | --- | --- | --- | --- | --- | --- | --- |
| 32 | J. Quick (W) 4-3-0 | 29 – 30 | 5 – 5 | 0 – 0 | 34 – 35 | .971 | 0 | 65:00 |
| 54 | B. Scrivens | 0 – 0 | 0 – 0 | 0 – 0 | 0 – 0 | - | 0 | 0:00 |
Nashville Predators Skaters
| No. | Player | Pos | G | A | P | +/- | S | Hits | BkS | GvA | TkA | PP TOI | SH TOI | TOI |
| --- | --- | --- | --- | --- | --- | --- | --- | --- | --- | --- | --- | --- | --- | --- |
| 3 | S. Jones | D | 0 | 0 | 0 | 0 | 1 | 1 | 1 | 2 | 0 | 4:53 | 2:34 | 28:14 |
| 4 | R. Ellis | D | 0 | 0 | 0 | 1 | 2 | 2 | 1 | 2 | 0 | 2:10 | 0:00 | 15:01 |
| 6 | S. Weber | D | 0 | 0 | 0 | 0 | 4 | 3 | 1 | 1 | 0 | 6:06 | 3:09 | 30:23 |
| 7 | M. Cullen | C | 1 | 0 | 1 | 1 | 1 | 0 | 0 | 1 | 1 | 2:38 | 2:15 | 17:52 |
| 8 | K. Klein | D | 0 | 0 | 0 | -1 | 2 | 2 | 6 | 2 | 0 | 0:00 | 4:45 | 19:40 |
| 9 | F. Forsberg | C | 0 | 0 | 0 | 0 | 4 | 0 | 0 | 0 | 0 | 3:08 | 0:00 | 14:06 |
| 11 | D. Legwand | C | 0 | 0 | 0 | 0 | 1 | 0 | 1 | 1 | 0 | 4:54 | 0:00 | 16:23 |
| 12 | M. Fisher | C | 0 | 0 | 0 | -1 | 1 | 1 | 1 | 0 | 0 | 2:52 | 2:30 | 19:26 |
| 15 | C. Smith | C | 0 | 1 | 1 | 1 | 2 | 1 | 1 | 0 | 0 | 2:38 | 0:00 | 13:56 |
| 24 | E. Nystrom | L | 0 | 0 | 0 | 0 | 1 | 1 | 0 | 0 | 0 | 0:00 | 3:35 | 14:04 |
| 25 | V. Stalberg | L | 0 | 0 | 0 | 0 | 0 | 1 | 1 | 0 | 0 | 0:14 | 0:00 | 10:09 |
| 26 | M. Hendricks | C | 0 | 0 | 0 | 0 | 2 | 3 | 0 | 0 | 0 | 0:14 | 3:39 | 14:37 |
| 27 | P. Hornqvist | R | 0 | 0 | 0 | -1 | 7 | 0 | 0 | 1 | 1 | 4:54 | 0:00 | 19:06 |
| 28 | P. Gaustad | C | 0 | 0 | 0 | 0 | 0 | 1 | 0 | 1 | 0 | 0:14 | 2:42 | 15:40 |
| 33 | C. Wilson | C | 0 | 0 | 0 | -1 | 2 | 0 | 0 | 1 | 0 | 2:52 | 0:00 | 16:58 |
| 42 | M. Ekholm | D | 0 | 0 | 0 | -1 | 2 | 1 | 3 | 2 | 2 | 0:11 | 4:36 | 20:05 |
| 57 | G. Bourque | L | 0 | 1 | 1 | 1 | 1 | 2 | 0 | 0 | 2 | 0:00 | 1:19 | 12:14 |
| 64 | V. Bartley | D | 0 | 0 | 0 | 1 | 2 | 1 | 1 | 1 | 0 | 0:02 | 0:56 | 14:06 |
Nashville Predators Goaltenders
| No. | Player | EV | PP | SH | Saves – Shots | Sv% | PIM | TOI |
| --- | --- | --- | --- | --- | --- | --- | --- | --- |
| 30 | C. Hutton | 0 – 0 | 0 – 0 | 0 – 0 | 0 – 0 | - | 0 | 0:00 |
| 35 | P. Rinne (L) 3-3-1 | 20 – 21 | 7 – 7 | 2 – 2 | 29 – 30 | .967 | 0 | 65:00 |
About Hank Bonecutter
Hank Bonecutter is a forty year broadcast veteran and former radio station owner. His career included, talk-show host, journalist, writer, and producer.  He is president of Bonehead Promotions, an advertising consulting and media firm. He is the owner of www.clarksvillesportsnetwork.com and www.nashvillesportsnetwork.com, and is a contributing author/journalist for Clarksville Online.

Hank worked at several Nashville radio stations, including WKDF, WLAC, WKQB and WKDA.

He hosted and produced Clarksville's longest running morning talk-show, "The Bone Show," from 1994-2012.

Hank is also a stand-up comedian, having performed at some of the top comedy clubs in Tennessee, Kentucky and Georgia.

Hank produced a series of stand-up comedy shows, "Comedy on the Cumberland, " in Clarksville to benefit local charities.

You can follow Hank on Facebook and Twitter, @bonecutter01 and @boneheadnews.

Web Site: http://www.clarksvillesportsnetwork.com/
Email: hbonecutter@clarksvilleonline.com
Sections
Sports
Topics
Anze Kopitar, Barry Trotz, Bridgestone Arena, Craig Smith, Filip Forsberg, Gabriel Bourque, Goalie, Jonathan Quick, kings, Kings Goalie, Kopitar, L.A. Kings, los angeles, Matt Cullen, Mike Richards, Nashville, Nashville Predators, Nashville TN, Pekka Rinne, Predators, Slava Voynov, Tennessee