Winter Weather Advisory In Effect ... [Click here for more information]
Nashville Predators at Montreal Canadiens
Saturday, October 19th, 2013 | 6:00pm CT | Bell Centre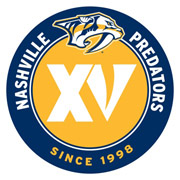 Nashville, TN – The Nashville Predators and Montreal Canadiens square off for the first time since November 12th, 2011, and the first time in La Métropole since November 18th, 2010.

Nashville is an even 5-5-4 in 14 all-time games against Montreal, but has only lost to the League's oldest team once on Bell Centre ice since December 18th, 2003. The Preds are 55-33-16 against the Eastern Conference since 2005-06 and 31-16-9 vs. the East since 2009-10.

The Preds and Habs last met on November 12th, 2011, in the franchise's 1,000th regular-season game. Montreal jumped out an early lead, before Shea Weber tied the game with a shorthanded goal early in the second period.

The score would remain tied until Max Pacioretty beat Pekka Rinne midway through overtime.

In their last meeting at Bell Centre, the Predators scored three goals in the final 40 minutes of play to defeat the Canadiens, 3-0. Rinne made 30 saves for his second shutout of the season and the 16th of his career.

Pekka Rinne has shut out the Habs in two of his last three outings (November 14th, 2009; November 18th, 2010) against the Habs. The 6-5 netminder has recorded a career 2-1-1 record with a 1.24 goals against average and .947 save percentage in four games against Montreal.

Matt Cullen has 24 points (11g-13a) in 33 career games against the Habs. Mike Fisher, who has faced the Canadiens more than any other Pred, has posted 28 points (13g-15a) in 52 career games.
Last Time Out
Nashville 1, Los Angeles 2 (SO) at Bridgestone Arena
It was Nashville's first trip to overtime or shootout this season.
The Predators did not allow a power-play goal for the third straight game, going a perfect 8-for-8 during that span.
Nashville recorded the first goal of the game for the third consecutive game (2-0-1).
With an assist on Matt Cullen's goal, Gabriel Bourque now has points in back-to-back games for the first time this season.
Patric Hornqvist fired a game-high seven shots on goal (tied with L.A.'s Jeff Carter). Hornqvist's shot total was the highest by a Predator this season.
Defenseman Kevin Klein blocked a game-high six shots. He leads the Predators with 14 blocks on the season.
Shea Weber led all players in ice time, surpassing the 30-minute mark for the first time this season (30:23; previous high of 26:59).
Solid Homestand
The Nashville Predators closed out a five-game homestand on Thursday night with a 2-1 shootout loss to Los Angeles. The Preds posted a 3-1-1 record during the stint in Music City.

The Predators have been one of the League's best teams on home ice since the beginning of the 2005-06 season, compiling 195 home victories, fourth most in the NHL in that span.

Nashville is the only team in the NHL to post at least 23 home victories in seven consecutive full seasons.
The Preds homestand also produced some memorable moments in Preds history: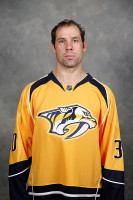 David Legwand, the franchise's first-ever draft pick (second overall, 1998), appeared in his 900th career game on October 15th against Florida.  The Grosse Pointe, MI, native tallied an assist on the night.
Goaltender Pekka Rinne played in his 300th career game on Thursday against L.A., becoming just the second goalie in franchise history to hit the mark.
Rookies Filip Forsberg and Seth Jones both posted their first career NHL goals during the homestand.  Forsberg (October 8th vs. MIN) and Jones (October 12th vs. NYI) became two of just five teenagers to score a goal for the Preds all-time, joining Legwand, Scott Hartnell and Scottie Upshall.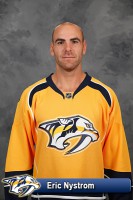 Eric Nystrom converted his first career penalty shot against Minnesota's Josh Harding on October 8th. It was his first goal of the season and first in a Preds sweater.
Matt Cullen recorded his first goal in a Nashville sweater on Thursday night against the Kings.
In all, 12 different Predators recorded at least a point during the five-game homestand, including seven players who notched their first points of the season.
Smith Came To Play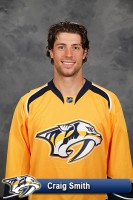 Craig Smith recorded a point in his third consecutive game on Thursday night with the primary assist on Matt Cullen's first period goal.
The Madison, WI, native has four points (1g-3a) in his last three outings and is just two games shy of his career-long five-game points streak (2g-3a) set during the 2011-12 season.
His assist on Thursday night also tied him with Mike Fisher for the team points lead (1g-4a-5pts).
Rinne Improving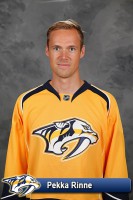 Goaltender Pekka Rinne has turned away 65-of-71 shots against to post a 1.95 goals-against average and a .915 save percentage in his last three outings (2-0-1).
On Thursday night against the Kings, Rinne became just the second netminder in franchise history to play in 300 games for the Preds (Tomas Vokoun, 383).
His career 2.37 goals-against average ranks third among active goalies with at least 300 games played (Martin Brodeur, 2.23; Henrik Lundqvist, 2.26).
Strong In The Circle
The Predators rank second in team face-off win percentage this season (56.2 percent). Nashville is led in the face-off circle by Paul Gaustad, who has won at least 60 percent of his face-offs in three straight games, and has won 90-of-136 draws this season (66.9 percent) to lead the League in the category.
The 6-5, 220-pound center has ranked among the League's Top 10 in the category in each of the last four seasons.  David Legwand currently ranks ninth in the League in face-off efficiency after going 56 for 95 this season (58.9 percent).
Shooting Gallery
Nashville outshot the opposition for the fifth time in seven games on Thursday night, and has now outshot its opponent in four straight games (by a total of 132-97).

With the 35-30 margin against the Kings, the Predators have fired an average of 30.6 shots on goal (tied for 15th), while allowing just 27.9 shots on goal – the seventh-fewest shots against per game in the League.
Rookie Impact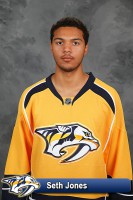 Rookie Seth Jones recorded a career-high 28:14 of ice time in the Predators 2-1 shootout loss to the Kings on Thursday night.  The Arlington, Texas native leads all first year players in time on ice (23:46), and is tied for third in power-play goals (1), fourth in shots on goal (17) and 13th in points (1g-2a-3pts).
Fellow rookie Filip Forsberg ranks ninth in time on ice (14:15) among rookie forwards, while his two points (1g-1a) on the year are good for 12th among his peer group.
Nashville is one of two teams to field multiple teenagers in their lineup this season with Jones and Forsberg holding two roster spots (both 19). Buffalo is the only other team with multiple teenagers in its lineup (three).
Sections
News
Topics
Arlington TX, Bell Centre, Bridgestone Arena, David Legwand, Eric Nystrom, Filip Forsberg, Gabriel Bourque, Grosse Pointe MI, Henrik Lundqvist, Jeff Carter, Josh Harding, Kevin Klein, La Métropole, Los Angeles King, Madison WI, Martin Brodeur, Matt Cullen, Max Pacioretty, Mike Fisher, Minnesota Wild, Montreal Canadiens, Nashville, Nashville Predators, Nashville TN, National Hockey League, NHL, Patric Hornqvist, Paul Gaustad, Pekka Rinne, Predators, Scott Hartnell, Scottie Upshall, Seth Jones, Shea Weber