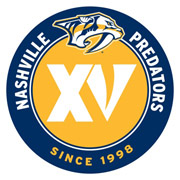 Nashville, TN - Nashville Predators rookie Seth Jones scored the game winner as the Predators defeated Montreal on the road, 2-1. Jones took a pass from veteran David Legwand and slipped past the Montreal defense, and flipped the game winner past goalie Carey Price at 18:33 for the victory.

The win was the first for Nashville in three attempts. The Nashville victory ended a a four game win streak for the Canadiens.

Predators goaltender Pekka Rinne was stellar in the net, stopping all 12 third period shots, and finished with 28 saves on the night.

Nashville was without the services of Mike Fisher who is out with a lower-body injury and according to team officials, is "day to day."

The Predators, who have had trouble scoring, got help from several key players.

Captain Shea Weber banked a shot off Montreal defenseman Josh Gorges for an early 1-0 lead. Nashville led Montreal in shots 11-1 when Weber scored. Nashville was on a 5 on 3 advantage due to a penalty.

Nashville continued to attack the Montreal net, with 16 shots on goal to Montreal's 11, but the Canadiens tied the game at 7:02 of the second period.

Nashville outshot Montreal 30-17 for the first two periods, but Montreal was more aggressive in the early part of the third, and controlled the pace of play. The Canadiens appeared to take the lead at 1:35 when Lars Eller flipped a shot at Pekka Rinne who had fallen on the play and it was called a goal, but after a video review, officials determined the goal did not cross the line and it was waved off.

Nashville is now 4-3-1 on the year, and 3-0-1 in their last four games.
Box Score
Nashville Predators 2 – 1 Montreal Canadiens
Saturday, October 19, 2013
| | | | | |
| --- | --- | --- | --- | --- |
| | 1 | 2 | 3 | T |
| Nashville Predators | 1 | 0 | 1 | 2 |
| Montreal Canadiens | 0 | 1 | 0 | 1 |
Scoring Summary
1st Period
12:31
NSH
PPG – S. Weber (2) Wrist shot – ASST: D. Legwand (3), F. Forsberg (2)
1 – 0 NSH
2nd Period
07:02
MTL
B. Gallagher (4) Wrist shot – ASST: M. Bournival (1), L. Eller (3)
1 – 1 Tie
3rd Period
18:33
NSH
S. Jones (2) Wrist shot – ASST: D. Legwand (4), C. Wilson (3)
2 – 1 NSH
1st Period
01:02
MTL
R. Diaz Delaying Game-Puck over glass
10:28
MTL
P. Subban Tripping against K. Klein
11:50
MTL
R. White Delaying Game-Puck over glass
14:15
NSH
V. Bartley Interference on goalkeeper against C. Price
15:23
MTL
R. Bourque Holding against S. Jones
18:11
NSH
P. Gaustad Boarding against D. Briere
18:38
NSH
E. Nystrom Holding against P. Subban
18:38
MTL
P. Subban Unsportsmanlike conduct against E. Nystrom
2nd Period
02:59
MTL
J. Tinordi Interference against V. Stalberg
14:12
MTL
R. Bourque Tripping against V. Stalberg
3rd Period
01:35
NSH
D. Legwand Cross checking against L. Eller
10:56
NSH
S. Weber Hooking against A. Galchenyuk
15:08
NSH
M. Hendricks Delaying Game-Puck over glass
Stats
Nashville Predators skaters
| No. | Player | Pos | G | A | P | +/- | S | Hits | BkS | GvA | TkA | PP TOI | SH TOI | TOI |
| --- | --- | --- | --- | --- | --- | --- | --- | --- | --- | --- | --- | --- | --- | --- |
| 3 | S. Jones | D | 1 | 0 | 1 | 1 | 1 | 0 | 2 | 2 | 1 | 5:56 | 4:31 | 27:29 |
| 4 | R. Ellis | D | 0 | 0 | 0 | 0 | 3 | 0 | 0 | 0 | 3 | 3:13 | 0:00 | 11:34 |
| 6 | S. Weber | D | 1 | 0 | 1 | 1 | 3 | 2 | 5 | 0 | 1 | 5:40 | 4:19 | 28:43 |
| 7 | M. Cullen | C | 0 | 0 | 0 | 0 | 2 | 0 | 0 | 0 | 0 | 3:22 | 1:27 | 16:49 |
| 8 | K. Klein | D | 0 | 0 | 0 | -1 | 3 | 1 | 4 | 1 | 0 | 0:02 | 4:37 | 20:42 |
| 9 | F. Forsberg | C | 0 | 1 | 1 | -1 | 4 | 0 | 0 | 0 | 1 | 4:49 | 0:00 | 11:21 |
| 11 | D. Legwand | C | 0 | 2 | 2 | 0 | 2 | 0 | 1 | 0 | 0 | 4:56 | 0:06 | 15:45 |
| 13 | N. Spaling | C | 0 | 0 | 0 | 0 | 1 | 0 | 0 | 0 | 0 | 0:23 | 3:24 | 12:09 |
| 15 | C. Smith | C | 0 | 0 | 0 | 0 | 4 | 1 | 0 | 0 | 0 | 3:50 | 0:00 | 14:55 |
| 24 | E. Nystrom | L | 0 | 0 | 0 | -1 | 2 | 1 | 0 | 0 | 0 | 0:23 | 3:09 | 12:51 |
| 25 | V. Stalberg | L | 0 | 0 | 0 | 0 | 1 | 0 | 0 | 0 | 0 | 0:25 | 0:00 | 10:29 |
| 26 | M. Hendricks | C | 0 | 0 | 0 | 0 | 3 | 1 | 1 | 0 | 0 | 0:02 | 4:39 | 16:38 |
| 27 | P. Hornqvist | R | 0 | 0 | 0 | 1 | 0 | 0 | 0 | 0 | 0 | 4:56 | 0:00 | 14:37 |
| 28 | P. Gaustad | C | 0 | 0 | 0 | 0 | 2 | 2 | 2 | 1 | 0 | 0:02 | 4:11 | 17:36 |
| 33 | C. Wilson | C | 0 | 1 | 1 | 1 | 2 | 1 | 0 | 0 | 0 | 3:50 | 0:00 | 14:09 |
| 42 | M. Ekholm | D | 0 | 0 | 0 | -1 | 0 | 0 | 2 | 4 | 0 | 0:09 | 3:53 | 18:56 |
| 57 | G. Bourque | L | 0 | 0 | 0 | 0 | 3 | 1 | 0 | 0 | 0 | 3:50 | 1:20 | 16:00 |
| 64 | V. Bartley | D | 0 | 0 | 0 | 0 | 1 | 0 | 1 | 0 | 0 | 0:07 | 0:56 | 9:17 |
Nashville Predators goaltenders
| No. | Player | EV | PP | SH | Saves – Shots | Sv% | PIM | TOI |
| --- | --- | --- | --- | --- | --- | --- | --- | --- |
| 30 | C. Hutton | 0 – 0 | 0 – 0 | 0 – 0 | 0 – 0 | - | 0 | 0:00 |
| 35 | P. Rinne (W) 4-3-1 | 22 – 23 | 4 – 4 | 2 – 2 | 28 – 29 | .966 | 0 | 60:00 |
Montréal Canadiens skaters
| No. | Player | Pos | G | A | P | +/- | S | Hits | BkS | GvA | TkA | PP TOI | SH TOI | TOI |
| --- | --- | --- | --- | --- | --- | --- | --- | --- | --- | --- | --- | --- | --- | --- |
| 8 | B. Prust | L | 0 | 0 | 0 | 0 | 0 | 4 | 0 | 0 | 0 | 0:57 | 3:13 | 14:02 |
| 11 | B. Gallagher | R | 1 | 0 | 1 | 1 | 9 | 0 | 0 | 2 | 0 | 4:08 | 0:00 | 17:25 |
| 14 | T. Plekanec | C | 0 | 0 | 0 | 0 | 2 | 0 | 2 | 0 | 0 | 4:22 | 3:42 | 21:36 |
| 17 | R. Bourque | R | 0 | 0 | 0 | 0 | 1 | 1 | 0 | 0 | 1 | 3:32 | 0:38 | 14:18 |
| 21 | B. Gionta | R | 0 | 0 | 0 | -1 | 3 | 0 | 0 | 1 | 1 | 3:54 | 1:28 | 17:39 |
| 24 | J. Tinordi | D | 0 | 0 | 0 | 1 | 0 | 0 | 1 | 0 | 0 | 0:00 | 0:57 | 9:25 |
| 26 | J. Gorges | D | 0 | 0 | 0 | -1 | 1 | 4 | 1 | 0 | 0 | 0:00 | 5:32 | 20:17 |
| 27 | A. Galchenyuk | C | 0 | 0 | 0 | 0 | 1 | 1 | 0 | 0 | 1 | 4:18 | 0:00 | 16:36 |
| 32 | T. Moen | L | 0 | 0 | 0 | -1 | 0 | 3 | 0 | 0 | 0 | 0:00 | 2:40 | 10:13 |
| 48 | D. Briere | C | 0 | 0 | 0 | 0 | 1 | 0 | 0 | 1 | 0 | 0:21 | 0:02 | 4:20 |
| 49 | M. Bournival | L | 0 | 1 | 1 | 1 | 1 | 2 | 0 | 0 | 0 | 0:37 | 0:31 | 9:22 |
| 51 | D. Desharnais | C | 0 | 0 | 0 | -1 | 0 | 1 | 0 | 0 | 0 | 0:58 | 0:25 | 13:20 |
| 53 | R. White | C | 0 | 0 | 0 | 0 | 3 | 3 | 2 | 0 | 0 | 0:08 | 3:53 | 11:37 |
| 55 | F. Bouillon | D | 0 | 0 | 0 | 0 | 0 | 1 | 1 | 0 | 1 | 3:06 | 2:04 | 18:51 |
| 61 | R. Diaz | D | 0 | 0 | 0 | 0 | 0 | 0 | 0 | 0 | 1 | 2:46 | 3:37 | 18:12 |
| 76 | P. Subban | D | 0 | 0 | 0 | -1 | 0 | 1 | 1 | 0 | 1 | 5:43 | 1:38 | 25:39 |
| 79 | A. Markov | D | 0 | 0 | 0 | 1 | 3 | 0 | 2 | 0 | 1 | 6:41 | 3:56 | 27:08 |
| 81 | L. Eller | C | 0 | 1 | 1 | 1 | 4 | 2 | 0 | 0 | 0 | 4:09 | 1:50 | 20:22 |
Montréal Canadiens goaltenders
| No. | Player | EV | PP | SH | Saves – Shots | Sv% | PIM | TOI |
| --- | --- | --- | --- | --- | --- | --- | --- | --- |
| 30 | P. Budaj | 0 – 0 | 0 – 0 | 0 – 0 | 0 – 0 | - | 0 | 0:00 |
| 31 | C. Price (L) 4-3-0 | 26 – 27 | 8 – 9 | 1 – 1 | 35 – 37 | .946 | 0 | 58:57 |
About Hank Bonecutter
Hank Bonecutter is a forty year broadcast veteran and former radio station owner. His career included, talk-show host, journalist, writer, and producer.  He is president of Bonehead Promotions, an advertising consulting and media firm. He is the owner of www.clarksvillesportsnetwork.com and www.nashvillesportsnetwork.com, and is a contributing author/journalist for Clarksville Online.

Hank worked at several Nashville radio stations, including WKDF, WLAC, WKQB and WKDA.

He hosted and produced Clarksville's longest running morning talk-show, "The Bone Show," from 1994-2012.

Hank is also a stand-up comedian, having performed at some of the top comedy clubs in Tennessee, Kentucky and Georgia.

Hank produced a series of stand-up comedy shows, "Comedy on the Cumberland, " in Clarksville to benefit local charities.

You can follow Hank on Facebook and Twitter, @bonecutter01 and @boneheadnews.

Web Site: http://www.clarksvillesportsnetwork.com/
Email: hbonecutter@clarksvilleonline.com
Sections
Sports
Topics
Canadiens, Carey Price, David Legwand, Goalie, Hockey, Josh Gorges, Lars Eller, Mike Fisher, Montreal, Montreal Canadiens, Nashville Predators, Nashville TN, National Hockey League, NHL, Pekka Rinne, Predators, Preds, Seth Jones, Shea Weber