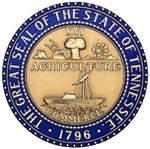 Clarksville, TN – On behalf of the Montgomery County delegation to the Tennessee General Assembly, State Representative Joe Pitts (D-67) presented a proclamation honoring and congratulating the management and members of the Clarksville Country Club on the occasion of their 100th anniversary.

"The Clarksville Country Club has been an important part of our community for a century," said Rep. Pitts. "This club has served as a place of joy and happiness for thousands of Clarksville families over the years, and I am grateful to the staff and members who have dedicated themselves to preserving this vital part of Clarksville's heritage."

The Clarksville Country Club was founded on October 28th, 1913 when six local businessmen filed a charter of incorporation with the State of Tennessee. Since its founding, the club has expanded in both size and membership to fill the needs of the Clarksville community.

The proclamation honoring the Clarksville Country Club was signed on September 16th, 2013 by Speaker of the House Beth Harwell, State Representatives Joe Pitts, Curtis Johnson, John Tidwell and Senator Mark Green.



Sections
News
Topics
Beth Harwell, Clarksville, Clarksville Country Club, Clarksville TN, Curtis Johnson, Joe Pitts, John L. Manning IV, John Tidwell, Margaret Jones, Mark Green, Rocky Papachek, state of tennessee, Tennessee, Tennessee General Assembly, Tennessee State Representative