Special Weather Statement In Effect ... [Click here for more information]

Clarksville, TN – The weekly Clarksville Parks and Recreation Department Recreation Report provides Clarksvillians with a glimpse at the activities and events that are available from the Parks and Recreation Department for them to enjoy together as a family.
This weeks highlights include: Christmas on the Cumberland, Walk with Me Tennessee Program, Indoor Aquatic Center Toddlers Event and Youth Dodgeball League returns, Giving on the Cumberland, Christmas Cookie Bake-Off, Community Centers get in the holiday spirit.
Christmas on the Cumberland now Open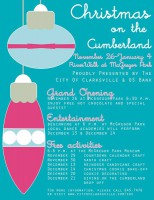 Christmas on the Cumberland is going on at McGregor Park.  Come down and see entire RiverWalk covered with over one million lights!
This popular Christmas on the Cumberland walk-through event will be open nightly from 5:00pm-10:00pm, Sunday through Thursday and 5:00pm-11:00pm, Fridays and Saturdays through January 4th, 2014. Admission to the event is free.
Walk with Me Tennessee Program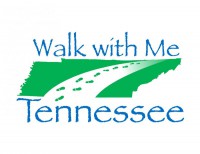 Offers up a grand prize stay in the Smoky Mountains!

Thanks to the Sevierville Chamber of Commerce, the grand prize winner of the Clarksville Parks and Recreation's Walk with Me Tennessee program, will receive a two-night stay at Fairfield Inn in Sevierville, Tennessee, two combo passes to all Ripley's attractions (including the Aquarium in Gatlinburg) and two tickets to the interactive museum, WonderWorks, located in Pigeon Forge, Tennessee.

The Walk with Me Tennessee walking program challenges Clarksvillians to walk across the state using a series of challenges featuring trails in Clarksville as well as "virtual trails" in other Walk with Me Tennessee pilot communities such as Athens and Sevierville. It is not too late to join this program! Participants can begin completing challenges listed on the Health Walkers website, after they have created a free account on www.healthwalkers.com.

The first participant to report completion of each challenge during the designated challenge period will receive a Walk with Me Tennessee prize pack. For each challenge completed, participant's names will be entered into a drawing for the grand prize at the end of the session. The more challenges completed, the more chances to win a fun weekend in Sevierville!

To be eligible for prize winning, participants must track their progress through www.healthwalkers.com.

All participants in the Walk with Me Tennessee program receive one free year's use of the Health Walkers website and an easy way to track your walking progress and stay motivated!

The first session of Walk with Me Tennessee runs through December 17th. The second session will run March 11th, 2014 through May 2nd, 2014.
Indoor Aquatic Center to host event just for toddlers!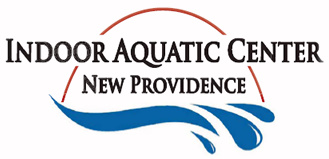 Don't miss the next Toddler Splash Pool Party on Wednesday, December 4th. This monthly event for children ages 5-years-old and younger, takes place on the first Wednesday of every month from 10:00am to 12:00pm at the Indoor Aquatic Center, located at 166 Cunningham Lane.
At Toddler Splash, kids can enjoy activities each month such as, water games, crafts and other seasonal fun! Cost to attend is $3.00 per person, including adults. A parent or adult guardian must accompany toddlers in the water. This event will allow youngsters to enjoy getting acquainted with the water or practicing previously learned water safety skills.
Youth Dodgeball League returns
Registration for the Clarksville Parks and Recreation's Youth Dodgeball League will take place December 2nd through December 27th! Pre-registration is required and participants can register at the Parks and Recreation Main office as well as online at recpro.cityofclarksville.com.

This six-week Youth Dodgeball League, hosted by the Crow Community Center and First Church of the Nazarene, is free to participate.

Games will be played at the Crow Community Center on Friday evenings beginning January 10th, with a pre-league meeting held January 3 for all players to go over rules and teams.  Teams will be divided into two ages divisions, 6 to 10 and 11 to 17.

Dodgeball is a great way to keep children active while having fun.  Dodgeball promotes teamwork and develops arm strength, speed, flexibility and hand-eye coordination.  Balls are made of soft fabric to prevent injury.

For more details on Youth Dodgeball, please contact the Clarksville Parks and Recreation Office at 931.645.7476 or visit recpro.cityofclarksville.com.
Giving on the Cumberland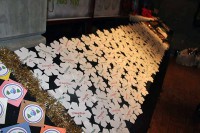 "Giving on the Cumberland" is a new feature to this year's Christmas on the Cumberland event that encourages visitors to help those in need. From November 26th-December 21st, "ornaments" with items of need from the following non-profit organizations will be displayed in the museum-  Hope Pregnancy Center, The Fisher House, Serenity House Women's Shelter, Montgomery County Friends of the Shelter, Junior Auxiliary, and Clarksville Montgomery County School System.
Visitors will have the opportunity to take an "ornament" and bring their donation to the Clarksville Parks and Recreation main office, or to the museum on the scheduled drop off night, December 21st.
Christmas Cookie Bake-Off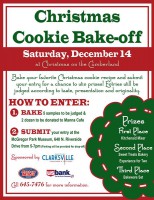 The Christmas Cookie Bake-Off, which was once a feature of "Downtown for the Holidays, is now part of Christmas on the Cumberland! Bakers of all skill levels are encouraged to bake their favorite holiday treat and submit their entry from 5:00pm-7:00pm December 14th at the Museum at McGregor Park.
Parking will be available for drop-offs. Entry fee is five samples for judging along with two dozen treats which will be donated to Manna Café.
Entries will be judged according to taste, presentation, and originality. Prizes: 1st place – Kitchen aid Mixer, 2nd place – Sweet Treats Bakery Experience for Two, 3rd place – Bakeware Set.
Community Centers get in the Holiday Spirit
With visits from Santa's elves!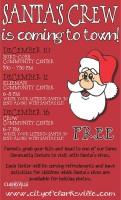 Santa's elves will be making appearances at each of our three community centers this December.  Families are welcome to have photos taken of their children as they visit Santa, enjoy snacks and games, all at no cost.
Santa and his crew will visit the Burt-Cobb Center, located at 1011 Franklin Street, on Tuesday, December 10th from 5:30pm to 7:30pm. The Center will host games, food and photo opportunities with Santa.
The Kleeman and Crow Centers will host Christmas and Santa Letter Drop parties this year. The Kleeman Center, located at 166 Cunningham Lane, will host their party on Wednesday, December 11th from 6:00pm to 8:00pm, while Crow Center, located at 211 Richview Road, will host their gathering on Monday, December 16th from 6:00pm to 7:00pm. Kids can drop off their letter to Santa Claus and enjoy punch, cookies and holiday music! Santa's elves will be onsite to help write and seal letters to Mr. Claus.
For more details on this or other community center activities, please contact Clarksville Parks and Recreation at 931.645.7476 or visit www.cityofclarksville.com.
Sections
Events
Topics
Athens TN, Burt-Cobb Community Center, Christmas Cookie Bake-off, Christmas on the Cumberland, Clarksville, Clarksville Montgomery County School System, Clarksville Parks & Recreation Department, Clarksville Parks and Recreation, Clarksville TN, CMCSS, Crow Community Center, Cunningham Lane, Customs House Museum, Dodgeball, Elves, Fairview Inn, First Church of the Nazarene, Franklin Street, games, Gatlinburg TN, Giving on the Cumberland, Health Walkers, Hope Pregnancy Center, Indoor Aquatic Center, Junior Auxiliary, Kleeman Community Center, Manna Café Ministries, McGregor Park, McGregor Park Riverwalk, Montgomery County Friends of the Shelter, Pigeon Forge TN, Richview Road, Santa, Serenity House Women's Shelter, Sevierville Chamber of Commerce, Sevierville TN, Smoky Mountains, The Fisher House, Toddler Splash Pool Party, Walk with Me Tennessee, Youth Dodgeball League