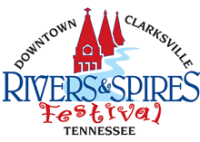 Clarksville, TN – Do you have what it takes to create the official 2014 Rivers and Spires jingle that will be used in the upcoming Festival TV commercials?

For over a decade, the award-winning Rivers & Spires Festival has been showcasing musicians and entertainers, from up and coming local artists, to Grammy award-winners.

The 2014 event will continue to feature great artists, and a new opportunity is available for one lucky songwriter.

The Rivers and Spires Festival will be hosting a talent search to find one special artist to create the official advertising jingle for the 2014 event. The short song will be written and performed by the artist for not only on the Rivers & Spires TV commercials, but also on stage during the April 24th-26th Festival. The winning jingle, and artist, is projected to reach nearly one million people.

To enter the contest, participants must submit a demo of an original 30-second jingle by Thursday, December 12th to jessica@clarksville.tn.us. The submitted demo must be specific to the Rivers & Spires Festival and its elements. A panel of judges will select the top three artists.

The public will be asked to vote online at www.riversandspires.com December 13th – 15th and determine the winner. The winner will be featured in the Festival commercial and has the chance to play at the 2014 Rivers & Spires Festival April 24th-26th.



Sections
News
Topics
Clarksville TN, Rivers and Spires, Rivers and Spires Festival