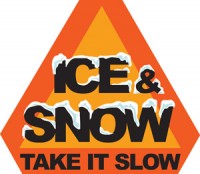 Clarksville, TN – A light dusting of snow fell over the Clarksville-Montgomery County area last night. Along with the rain/freezing rain earlier in the night, it will combine to make some slick areas on the road this morning. Ice has formed in shaded road areas as well as bridges and overpasses. Along some roads, snow and ice have formed near the edges.

Motorists that have to get out this morning are urged to take it slow. Beware of black ice on the roads. Ice is clear and is not easily seen.

Current temperature at 5:30am is 23°F degrees and falling. The low is expected to be around 21°F. At 11:00am, the temperature should rise above freezing. The high for Saturday is expected to be 34°F. There is a 20% chance of rain for Saturday.

There is a winter weather advisory in effect from 9:00pm this evening until 9:00am Sunday.

The National Weather Service forecasts an 80% chance of a wintry mix moving into the area Saturday evening. The temperature is expected to drop below freezing around 5:00pm. Most of the precipitation is expected to be a freezing rain, with some sleet and snow mixed in. The low for Saturday night should be around 28°F.

The Counties affected by the winter advisory are: Benton County, Cannon County, Cheatham County, Clay County, Davidson County, De Kalb County, Dickson County, Fentress County, Hickman County, Houston County, Humphreys County, Jackson County, Lewis County, Macon County, Maury County, Montgomery County, Overton County, Perry County, Pickett County, Putnam County, Robertson County, Rutherford County, Smith County, Stewart County, Sumner County, Trousdale County, White County, Williamson  County, and Wilson County.

A decision about the Clarksville Christmas Parade will be made at 10:00am Saturday morning.



Sections
News
Topics
Benton County, CAnnon County, Cheatham County, Clarksville, Clarksville Christmas Parade, Clarksville TN, Clay County, Davidson County, De Kalb County, Dickson County, Fentress County, freezing rain, Hickman County, Houston County, Humphreys County, Ice, Jackson County, Lewis County, Macon County, Maury County, Montgomery County, Montgomery County TN, National Weather Service, NOAA, NWS, Overton County, Perry County, Pickett County, Putnam County, Robertson County, Rutherford County, sleet, Smith County, snow, Stewart County, Sumner County, Trousdale County, Weather Forecast, White County, Williamson County, Wilson County, Winter Weather