Winter Weather Advisory In Effect ... [Click here for more information]

Clarksville, TN – On January 10th, 2014 the Clarksville Police Department along with the  Montgomery County Sheriff's Office, responded to a shooting that occurred at the BP (Kangaroo and The Pantry) on Lafayette Road and Ryder Avenue.
The suspects fled in their vehicle from the scene of the shooting. Deandre Lamar Lisenbee and Dekwon Malik Elleby of Clarksville have been arrested for the shooting. The investigating officer is Detective Thomas Tranberg.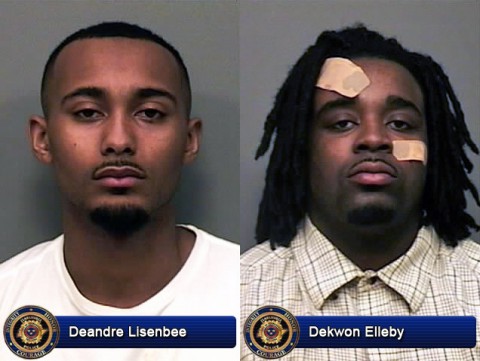 Deandre Lisenbee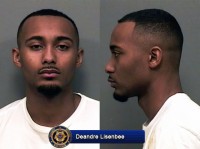 Name: Deandre Lamar Lisenbee
Date of Birth: 7/ 16/ 94
Gender: M
Race: B
Address: 207 Mark Spitx Drive, Clarksville, TN
Arresting Officer: Thomas Tranberg
Charged With: Facilitation of a Felony, Evading Arrest in a Vehicle, Reckless Endangerment, Reckless Driving, Evading Arrest, Immediate Notice of Accident, Leaving Scene of an Accident, License to be Carried and Exhibited, Insurance Compliance, Seat Belts Required.
Booked Into: Montgomery County Jail
Bond: $251,250.00
Dekwon Elleby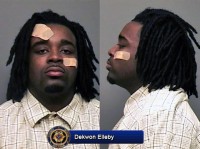 Name: Dekwon Malik Elleby
Date of Birth: 1/ 21/ 92
Gender: M
Race: B
Address: 405 Lillie Belle Lane, Clarksville, TN
Arresting Officer: Thomas Tranberg
Charged With: Aggravated Assault, Reckless Endangerment, Weapon-Convicted Felon Going Armed, Drugs – Schedule VI (Mfg, Sell, Deliver, Etc) Marijuana, Drugs – Unlawful Drug Paraphernalia, Evading Arrest, Seat Belts Required.
Booked Into: Montgomery County Jail
Bond: $335,000.00
Sections
News
Topics
Aggravated Assault, Bond, BP, Clarksville, Clarksville Police, Clarksville Police Department, CPD, Deandre Lamar Lisenbee, Dekwon Malik Elleby, Evading Arrest, Facilitation of a Felony, Immediate Notice of Accident, Insurance, Kangaroo, Lafayette Road, Leaving Scene of an Accident, Leaving The Scene, Lillie Belle Lane, Marijuana, Mark Spitx Drive, MCSO, Montgomery County jail, MOntgomery County Sheriff's Office, reckless driving, Reckless endangerment, Ryder Avenue, Schedule VI Drugs for Manufacture Sell or Delivery, Seat Belts, shooting, The Pantry, Thomas Tranberg, Unlawful Drug Paraphernalia, Weapon Convicted Felon Going Armed