Clarksville, TN – The weekly Clarksville Parks and Recreation Department Recreation Report provides Clarksvillians with a glimpse at the activities and events that are available from the Parks and Recreation Department for them to enjoy together as a family.
This weeks highlights include: Special Needs night at the Indoor Aquatic Center, Dream Chasers, Chocolate Affair, and Zumba and R&B Step.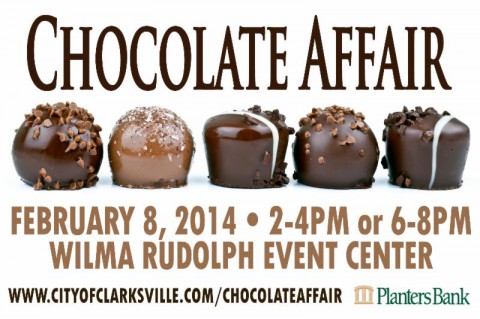 Special Needs night at the Indoor Aquatic Center
Special Needs Nights will be held the second Saturday of every month now, thru April 2014, at the Indoor Aquatic Center, located at 166 Cunningham Lane
The event is open to children and adults with cognitive and physical disabilities and their families. Cost to attend is $1.00 per person, including family members who may not be swimming.
This event allows special needs families to enjoy the pool while getting acquainted with the water or practicing previously learned water safety skills.
Pre-registration is available at recpro.cityofclarksville.com and is encouraged.
Dream Chasers
Clarksville Parks and Recreation's Dream Chasers Group Mentoring Program will now be available at all three Community Center locations! Dream Chasers is focused on helping at-risk youth, ages 13-17 in a small group atmosphere. Small group leaders, guided by professionals, will mentor youth as they discuss dealing with negative influences that affect teens and will promote making healthy and informed decisions.

The Dream Chasers program will now meet Tuesday's, 3:00pm-4:00pm, at the Kleeman Community Center, Wednesday's, 4:30pm-5:30pm, at the Burt Cobb Community Center, and Thursday's, 3:00pm-4:00pm, at the Crow Community Center. Free pizza and drinks are provided to participants each week courtesy of Domino's Pizza.

This program is free with a community center ID.
Calling all Chocolate Lovers!
Local and national businesses are teaming up to offer Clarksville's 2nd Annual Chocolate Affair, scheduled to take place Saturday, February 8th at the Wilma Rudolph Event Center.

Chocolate Affair, presented by the City of Clarksville and Planters Bank, will feature sweet and savory treats from both local businesses like Ann Marie's Artisan Bakery and Natural Choices Botanicals, as well as some National brands like Dove, Lindt, Sams, and Velata.

Entertainment will also be provided. Attendees will have a chance to vote for the "Best Chocolate Offering" – "Best Decorated Booth" – and "Most Creative Use of Chocolate". Prizes will be awarded to the winner of each category.

New this year- two event times! Chocolate lovers can choose either the after lunch ticket, event takes place from 2:00pm to 4:00pm or the after dinner ticket, event takes place from 6:00pm to 8:00pm.

Tickets are only $15.00 per person and are available to purchase on the event's website, www.cityofclarksville.com/chocolateaffair and at the Clarksville Parks and Recreation office.

Chocolate lovers are urged to purchase their tickets early due to a limited quantity available; however cash and credit card will be accepted the day of the event until remaining tickets have been purchased.

For more information about the Chocolate Affair, call the Clarksville Parks and Recreation Department at 931.645.7476 or online at www.cityofclarksville.com/chocolateaffair.
Zumba and R&B Step
During Burt-Cobb's annual maintenance, January 6th-19th, Zumba classes that were scheduled to take place at the center January 14th and 15th will now take place at the Kleeman Community Center from 5:30pm-6:30pm. The R&B classes will be held there also, Tuesday, January 7th and 14th at 6:30pm-7:30pm.
For more details on this or other community center activities, please contact Clarksville Parks and Recreation at 931.645.7476.
About Parks and Recreation
Sections
Events
Topics
Ann Marie's Artisan Bakery, Burt-Cobb Community Center, Chocolate, Chocolate Affair, City of Clarksville, Clarksville Parks & Recreation Department, Clarksville Parks and Recreation, Clarksville Parks and Recreation Report, Clarksville TN, Credit Card, Crow Community Center, Domino's Pizza, Dove, Dream Chasers, Dream Chasers Group Mentoring Program, Indoor Aquatic Center, Kleeman Community Center, Lindt, Natural Choices Botanicals, Pizza, Planters Bank, Prizes, Sams, Special Needs Night, Velata, Wilma Rudolph Event Center, Zumba