Freeze Warning In Effect ... [Click here for more information]

Clarksville, TN – On January 17th, 2014, a 2004 Ford F-250 pickup truck traveling east on Professional Park Drive, drove into the Youth Academy of Clarksville parking lot striking one of it's buildings. No children or employees were injured.
Witnesses said three individuals got out of the truck, two left in a silver Dodge Charger, the other ran behind the buildings into the woods.
Clarksville Police have arrested 27 year old Clarksville resident Thomas Sexton for leaving the scene of an accident.

If anyone has any information in regards to this crash please call the Crime Stoppers TIPS Hotline at 931.645.TIPS (8477).

For more on the story, see:  Clarksville Police report truck crash at Youth Academy of Clarksville
Thomas Sexton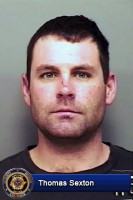 Name: Thomas Sexton
Date of Birth: 7/ 29/ 86
Gender: M
Race: W
Address: 950 Big Sky Drive, APT J108, Clarksville, TN
Arresting Officer: Dana Prins
Charged With: Leaving Scene of Accident – Property Damage $5,000
Booked Into: Montgomery County Jail
Bond: $5,000
Sections
News
Topics
Big Sky Drive, Bond, Clarksville, Clarksville Police, Clarksville Police Department, Clarksville TN, CPD, Crime Stoppers, Dana Prins, Dodge Charger, Ford F-250, Leaving The Scene Of An Accident, Montgomery County jail, Thomas Sexton, Vehicle Crash, Youth Academy of Clarksville