Clarksville, TN – The weekly Clarksville Parks and Recreation Department Recreation Report provides Clarksvillians with a glimpse at the activities and events that are available from the Parks and Recreation Department for them to enjoy together as a family.
This weeks highlights include: Friends of the Blueway, Youth Recreation Leagues, Queen City Road Race Art Contest Winners, Basketball, Wettest Egg Hunt and Spring Program Guide.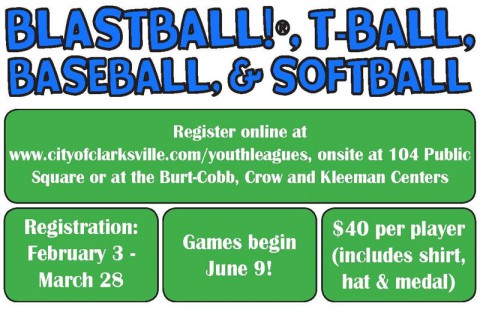 Friends of the Blueway
Are you interested in the Clarksville Blueway? Would you like to do more than just enjoy the Blueway? The Friends of the Blueway is an organization that will be hosting a membership Rally on March 22nd at Billy Dunlop pavilion from 11:00am-2:00pm.
During this event there will be information available about the organization, outdoor organizations, and a barbecue cookout.
For more information on the Clarksville Blueway, or the Friends of the Blueway visit: www.clarksvilleblueway.blogspot.com or www.facebook.com/FriendsoftheBluewayClarksvilleTN
Or send an email to: clarksvilleblueway@gmail.com
Youth Recreation Leagues
Youth league registration begins February 3rd, and is open to boys and girls ages 3-14. This registration is for T-ball, Blastball!, baseball, and softball. New Participants must present their birth certificate upon registration. Cost is $40.00 per child, which includes a team shirt, a hat, and a medal.
If you are interested in coaching a youth league send an email to our Superintendent of athletics at: tina.boysha@cityofclarksville.com
Queen City Road Race Art Contest Winners
The 36th Annual Queen City Road Race Art Contest has ended, and out of the 22 semi-finalists three finalists were chosen. Brayden Sieg from Barkers Mill in third place, Tatiana Hernandez from Carmel Elementary in second place, and the Grand Prize winner, Molly Clark, from Clarksville Academy.

Molly's artwork will be featured on the official race t-shirt, poster and other marketing materials. Don't forget to save the date for the Queen City Road Race on Saturday, May 3rd.
Basketball
Come to any of our Community Centers and play competitive or non-competitive pick-up games. Competitive games are controlled by staff and are played to 12 points or 12 minutes.
The competitive games are held at Burt-Cobb Community Center on Mondays and Tuesdays from 6:00pm-8:45pm, and Saturdays from 11:00am-3:00pm, and at Kleeman Community Center Mondays and Wednesdays from 6:00pm-8:00pm. Non-competitive games are held at Crow Community Center on Wednesdays from 11:00am-9:00pm, and Fridays 2:00pm-6:00pm.
Wettest Egg Hunt
The Indoor Aquatic Center will be hosting its third annual Wettest Egg Hunt. On Saturday, April 12th, children can come hunt for eggs that will be floating on top of the water, or sunk to the bottom.
There will be an adaptive egg hunt offered to children and adults with special needs from 10:00am until 12:00pm, and another egg hunt will follow for children ages 1-12 from 1:00pm-7:00pm. The event is free, and there will be refreshments as well as outdoor activities and indoor activities in the Kleeman Community Center.
Pre-registration is required and can be done online at: www.recpro.cityofclarksville.com
For more information visit us online at: www.cityofclarksville.com/wettestegghunt
Spring Program Guide Available February 1st
Are you interested in learning more about what Clarksville Parks and Recreation has to offer? Pick up our quarterly program guide to find out about leagues, special events, how to rent our facilities and so much more. Program guides are free and can be picked up at our main office or any of our three community centers.
You can access a digital copy by visiting www.cityofclarksville.com .
Sections
Events
Topics
Barbecue, Barkers Mill Elementary School, Baseball, basketball, Billy Dunlop park, Blastball, Brayden Sieg, Burt-Cobb Community Center, Carmel Elementary School, Clarksville, Clarksville Academy, Clarksville Blueway, Clarksville Parks & Recreation Department, Clarksville Parks and Recreation, Clarksville TN, Crow Community Center, Friends of the Blueway, Indoor Aquatic Center, Kleeman Community Center, Molly Clarksville, Queen City Road Race, Queen City Road Race Art Contest, Softball, Spring Program Guide, T-ball, Tatiana Hernandez, Wettest Egg Hunt, Youth Recreation Leagues