Special Weather Statement In Effect ... [Click here for more information]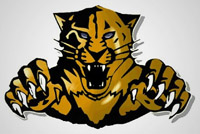 Clarksville, TN – It was raining three's on senior night, Friday night at Procter Court. The Clarksville Academy Cougars and the Merrol Hyde Magnet Hawk's game became a 3-point-shooter showdown in the second half. When the smoke cleared from downtown, the Hawks flew away with the 58-53 win.

The two teams combined for 11, 3-pointers in the second half of the game. Clarksville Academy's Austin Fisher led the barrage with four. Fisher's last swish from behind the 3-point arc tied the game, 50-50 with two minutes remaining in the game.

Merrol Hyde's Adam Withrow answered 20 seconds later with his third from downtown to give the Hawks the 53-50 lead.

Cougar Thomas Jackson tried to tie the game again as the clock wound down to a minute, but missed. The Hawks gained possession and the Cougars immediately fouled with 50 seconds left on the clock. However, the Cougars had not committed enough fouls to put the Hawks on the free throw line yet.

After a timeout, the Hawks excellently executed an inbound play that caught the Cougars napping and ended with an easy Hawk's layup to extend the lead 55-50.

Afterwards, with 32 seconds remaining, Jackson made a 3-pointer to bring the Cougars back within two points, 55-53.

The Cougars then committed enough fouls to put the Hawks on the free throw line. The Hawks made 3-of-5 free throws in the last seconds of the game.

The Cougars missed their last 3-point attempt, failed to get a rebound and committed a turnover in the last 20 seconds, ensuring the Hawks win.

The Cougars made four, 3-pointers in the last period of the game. They made only 8-of-28 from the field in the second half and 3-of-4 from the free throw line.

Fisher led the Cougars with 27 points. He was one of five Cougars to score.

The Hawks made 14-of-26 from the field in the second half of the game, including 5, 3-pointers. They also shot 4-of-7 from the free throw line and committed only four turnovers.

Jacob Stinson scored 26 for the Hawks.

The Cougars fall to 8-16 overall. The Hawks improve to 12-9.
Box Score
Merrol Hyde Magnet 58, Clarksville Academy 53
| | | | | | |
| --- | --- | --- | --- | --- | --- |
| | 1 | 2 | 3 | 4 | Final |
| Merrol Hyde Magnet Hawks | 8 | 13 | 15 | 22 | 58 |
| Clarksville Academy Cougars | 19 | 9 | 7 | 18 | 53 |
Merrol Hyde Magnet
Jacob Stinson 26, Adam Withrow 13, Braxton Lang 6, Patrick Carr 9, Neil Shimer 2.
Clarksville Academy
Austin Fisher 27, Kenny Wade 10, Thomas Jackson 8, Jake Rugen 4, Donovon Boatright 2.
About Marlon Scott
Marlon Scott is a freelance journalist and writer. He graduated from Austin Peay State University in 2011 with a B.S. in Communications, majoring in Communication Arts with a concentration in print and web journalism.

His writing career began as a sports writer for The All State, the APSU student newspaper, in 2006. He continued working for the paper until his graduation, serving in various positions including Sports Editor and Editor-in-Chief.

In 2010, Scott contributed stories and photographs as well as designed and served as Editor-in-Chief for the monograph, Civic Art of Clarksville: The stories behind the pieces.

Scott has also produced 60 stories for The Leaf Chronicle.

You can find him on twitter @theMarlonScott and on Facebook

Email: mrscottoftn@gmail.com
Sections
Sports
Topics
Adam Withrow, Austin Fisher, Braxton Lang, Clarksville, Clarksville Academy, Clarksville Academy Cougars, Clarksville Academy Cougars Basketball, Clarksville Academy High, Clarksville Academy High Cougars, Clarksville Academy High Cougars Basketball, Clarksville Academy High School, Clarksville Academy High School Cougars, Clarksville Academy High School Cougars Basketball, Clarksville TN, Donovon Boatright, Jacob Stinson, Jacon Stinson, Jake Rugen, Kenny Wade, Merrol Hyde Hawks Basketball, Merrol Hyde Lady Hawks, Merrol Hyde Magnet Hawks, Neil Shimer, Patrick Carr, Thomas Jackson