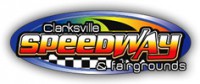 Clarksville, TN – This Saturday, March 15th, the Clarksville Speedway will be making up the races rain out last Saturday. Gates will open at 1:00pm. Drivers will meet at 3:00pm and hot laps will begin at 3:15pm.
All featured races will start directly after hot laps.
The following classes from the rain out last weekend
Late Models A-Main will start at lap 9 and continue to lap 40 ($2500 To Win)
AMS Openwheel A-Main 30 Laps
Southern Street Feature 12 Laps
UMP Street Stock 12 Laps
Pure Mini 12 Laps
The grandstands will be FREE to enter because this is our rain out event, No ticket will be needed to enter in the front gate for the rain out show! However, when the rain out event is over, ALL people will clear the grandstands and then you must have a new ticket to re-enter for the next event which is a regular scheduled event! All 9 classes will be racing!
The Pits however, we will not clear everyone out so the armband will be $25.00 per person and this will include the rain out event and the Regular scheduled show for the night! You must purchase a new armband ($25.00) if you plan on entering the pits for either show! No exceptions!
The Clarksville Speedway is located at 1600 Needmore Road in Clarksville, TN.
Sections
Events
Topics
Clarksville, Clarksville Speedway, Clarksville TN, Needmore Road, Races