Clarksville, TN – Anyone that has followed Austin Peay State University athletics over the years know that the men's golf program has been one of the top programs, not only in the Ohio Valley Conference, but in the region as well year in and year out.

This year's squad is shaping to be no different; led by senior Marco Iten, who so far this season has been the Govs top player, and is looking to help lead the team in repeating as OVC champions and earn yet another berth into another NCAA regional.

"It's in everybody's head that we won last year," Iten said. "But we understand that no one is just going to hand it to us this year. I do think more eyes are on us this year compared to last year, so I think it is somewhere between extra pressure and extra motivation and I think it's going to work out pretty good.

"Honestly, it's been kind of weird start to our spring being inside for so long, so we just took practice outside when it came and started working on the same stuff that we always work on and it's coming together pretty nicely so far."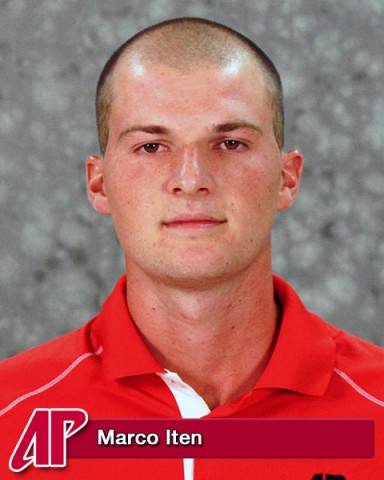 Overall, the Govs have finished fifth, seventh and third in the events the team has played in so far this season, with Iten being the low scorer for APSU in all three – including shooting a 3-under 69 in the final round and tying for medalist honors 73-73-69–215 (-1) at the Talis Park Challenge among a field that boasted five Top 100 (ranked) teams.

"I think this spring when you look at it, this is the strongest schedule that we've ever had in coach's (Kirk Kayden) career, as well as in my career," he said. "So we have a lot of opportunities coming up playing at Ole Miss and Mississippi State (tournaments) in something that's not typical for an OVC school."

Individually, Iten has been one of the most consistent players the Govs have had on the team the past four years, staring back as a freshman where 30 of his 32 total rounds were counted in team scores, to this season where he is currently tied for sixth in the conference standings with a 73.0 strokes per round average – just one stroke back to OVC leader Ashton Van Horne (72.0) of Belmont University.

"I think the biggest thing is that I've gotten much more consistent, compared to when I came in," Iten said. "I think my long game has gotten to the point where pretty much I'll be there, be in contention, almost every week.

"Also my mental game that's gotten better too, not to get too emotional out on the course, and just be in charge of that a little bit and don't get to high when you're playing well and to low when you're playing poorly, so you can kind of keep it on a steady level."

With three more challenging tournaments still in front of the Govs and Item before the OVC championship on April 24th through 26th in Muscle Shoals, AL, he feels keeping the course and staying focused on what is in front of them will pay off.

"I think we just to keep doing what we're doing, even though it's already the end of March and we've only been outside for a total of three weeks of practice," he said. "So as long as people keep their heads in the game and keep working on it every day I think we have a fair chance to be at our best when conference (tournament) comes around.



About Chris Austin
Chris Austin is a graduate of Clarksville High School and Austin Peay State University.

Chris is a former Head Softball Coach for APSU, and assistant basketball coach for CHS.

Chris has worked at the Leaf-Chronicle, and WJZM News/Talk/Sports radio. Has also worked at the Sports Information Department at APSU, and has covered championship events for the Ohio Valley Conference and NCAA.

Chris is an avid sports fan and can be found at most Austin Peay State University sports events.

Web Site: http://www.clarksvillesportsnetwork.com
Email: chris_austin24@yahoo.com
Sections
Sports
Topics
APSU, APSU Athletics, APSU Golf, APSU Men's Golf, APSU Sports, Ashton Van Horne, Austin Peay, Austin Peay State University, Belmont University, Clarksville, Clarksville TN, Governors, Govs, Kirk Kayden, Marco Iten, Mississippi State, Muscle Shoals AL, NCAA Regional, Ohio Valley Conference, Ole Miss, OVC, OVC Championship, Talis Park Challenge