Austin Peay Sports Information

West Point, MS – Marco Iten's outstanding spring continued, Tuesday, on the final day of the Old Waverly Collegiate Championship, played at the Old Waverly Golf Club.

Iten shot a career-best 6-under 66, including birdies on his final two holes, to finish with a 54-hole 207 and tie for first-place with Mississippi State's Barrett Edens, who set a tourney record with a 65 in the final round.

Overall, the Governors shot a final-round 1-under 287 to finish at 867 to move up a spot to finish in a fifth-place tie with Chattanooga and South Alabama and just one shot behind Florida. Host Mississippi State won the event with an 859, followed by Cincinnati (860), Ole Miss (862) and Florida.

"Just another phenomenal performance by Marco," APSU coach Kirk Kayden said. "He birdied his last two holes (Nos. 9 and 10). He is just playing outstanding golf right now—his last three tournaments he has been first-second-first."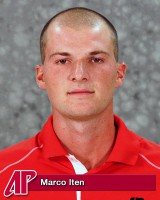 Overall, Iten finished the day with seven birdies and one bogey (No. 13). The 66 bested his previous tourney low of 67, set last season in the NCAA Tempe Regional, but that round was accomplished on a par-70 course.
In fact, Iten's three-round 207 tied his career low, also set at last season's Tempe Regional. His three-round 9-under also was a career best.
Iten entered the spring owning just one medalist honor (2011 F&M APSU Intercollegiate). He now has three.
But Iten certainly had help from his teammates against a challenging field and course. Fellow senior Anthony Bradley overcame allergy issues that saw his score swell (80, second round) like his face and hands Monday to finish at even-par 72 (222 overall).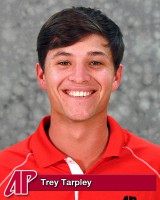 Senior Trey Tarpley bounced back from an opening-round 79 to finish with 71-74 (224). Chris Baker overcame a first-round 80 to shoot 74-75 (229) in the final two rounds. Tucker Wallace shot a 71-74 in the opening round but struggled to 81 (226), Tuesday.

"This had a regional-field feel to it," Kayden said. "You see the teams that were in the field, how many (10) were ranked in the Top 100, I was really proud how these guys stepped up.

"They played great team golf. Anthony came back today to finish at even par. Trey and Chris both had doubles late to finish at 2- and 3-over. Tucker played really well yesterday when we had to have it."

In finishing fifth, the Govs outdistanced No. 37 Memphis (878), which finished well ahead of the Govs last week in the Tigers own tourney. APSU also beat Louisiana (formerly Louisiana Lafayette) that was third last week in Memphis and Wichita State, which finished second to the Govs third in the Talis Park Challenge last month.

"We are getting there," Kayden said. "We are building some momentum. Hopefully, we can maintain this over the next few weeks."
Box Score
Old Waverly Collegiate Championship
West Point, MS | Old Waverly Golf Club
Dates: April 7th – April 8th
| | | | | | |
| --- | --- | --- | --- | --- | --- |
| Finish | School – Players | Round 1 | Round 2 | Round 3 | Totals |
| T 5 | Austin Peay State University | 291 | 289 | 287 | 867 |
| T 1 | Marco Iten | 71 | 70 | 66 | 207 |
| T 41 | Anthony Bradley | 70 | 80 | 72 | 222 |
| T 60 | Trey Tarpley | 79 | 71 | 74 | 224 |
| T 65 | Tucker Wallace | 71 | 74 | 81 | 226 |
| T 74 | Chris Baker | 80 | 74 | 75 | 229 |
| | | | | | |
Sections
Sports
Topics
Annual F&M Bank APSU Intercollegiate, Anthony Bradley, APSU, APSU Athletics, APSU Golf, APSU Men's Golf, APSU Sports, Austin Peay State University, Barrett Edens, Chattanooga, Chris Baker, Cincinnati, Florida, Governors, Govs, Kirk Kayden, Louisiana, Marco Iten, Memphis, Mississippi State, NCAA Tempe Regional, Ohio Valley Conference, Old Waverly Collegiate Championship, Old Waverly Golf Club, Ole Miss, OVC, South Alabama, Talis Park Challenge, Tigers, Trey Tarpley, Tucker Wallace, West Point MS, Wichita State