Austin Peay State University

Paducah, KY – Senior Jasmin Ademovic was named first-team All-Ohio Valley Conference for the fourth time, Wednesday, becoming the first player in program history to earn first-team honors in each of his four Austin Peay seasons.

In addition, juniors Aleksas Tverijonas and Dimitar Ristovski each found their way onto one of the two all-conference teams for a third consecutive season, giving Austin Peay at least three players with All-OVC honors in each of the last four seasons.

"These guys are all extreme competitors," said head coach Ross Brown. "I think they really show the younger players what it takes. They've got loads of ability, but they also work hard and represent our university well."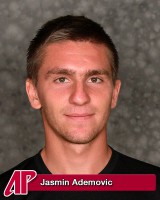 Ademovic battled injury to post an 8-5 mark at No. 1, including a 5-3 record in conference play. The fourth consecutive first-team honor is unprecedented since the OVC broke honors into first and second team in 2005.
He's the second Gov senior in as many years to earn All-OVC each of his four years in red, joining Sean Bailey. He's the first OVC men's tennis player to earn first-team in each of his four seasons since Eastern Kentucky's Alex Das (2008-11).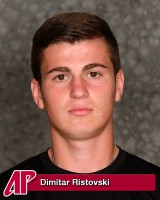 "We're very fortunate to have a player of his caliber and work ethic," Brown said. "He's an asset on and off the court."

Ristovski and Tverijonas could become Austin Peay's next four-time all-conference honorees with strong 2015 campaigns after both earning second-team honors for 2014.

The Macedonian-bred Ristovski quietly turned in one of the best all-around OVC campaigns this season, going 10-5 in singles play and teaming with Iago Seffrin for a 12-2 mark in doubles, primarily at the No. 2 slot. He earned five conference wins in both singles and doubles play.

Tverijonas is 34-3 in dual play the last two years, including a 16-2 mark during play this season. Teamed with Ademovic at No. 1 doubles, the pair has earned a 7-5 mark overall, 4-2 against conference foes. He began his spring campaign with a nine-match winning streak, reminiscent of his 14-match run to begin the 2013 season.

If Ristovski and Tverijonas were to continue their success with all-conference honors next season, they would become the first teammates in the same class to earn All-OVC honors in each of their four seasons together since Middle Tennessee's Marshall Brown and Julius Robberts (1995-98).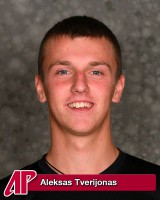 The conference announced their honors at the annual awards banquet prior to the start of the OVC Tennis Championship. Belmont's Mauricio Antun was named OVC Player of the Year, with teammate Cedric Dujacquier earning Freshman of the Year honors. Jacksonville State's Steve Bailey was named Coach of the Year.
Austin Peay begins the defense of its 2013 OVC Tournament title with the tourney-opening match Thursday, pitting the third-seeded Govs against No. 6 Eastern Illinois, 10:00am, at Heflin Tennis Center in Paducah, KY.
Sections
Sports
Topics
Aleksas Tverijonas, Alex Das, All-OVC First Team, APSU, APSU Athletics, APSU Men's Tennis, APSU Sports, APSU Tennis, Austin Peay State University, Belmont, Cedric Dujacquier, Dimitar Ristovski, Eastern Illinois, Eastern Kentucky, Governros, Govs, Heflin Tennis Center, Jacksonville State, Jasmin Ademovic, Julius Robberts, Marshall Brown, Mauricio Antun, Middle Tennessee, Ohio Valley Conference, OVC, OVC Tennis Championships, OVC Tournament, Paducah KY, Ross Brown, Sean Bailey, Steve Bailey