APSU Sports Information

Muscle Shoals, AL – Austin Peay State University women's golf team saved its best for last at the Ohio Valley Conference championship. However, the Lady Govs best still didn't help them move up in the final standings.

The Lady Govs shot a final-round 314 to finish sixth in OVC championships, played at The Robert Trent Jones Golf Trail at The Shoals.

Murray State rallied from six shots down on the final day, shooting a 310, to eclipse Eastern Kentucky, 915-917 for the title. Jacksonville State was third at 923 followed by Morehead State (927), Tennessee Tech (934) and the Lady Govs (949).

APSU's final-round 314 was the day's third-best round behind Morehead State's 307 and Murray State's 310.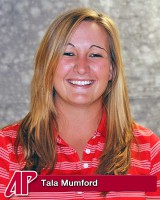 "I was really proud of them today," APSU coach Sara Robson said. "They went out with the attitude they were going to play great—they expected to play great—and they responded by playing well.  They built off what they did yesterday, played to their strengths."
Senior Tala Mumford and junior Jessica Cathey came into the final round tied for 15th overall at 155. They remained tied in the final standings, both shooting 4-over 76s to end at 231, tying for eighth. Cathey had a trio of sub-80 scores, the only Lady Govs to do so. Murray State's Delany Howson, the OVC Player of the Year, won the event by 13 strokes with a 212.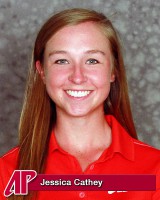 "Jessica is a great player and she didn't play as well as she is capable," Robson said. "She has very high aspirations of herself. But I was proud how she came back and fought hard after some difficult shots.
"Tala played well all week. She was determined to end her career positively and she did so. It was her last round—she wanted a little more out of it (final round) but she grinded to shoot 76 today . The thing I love about Tala is her ability to just scrap her way around the course."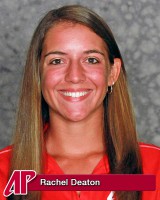 Senior Rachel Deaton, whose game is not tailored for the Fighting Joe Course length, finished her career with an 80, finishing with a birdie putt to end her career.

"That was a great moment for Rachel," Robson said. "She has not liked that 18 hole the entire week; she dreaded coming to the tee box. But she walked up to tee box and we said you are going to own the hole—she was going to make birdie. She hit it where we told her to hit it. Then she got down there and made a great putt."

After rounds of 84 and 86, the long-hitting freshman Morgan Kauffman found her putting stroke enough to fire an 82, Wednesday.  Meanwhile, fellow freshman Amber Bosworth, who shot a 77 Tuesday, struggled to an 87, Wednesday.

"Kauffman has been close all week and she putted better today," Robson said. "I think Amber was a little uncomfortable yesterday playing well; getting those nerves going and learn how to deal with them and learn to channel that energy positively. I think she was a little mentally tired."
Box Score
| | | | | | |
| --- | --- | --- | --- | --- | --- |
| Finish | School – Players | Round 1 | Round 2 | Round 3 | Totals |
| 6 | Austin Peay State University | 320 | 315 | 314 | 949 |
| T 8 | Jessica Cathey (1) | 79 | 76 | 76 | 231 |
| T 8 | Tala Mumford (3) | 75 | 80 | 76 | 231 |
| T 29 | Amber Boswoth (5) | 82 | 77 | 87 | 246 |
| 32 | Rachel Deaton (2) | 86 | 82 | 80 | 248 |
| 39 | Morgan Kauffman (4) | 84 | 86 | 82 | 252 |
| | | | | | |
Sections
Sports
Topics
Amber Bosworth, APSU, APSU Athletics, APSU Golf, APSU Sports, APSU Women's Golf, Austin Peay State University, Delany Howson, Eastern Kentucky, Jacksonville State, Jessica Cathey, Lady Govs, Morehead State, Morgan Kauffman, Murray State, Muscle Shoals AL, Ohio Valley Conference, OVC, OVC Championship, Rachel Deaton, Sara Robson, Tala Mumford, Tennessee Tech, The Robert Trent Jones Golf Trail at The Shoals