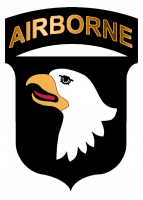 Fort Campbell, KY – On Monday, local realtor Valerie Hunter-Kelly was inducted as a Champion of Fort Campbell during the 2014 Week of the Eagles.
The Champions of Fort Campbell award allows Fort Campbell to recognize and give local citizens who have spent their lives supporting Fort Campbell a small token of appreciation.
Maj. Gen. James C. McConville presented the award and unveiled a portrait sized copy of the photo of Valerie Hunter Kelly that would be placed on the wall of honor  with the previously selected champions of Fort Campbell.
His remarks, and Valerie Hunter-Kelly's are included in full below.
Kelly is the first African-American to receive the honor.
She joins a veritable Who's Who of Fort Campbell supporters including Ted Crozier, T.C. Freeman, Bob Freeman, Anna Caryl Guffey, Bill Harpel, Phil Harpel, Chuck Henderson, Ben Kimbrough, Jack Turner, Sam Bass, Ed Rufo, Bob Seitz, Shirley West, Dick Winters, 1st Sgt. (Ret) Billy Colwell Sr., Lori Harper, Lana Bastin, and Rita Bodensteiner.
Maj. Gen. James C. McConville
Valerie Hunter-Kelly
Photo Gallery
About Bill Larson
Bill Larson is  is politically and socially active in the community. Bill is a member of the Friends of Dunbar Cave.

You can reach him via telephone at 931-249-0043 or via the email address below.
Sections
News
Topics
101st Airborne Division, Anna Caryl Guffey, Ben Kimbrough, Bill Harpel, Billy Colwell Sr., Bob Freeman, Bob Seitz, Champions of Fort Campbell, Chuck Henderson, Dick Winters, Ed Rufo, Fort Campbell, Jack Turner, James C. McConville, Lana Bastin, Lori Harper, Mark Kelly, Phil Harpel, Rita Bodensteiner, Sam Bass, Shirley West, T.C Freeman, Ted Crozier, U.S. Army, Valerie Hunter-Kelly, Week of the Eagles