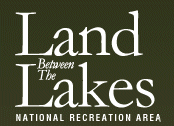 Golden Pond, KY – On Saturday, June 14th, in honor of National Get Outdoors Day, Land Between The Lakes National Recreation Area waives admission fees to the Woodlands Nature Station. The Nature Station is open 10am to 5:00pm.

Come experience the native gardens and rescued animals in the Nature Station's Backyard.

People can learn how to attract and provide for Purple Martins at the "Nature Series for Adults" program from 11:00am-12:00pm.

Children can learn outdoor skills at the "Be an Outdoor Kid" program from 2:00pm-2:30pm. Stay and watch the Raptor Parade at 4:30pm, as staff escort the owls and hawk to their night time enclosures.

Pre-register for a guided Sunset Canoe Trip, 6:00pm-8:30pm, and paddle a scenic bay in search of wildlife. Call 270.924.2020 to make reservations, $25.00 per canoe. Additional animal programs will be presented throughout the day.

The Forest Service, U.S. Department of Agriculture, manages Land Between The Lakes National Recreation Area in partnership with Friends of Land Between The Lakes in Western Kentucky and Tennessee. The National Recreation Area provides environmental education, outdoor recreation, lake access, and land management for the public to enjoy.

Visitors are encouraged to review the official website at www.lbl.org or call 800.LBL.7077 or 270.924.2000 for event listings, updates on programs and policies, safety information, maps, temporary trail and road closures, and more.

Follow Land Between The Lakes on Twitter @LBLScreechOwl or @LandBtwnLakes and Friends of Land Between The Lakes on Facebook at www.facebook.com/LBLFriend. To sign up for an events e-newsletter, email lblinfo@fs.fed.us. USDA is an equal opportunity provider and employer.



Sections
Events
Topics
Canoe Trip, Friends of LBL, Golden Pond KY, Hawk, Land Between the Lakes, Land Between the Lakes National Recreation Area, LBL, National Get Outdoors Day, Owl, Purple Martins, Tennessee, U.S. Department of Agriculture, U.S. Forest Service, Western Kentucky, Woodlands Nature Station