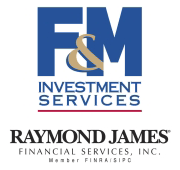 Clarksville, TN – The economic data were mixed. The estimate of real GDP growth for the first quarter was revised down to a -1.0% annual rate (vs. +0.1% in the advance estimate). Most of the revision was due to a slower pace of inventory growth, which ought to pave the way for increased production in 2Q14.

Slower inventory growth subtracted 1.6 percentage points from overall GDP growth (vs. -0.6 ppt in the advance estimate), while a wider trade deficit subtracted 1.0 percentage point (vs. -0.8 ppt in the advance estimate.

Domestic Final Sales (GDP less net exports and the change in inventories), a measure of underlying domestic demand, rose at a 1.6% pace, the same as in 4Q13.

Personal income rose 0.3% in April, as expected, but spending slipped 0.1% (-0.3% adjusting for inflation, offset by upward revisions to February and March). However, while the estimate of 1Q14 GDP growth was revised lower, estimates of 2Q14 GDP growth are likely to be raised (to 4% or more).

Bond yield fell further, with the 10-year Treasury note yield pushing below 2.5%. The drop in bond yields appears to be due to a number of factors. Soft growth and low inflation in Europe has fueled expectations that the European Central Bank will ease monetary policy, pushing global bond yields lower.

In the U.S., while the tapering of the Fed's pace of asset purchases is set to continue, policymakers are expected to be in less of a hurry to raise short-term interest rates. Inflation is still low and the government is borrowing less. For the stock market, this appears to be the sweet spot – the economic expansion is set to continue, but not so fast that the Fed will take the punchbowl away anytime soon.

Next week, the calendar is packed. The ISM surveys for May have some potential to surprise and we could see the financial markets react accordingly. The ADP estimate is not seen as a good predictor of the official BLS payroll figures, but a large enough surprise could generate some reaction in the markets.

The ECB is widely expected to do something on Thursday, but it's not exactly clear what that will be. An ECB rate cut, including a negative deposit rate and other efforts to boost the flow of credit are factored in. The ECB has a history of disappointing the markets and that may be the case again next week, but in his press conference, ECB President Draghi could throw out some hope by suggesting the possibility of further action.

Nonfarm payrolls jumped in April (+288,000 in the initial estimate), but some of that strength may have reflected a rebound from adverse weather and the late Easter holiday. Payrolls should rise more moderately in May (still strong, the median forecast is likely to be about +215,000), but watch for possible revisions.
Indices
| | | | |
| --- | --- | --- | --- |
| | Last | Last Week | YTD return % |
| DJIA | 16698.74 | 16543.08 | 0.74% |
| NASDAQ | 4247.95 | 4154.34 | 1.71% |
| S&P 500 | 1920.03 | 1892.49 | 3.88% |
| MSCI EAFE | 1955.68 | 1934.60 | 2.09% |
| Russell 2000 | 1140.07 | 1113.87 | -2.03% |
Consumer Money Rates
| | | |
| --- | --- | --- |
| | Last | 1-year ago |
| Prime Rate | 3.25 | 3.25 |
| Fed Funds | 0.06 | 0.09 |
| 30-year mortgage | 4.12 | 3.81 |
Currencies
| | | |
| --- | --- | --- |
| | Last | 1-year ago |
| Dollars per British Pound | 1.672 | 1.511 |
| Dollars per Euro | 1.361 | 1.294 |
| Japanese Yen per Dollar | 101.600 | 100.970 |
| Canadian Dollars per Dollar | 1.084 | 1.036 |
| Mexican Peso per Dollar | 12.843 | 12.656 |
Commodities
| | | |
| --- | --- | --- |
| | Last | 1-year ago |
| Crude Oil | 103.58 | 93.13 |
| Gold | 1255.95 | 1392.18 |
Bond Rates
| | | |
| --- | --- | --- |
| | Last | 1-month ago |
| 2-year treasury | 0.38 | 0.43 |
| 10-year treasury | 2.48 | 2.61 |
| 10-year municipal (TEY) | 3.71 | 4.18 |
Treasury Yield Curve – 5/30/2014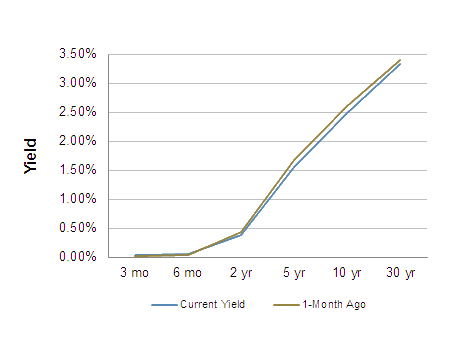 S&P Sector Performance (YTD) – 5/30/2014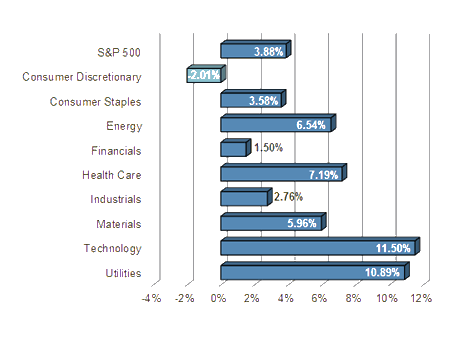 Economic Calendar
June 2nd
ISM Manufacturing Index (May)
June 3rd
Factory Orders (April)
Unit Motor Vehicle Sales (May)
June 4th
ADP Payroll Estimate (May)
Trade Balance (April)
ISM Non-Manufacturing Index (May)
Fed Beige Book
June 5th
ECB Policy Decision
Jobless Claims (week ending May 31st)
June 6th
Employment Report (May)
Important Disclosures
Past performance is not a guarantee of future results. There are special risks involved with global investing related to market and currency fluctuations, economic and political instability, and different financial accounting standards. The above material has been obtained from sources considered reliable, but we do not guarantee that it is accurate or complete. There is no assurance that any trends mentioned will continue in the future. While interest on municipal bonds is generally exempt from federal income tax, it may be subject to the federal alternative minimum tax, state or local taxes. In addition, certain municipal bonds (such as Build America Bonds) are issued without a federal tax exemption, which subjects the related interest income to federal income tax. Investing involves risk and investors may incur a profit or a loss.

US government bonds and treasury bills are guaranteed by the US government and, if held to maturity, offer a fixed rate of return and guaranteed principal value. US government bonds are issued and guaranteed as to the timely payment of principal and interest by the federal government. Treasury bills are certificates reflecting short-term (less than one year) obligations of the US government.

Commodities trading is generally considered speculative because of the significant potential for investment loss. Markets for commodities are likely to be volatile and there may be sharp price fluctuations even during periods when prices overall are rising. Specific sector investing can be subject to different and greater risks than more diversified investments.

Tax Equiv Muni yields (TEY) assume a 35% tax rate on triple-A rated, tax-exempt insured revenue bonds.

Material prepared by Raymond James for use by its financial advisors.
The information contained herein has been obtained from sources considered reliable, but we do not guarantee that the foregoing material is accurate or complete. Data source: Bloomberg, as of close of business May 29th, 2014.
©2014 Raymond James Financial Services, Inc. member FINRA / SIPC.
About Frazier Allen
Sections
Business
Topics
British Pound, Clarksville, Clarksville TN, Crude Oil, DJIA, Euro, F&M Investment Services, Fed, GDP, gold, ISM Manufacturing Index, Japanese Yen, Mexican Peso, Mortgage Rates, MSCI EAFE, Nasdaq, Raymond James Investment Services, Russell 2000, S&P 500, U.S. Stock Market, Weekly Market Snapshot