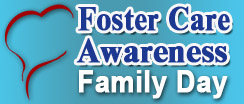 Clarksville, TN – May 17th marked the 5th Annual Foster Care Awareness Family Day Celebration. Over 450 members of the Clarksville Community gathered together to learn about becoming a foster parent at the LEAP Plaza.
Of those that attended there were a total of 9 that signed up to become foster parents.
This event was hosted by the Department of Children Services, Centerstone, Health Connect, Clarksville Family Therapy, OmiVisions, Youth Villages, Mental Health Cooperative, and the LEAP Organization.
City Councilman Jeff Burkhart delivered opening remarks with Montgomery County Mayor Carolyn Bowers and City of Clarksville Mayor Kim McMillan issuing proclamations that expressed their support in recruiting more resource parents.
The theme of the important role foster parents plan in the lives of youth was eloquently articulated by Juvenile Court Judge Tim Barnes.
There are currently over 250 kids still in state custody with less than 50 resource homes located in Montgomery County resulting in them being placed throughout Tennessee and in other states. The majority of the kids placed in state custody are done so at no fault of their own. They are victims of unsafe households that mistreat and abuse them to the point that is in the child's best interest to be removed from the home.
Although the month of May is commonly set aside for Foster Care Awareness, the shortage of resource homes is an ongoing issue that can only be resolved by more members of our community becoming Foster/Resource Parents.
Those that are interested must be able to:
Give without the expectation of immediate returns
Have room in their home and daily life
Lean and use proven behavioral management skills
Love and care for children with problems.
Resource Parents can be married or single with or without children. They can be employed or unemployed as long as they are able to financially meeting their own needs and must be in sufficient good health. The process consists of passing a background check, completing the required training, and participating in a home study.
Resource parents receive an average of $730.00 to $922.00 per month for each child and are eligible for an initial clothing allotment for kids that do not have adequate clothing. The children come with health insurance. Typically children are placed with a family for 1 to 9 months, but under certain circumstances it could be extended up to 3 years.
For more information on becoming a resource parent call Anne Marie Cutting at 931.503.3201