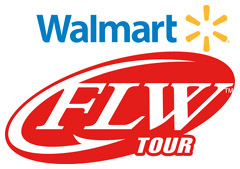 Paris, TN – The sixth and final regular-season event in the 19th season of the major leagues of professional bass-fishing, the Walmart FLW Tour, kicks off June 26th-29th with the Walmart FLW Tour at Kentucky Lake presented by Evinrude.
Hosted by the Henry County Alliance, the tournament will feature a full field of the world's best bass-fishing pros and co-anglers casting for top awards of up to $125,000 cash in the pro division and up to $25,000 cash in the co-angler division.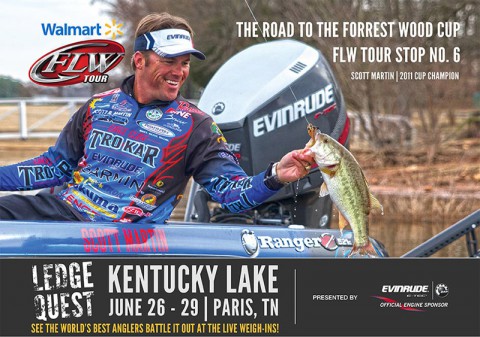 "The fishing is going to be real good, no doubt about it," said Livingston Lures pro Andy Morgan, the reigning Kellogg's Angler of the Year and current points leader coming in to the final event. "There are going to be a lot of bass caught. There is a ton of off-shore structure and I think the tournament will be won fishing 20-feet or deeper."

"It's typical Tennessee River," Morgan continued "This time of year the fish are going to be on the deep-water stuff. I think we'll probably see a handful of guys fishing shallow, but as far as being competitive you can forget it. I think you have no chance of doing well fishing shallow. Some guys will make the run to Lake Barkley. It's a good fishery, but it typically fires a little bit later than Kentucky Lake. I don't think the guys that make the run will see the huge individual schools that you'll see on Kentucky (Lake)."

Morgan said that key factors throughout the week would be bait selection and equipment performance.

"You need to have faith in your equipment if you're going to make those long runs," Morgan said. "It's very fitting that Evinrude is the presenting sponsor for this event because I have a lot of faith in my equipment. It doesn't matter how many fish you catch during the day, if you don't make it back to the marina you don't get any credit for it.

"We're going to see a lot of big crankbaits – I'm going to have my Livingston DM 20 tied on. Guys will be throwing worms, jigs, Carolina rigs, swimbaits and spoons."

Morgan said that he thinks competitors will need to catch at least 38 pounds to make the top-20 cut, and he predicted that the winner of the event would have a winning weight right around 90 pounds.

In FLW Tour competition, anglers are also vying for valuable points in hopes of qualifying for the 2014 Forrest Wood Cup, the world championship of bass fishing. The 2014 Forrest Wood Cup will be in Columbia, SC, August 14th-17th on Lake Murray and is hosted by Capital City Lake Murray Country. Anglers could win as much as $500,000 – professional bass-fishing's richest prize.

Anglers will take off from Paris Landing State Park located at 16055 Highway 79 North in Buchanan at 6:30am each day of competition. Thursday and Friday's weigh-ins will be held at Paris Landing beginning at 2:30pm. Saturday and Sunday's final weigh-ins will be held at Walmart located at 1210 Mineral Wells Avenue in Paris beginning at 4:00pm.

Fans will also be treated to the FLW Expo at Walmart on Saturday and Sunday from noon to 4:00pm prior to the final weigh-ins. The Expo includes Ranger boat simulators, a Chevy Truck Tour, the opportunity to interact with professional anglers, enjoy interactive games, activities and giveaways provided by sponsors, and fans can learn more about the sport of fishing and other outdoor activities.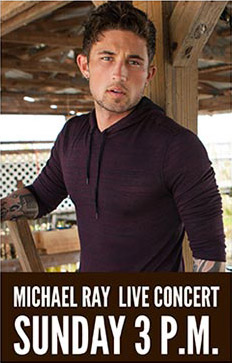 All activities are free and open to the public. Also on Sunday, country music star Michael Ray will perform a free live concert on the Walmart weigh-in stage at 3:00pm.
Coverage of the Kentucky Lake tournament will be broadcast in high-definition (HD) on NBC Sports Network when "FLW" airs September 7th from 8:00pm-9:00pm ET. The Emmy-nominated "FLW" television show is hosted by Jason Harper and is broadcast to more than 564 million households worldwide, making it the most widely distributed weekly outdoors-sports television show in the world.
For complete details and updated information visit FLWOutdoors.com. For regular updates, photos, tournament news and more, follow us on Facebook at Facebook.com/FLWFishing and on Twitter at Twitter.com/FLWFishing.
About FLW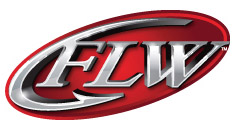 FLW is the industry's premier tournament-fishing organization, providing anglers of all skill levels the opportunity to compete for millions in prize money nationwide in 2014 over the course of 229 tournaments across five tournament circuits, four of which provide an avenue to the sport's richest payday and most coveted championship trophy – the Forrest Wood Cup.
FLW tournament fishing can be seen on the Emmy-nominated "FLW" television show and is broadcast to more than 564 million households worldwide, making it the most widely distributed weekly outdoors-sports television show in the world.
For more information about FLW visit FLWOutdoors.com and look for FLW on Twitter, Facebook, Pinterest, Instagram and YouTube.
Sections
Events
Topics
Andy Morgan, Buchanan TN, Concert, Evinrude, Fishing Tournament, FLW, FLW Expo, Henry County Alliance, Jason Harper, Kentucky Lake, Lake Barkley, Michael Ray, NBC Sports Network, Paris Landing State Park, Paris-TN, Tennessee River, Walmart, Walmart FLW Tour