Written by Megan Broadnax
APSU Intern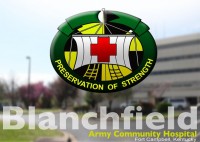 Fort Campbell, KY – The senior enlisted Soldier for all Army Medicine, Command Sgt. Maj. Donna A. Brock, recently visited Blanchfield Army Community Hospital at Fort Campbell. As Brock tours hospitals and clinics in the medical community, she often assesses several things.

"I really look at the spirit of what's going on in the hospital. I can walk into a hospital as a whole and get a sense of the culture, the leadership, and the dynamics going on there," said Brock.

Brock recognized the positive impact of BACH's staff. She was greatly affected by the warm welcome she received and the motivation displayed by the young noncommissioned officers she met.

"The maturity that they have, the goal setting that they have, those are the kind of things that kept me in the Army for 35 years and it really motivates you on a daily basis," said Brock.

Working in the laboratory has inspired BACH pathology technician Spc. Brian Lefevre to pursue medical school one day to become an Army pathologist.

"I fully enjoy working in the laboratory here at Blanchfield," said LeFevre. "It is always offering new challenges and on the job experience that I couldn't find outside of being a 68K [medical laboratory specialist] in the Army. At first it was just a way to start an education, but after working closely with the medical techs and the pathologist in our department, I have found a job field I thoroughly enjoy. I find new challenges constantly that allow me to utilize what I know and add a positive impact to the care we give to the people here at Fort Campbell."

LeFevre bragged about his work environment giving him a great start to further his education.

"This work environment has given me a great start to a career that I couldn't find anywhere else and I plan to take full advantage of this opportunity," said LeFevre. "Becoming a pathologist is a goal I set for myself towards the end of my AIT [Advanced Individual Training]. Being an Army Soldier will allow me many opportunities to complete the educational requirements so that I may achieve my goals."

As the top noncommissioned officer for an organization that performs selfless service for local communities and encourages healthy lifestyles Army-wide, Brock understands the importance of knowing what patients need from Army Medicine.

"It fuels everything that we do in the future to continue to maintain the quality care that we have here," Brock said. "In our tagline we say 'serving to heal, honor to serve' and that means everyone who works within these walls is completely immersed into the positive nature of what healthcare can do for the future and we just want to keep everyone healthy," said Brock.



Sections
News
Topics
Bach, Blanchfield Army Community Hospital, Brian Lefevre, Donna A. Brock, Fort Campbell, Fort Campbell KY, Kassaundra Messina, Megan Broadnax, Robert Johansen, Stacy Rzepka