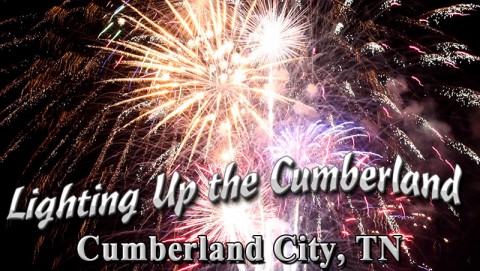 Cumberland City, TN – Cumberland City Tennessee held their 11th annual Lighting up the Cumberland fireworks show on Saturday, June 28th, 2014. The event is an annual tradition that draws people from all over the Middle Tennessee region, and this year from as far away as England.
"It's a win-win situation for everybody," stated Cumberland City Mayor Gary "Whitey" Vaughn. As the time for the fireworks draws near, the small town of 315 people sees the population swell to anywhere between 10,000 to 15,000 people; and that doesn't count the people watching from throughout the surrounding countryside. "If you can see the TVA Power Plants smokestacks, you can see the fireworks," said Mayor Vaughn.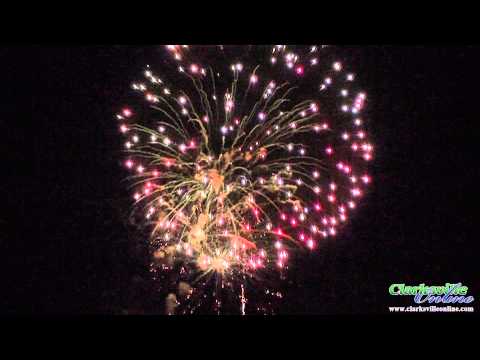 Back when this event was in its initial planning stages 11 years ago some people expressed their doubts about its potential for success. "Some people said "Lordy mercy their won't be enough folks in Cumberland City to share a case of Coca-Colas"," said Vaughn. "Luckily they were mistaken."

The event is funded through a series of dinners held twice a month between April and October. Fish dinners are held on the second Saturday of the month, with schnitzel dinners held on the fourth Saturday. "We have a fundraiser six months out of the year, April May June, August September October. We have fish on the second Saturdays, and schnitzel dinners on the fourth Saturday. As we tell everybody people who thank us for we do as citizens, if it wasn't for the people coming we wouldn't have it."

Pyro Shows out of Lafayette Tennessee puts on the 15 to 18 minute long fireworks show at Cumberland city. "They are the same company that does the shows out at Fort Campbell for the U.S. Army, the Tennessee Titans," said Vaughn. "They're the only company that's ever been allowed to do fireworks in Washington at the White House." He exclaimed, "They really take care of us!"

Vaughn was also proud of the fact that the city of Cumberland City is not required to contribute any taxpayer funds for the event. "Donations and community fundraising covers the cost of having this event each year.The largest donations are a $5000 donation that comes from Stewart County Tourism, and another from the City of Dover, Tennessee." Other sponsors include Traditions Bank, Synthetic Materials, Sportsman Market, Pine Bluff Materials, Ingram Barge Lines, TVA, CEMC, Busy Bee Market, and McIntosh Construction. "Last year we raised over $40,000, that went to pay for all the groceries and everything involved in the dinners, and the fireworks show."

Volunteers for the event come from throughout the region, "The event Co-Chairs Mr. Kay Hudson and Mrs. Mary Hudson are not even from Stewart County," said Vaughn. "Everyone chips in! We have in helping us for Montgomery County, Davidson County, Houston County, Dickson County; they come from all around!"

Murphy's law raised its ugly head this year with a blown transformer, and a missing carnival provider throwing wrenches into the usually smooth works, but that did not spoil the evening's spectacular finale. "Normally we have a carnival the fella didn't show up this year, I imagine he had a longer event somewhere," said Vaughn. "Right now everyone's talking about the power, CEMC is on the way. It's just a main transformer. Gonna take a while but they are on the way."

With a potentially hot election-year underway, politicians came out of the wood works for the event. "This year we got quite a few of the campaigners on hand. And many also come by and frequented us with our dinners and that always helps," said Vaughn.

"We're so proud that we're able to do this," concluded Vaughn. "We really do appreciate everyone coming out."
Photo Gallery
About Bill Larson
Bill Larson is  is politically and socially active in the community. Bill is a member of the Friends of Dunbar Cave.

You can reach him via telephone at 931-249-0043 or via the email address below.
Sections
News
Topics
Busy Bee Market, CEMC, City of Dover, Cumberland City Mayor, Cumberland City TN, Cumberland Electric Membership Corporation, Davidson County, Dickson County, Dover TN, Fireworkds, Gary Vaughn, Houston County, Ingram Barge Lines, Kay Hudson, Lighting up the Cumberland, Mary Hudson, McIntosh Construction, Montgomery County, Pine Bluff Materials, Pyro Shows, Sportsman Market, Stewart County Tourism, Synthetic Materials, Traditions Bank, TVA