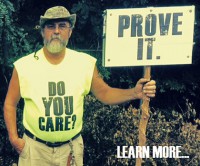 Clarksville, TN – Make a stand with Kenny!! Be part of the Prove It Movement on Monday. Meet us in the rear parking lot of the Refuge (635 Frosty Morn Drive) at 9:00am.
We'll head out from there to various intersections, make a stand, and spread the word to the community about what it means to Prove It. We're not able to get T-shirts in time, so be creative—pick up some neon yellow poster board and write "Do You Care?" and "Prove It!" in big block letters.
Please Share, and bring your friends with you on Monday—let's make a city-wide impact for the sake of Clarksville's homeless!
Sections
Events
Topics
Clarksville, Clarksville TN, Frosty Morn Drive, Homeless, Kenny York, Manna Café Ministries, Prove It, Prove It Clarksville, Refuge