Special Weather Statement In Effect ... [Click here for more information]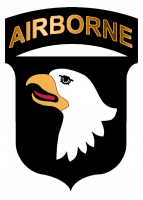 Fort Campbell, KY – Command Sgt. Maj. Alonzo J. Smith, the senior enlisted advisor for the 101st Airborne Division (Air Assault), said goodbye to the division and Fort Campbell today during his relinquishment of responsibility ceremony in front of the division headquarters, but not without passion, emotion, and many thanks for lessons learned and passed.

Smith, who took responsibility of the 101st in June 2012, will transition to Fort Hood, Texas, where he'll become the senior enlisted advisor of III Corps, a unit responsible for more than 100,000 Soldiers.

Maj. Gen. Gary J. Volesky, the commanding general of the 101st Airborne Division (Air Assault) and Fort Campbell, felt the day was bittersweet.

"It is a bittersweet day for the Screaming Eagles. We lose a highly respected and essential member of the 101st Airborne Division (Air Assault), Fort Campbell, KY, and our local community," said Volesky. "At the same time, our Army and our country benefit from his selection as the next III Corps command sergeant major at Fort Hood, Texas."

Volesky is confident that even though Smith will no longer wear Old Abe on his left shoulder, he'll instill some Screaming Eagle pride in those he meets in Texas.

"I can tell you they could not have chosen a better noncommissioned officer to lead that corps," said Volesky. "He's going to inject some air assault love into every one of those Soldiers."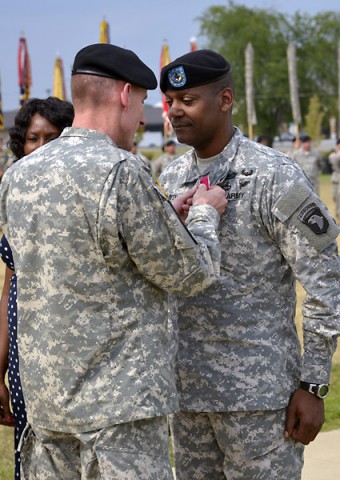 Sandra, Smith's wife, was also in attendance. She was lauded by Volesky for her work in the Fort Campbell community. Volesky also noted that the two of them are leaving the 101st and Fort Campbell community a better place.

"Today marks the final day Command Sgt. Maj. Smith and Sandra will stand in formation with us," he said. "They leave us a stronger, more resilient, more powerful unit than ever before."

Smith began his remarks to the audience with one question he gets asked frequently – what is his legacy? He honestly doesn't know – or care. It isn't about him, he said.

"I don't think one should sit back and think about what his or her legacy should be at the end of a tour," said Smith. "But I would tell you this, if you're going to ask anyone about a legacy, ask those that you serve with – your leaders, your peers and your subordinates."

"So as I move on and go about my next assignment, there is no legacy that I can really tell you," he said.

Smith went on to thank a multitude of leaders, mentors and friends he's served with in the 101st, including all the command sergeants major throughout the division.

Smith also recognized how important the Fort Campbell community is to the division, specifically naming Clarksville, Oak Grove, Hopkinsville, Nashville and Franklin as the reason Fort Campbell is the place to be.

"It's for a reason that everyone, regardless of what unit you serve in, at some point in time, wants to return back to the eagle's nest," said Smith. "It's been great to serve with you. What you do for this … installation is second to none."

Before Smith closed his remarks, he had one final lesson for the group.

"Ask yourself this one question: what motivates you to serve?" said Smith. "Regardless of if you're a two-star general or a Soldier with one day in the Army – what motivates you to serve?"

There are many reasons to serve, whether it is for pride in country, for the challenge, for a change of life or to support family and loved ones, it doesn't matter – there's always a reason, he said. But if that reason fades, a decision should be made.

"If you ever wake up and truly don't have a reason in why you serve, in which you're truly committed to what you do as a Soldier – as a leader – then you may need to think about doing something else," said Smith.

Smith concluded his remarks by uttering two reverent words, but not before choking back tears.

"Air Assault," he said for the last time as Eagle 7.



Sections
News
Topics
101st Airborne Division, Air Assault, Alonzo J. Smith, Clarksville, Clarksville TN, Eagle 7, Fort Campbell, Fort Campbell KY, Fort Hood TX, Gary J. Volesky, Hopkinsville KY, Oak Grove KY, Old Abe, Screaming Eagles