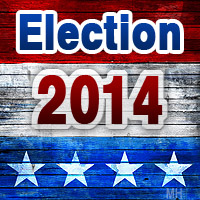 Clarksville, TN – Voting is underway across Clarksville, Montgomery County for the Tennessee State Primary and County general elections. Voting continues until 7:00pm this evening.

Turnout appears light with roughly 11,000 people voting in the early voting, and multiple precincts reporting extremely light turnout today. "I am ashamed to tell you how many people we had vote today," said poll worker Nancy Chambers, before revealing that only 21 people had turned out to vote at Smith school by 9:00am. Results at the other polling places were similar.

"Things are going very well today," said Rita Wilson the chair of the Montgomery County Election Commission. "So well in fact that, Vickie Koelman has been able to get out and visit some of the polling places on election day; something that she is never able to do."

"I usually vote during the early voting," said Cliff Whitaker after voting at the Wilma Rudolph Events Center. "But this time I had a lot more to think about. I never miss voting." He was particularly interested in the races for Montgomery County Mayor, U.S. Senate race, and the judicial retentions for State Supreme Court. I asked him what he would say to people who didn't come out to vote, and he responded by blowing a raspberry.

Outside Curtis Mize who is running for Montgomery County Mayor was on hand to greet arriving voters. "As a candidate for Montgomery County Mayor I feel that this election will decide which way you want our county to go. Do you want to keep increasing the debt, or do you want to decrease the debt."

He feels that the low turnout can be attributed to voters feeling that their vote does not matter, but he assures me that is not the case. "Every vote matters," he stated. "That is why I am setting out here in this hot sun, and I will be here until 7:00pm.

Husband-and-wife team Bruce and Carol Shawver were working the polling place at St. Bethlehem Christian Church. "I am the Officer of Elections for this precinct," he told me. It is his job to supervise the polling place and ensures that it is run properly.

"It has been going pretty much like this," he said indicating the mostly empty room. "Very slow, but we anticipated that." Two people were currently voting, and they had had 65 people cast their ballots by 10:00am.

Bruce has been working elections for around eight years total. I asked him what motivates him to volunteer his time to working elections. "You get to meet people. It's something I can do and something I enjoy! For me it is a patriotic duty, and somebody needs to do it."

He said that he told his fellow poll workers as they were setting up to "just have fun, and enjoy it." He also offered them a stern reminder, "The only thing you can't do, is you can't talk politics!"

Shawver encourages young people to get involved in our elections and the elective process. "Young people have a voice in the local government. During this election they have a voice in who runs the County, the governor of our state. By casting the ballot they help decide who gets to represent them in office."

I asked him what he would say to people who don't come out and vote at all. He sighed and then said, "Honestly, I just feel like saying shame on you! This is your chance to have a voice. Now you may think it's a little voice, that your one vote won't swing the election; but your voice added with other people's voices, and that's how elections are won and lost!"

I ran into Melinda Shepard from the Clarksville-Area Chamber of Commerce at her polling place as she arrived to cast a ballot. "I believe it is important for everyone to cast their vote in our elections." She made it clear that she felt that not casting a ballot is an individuals choice.

It was the first time casting a ballot for Webb Booth. "Casting a ballot is important to me because by doing so I express through my vote for what kind of policies I want put forth, and how I want people to make their decisions."

Booth continued, "I think we all need to be focused on who we have an office, and how the decisions are made. You don't get to complain if you don't vote. Well you can, but you have no right to. If you vote, then your voice has been put out there, and you done your best to bring forth the change that you want to see in the world."
Photo Gallery
About Bill Larson
Bill Larson is  is politically and socially active in the community. Bill is a member of the Friends of Dunbar Cave.

You can reach him via telephone at 931-249-0043 or via the email address below.
Sections
Politics
Topics
Carol Shawver, Clarksville Area Chamber of Commerce, Cliff Whitaker, Curt Mize, Debt Bruce Shawver, Election 2014, Melinda Shepard, Montgomery County Election Commission, Montgomery County General Election, Montgomery County Mayor, Montgomery County TN, Nancy Chambers, Norman Smith Elementary School, Officer of Elections, primary election, Rita Wilson, St. Bethlehem Christian Church, Tennessee Supreme Court, U. S. Senate, Vickie Koelman, Voting, Webb Booth, Wilma Rudolph Events Ctr.