Clarksville, TN – The Montgomery County Sheriff's Office (MCSO) is partnering with the Tennessee Highway Safety Office (THSO) to promote Child Passenger Safety Week beginning September 18th and ending on National Seat Check Saturday, September 24th.
The week is dedicated to teaching parents and caregivers the importance of correct installation and proper use of car seats, booster seats, and seat belts. Parents will also be reminded the importance of registering car seats with the manufacturer, so they can receive notification in the event of a recall.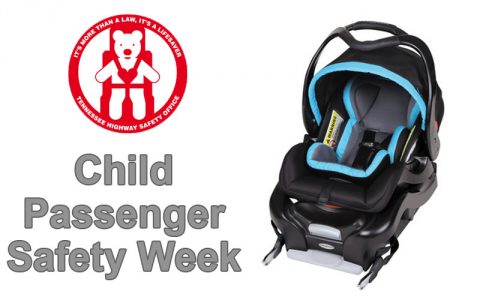 The Montgomery County Sheriff's Office, Clarksville Police Department, and Montgomery County Drivers Safety Office will be at Governor's Square Mall at 2801 Wilma Rudolph Boulevard on Wednesday, September 21st, 2016, from 4:00pm to 6:00pm to inspect and demonstrate proper car seat installation. The event is free of charge and all parents are encouraged to attend.

The National Highway Traffic Safety Administration (NHTSA) recommends keeping children rear-facing as long as possible up to the top height or weight allowed by their particular seats. Once a child outgrows the rear-facing car seat, he/she is ready to travel in a forward-facing car seat with a harness.

After outgrowing the forward-facing car seat, a child should be placed in a booster seat until big enough to fit seat belts properly without help from a booster seat. The safest place for all kids under 13 is in the back seats of cars.

According to NHTSA, in 2014, approximately 24 percent of children four to seven-years-old were prematurely moved to seat belts, and nine percent were unbuckled. Every 33 seconds, a child under age 13 was involved in a car crash in the United States, NHTSA reported.

You can help THSO spread awareness for child passenger safety through social media. Record a video selfie saying why you salute child passenger safety, and post it online with the hashtags #isaluteCPS and #TNHSO. Or, email your video selfie to Arriale Tabson at arriale.tabson@tn.gov. Check out THSO's social media here: facebook.com/tnhso | twitter.com/tnhso | instagram.com/tnhso.

To access educational resources, check out the Tennessee Child Passenger Safety mobile app for information on the go. Or, you can visit www.tntrafficsafety.org/cps to view THSO's event calendar, locate a fitting station near you, read Tennessee's Child Passenger Restrain Law (T.C.A. 55-9-602), watch instructional videos, and more. For more information, contact Angela Brown, Program Manager for the Tennessee Child Passenger Safety Center, at abrown@mmc.edu or 855.425.1137.



Sections
News
Topics