Written by Tracy McMahan
NASA's Marshall Space Flight Center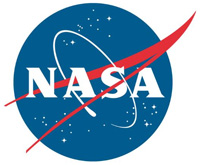 Huntsville, AL – Major construction is complete on NASA's largest new Space Launch System structural test stand, and engineers are now installing equipment needed to test the rocket's biggest fuel tank.

The stand is critical for ensuring SLS's liquid hydrogen tank can withstand the extreme forces of launch and ascent on its first flight, and later on the second flight, which will carry up to four astronauts in the Orion spacecraft on a journey around the moon, into the deep-space proving ground for the technology needed for the journey to Mars.

"There is no other facility that can handle something as big as the SLS hydrogen tank," said Sam Stephens, an SLS engineer working on the tests at NASA's Marshall Space Flight Center in Huntsville, Alabama. "There are few places in the world like NASA's Michoud Assembly Facility that could build these things, and even fewer that can test them."

After the project began in May 2014, Test Stand 4693 changed the skyline of Marshall as its twin towers soared to 221 feet (67.4 meters). In December, contractors and steelworkers handed the stand over to Marshall engineers, who are now busy installing complex networks of cables, pipes, valves, control systems, cameras, lighting and specially designed test equipment.

"The scale and capability of this test stand are unique, and creating it has taken people from across the country, from all walks of life — concrete suppliers and finishers, steel fabricators and erectors, bolt manufacturers and more," said Robert Bobo, who manages SLS structural strength testing at Marshall. "Everyone who's touching this is proud of the Space Launch System, an American rocket that will send astronauts farther in space than humans have ever traveled before."

The stand will simulate the powerful dynamics of launch and flight by pushing, pulling and bending the SLS liquid hydrogen qualification test article, recently constructed by Boeing at NASA's Michoud Assembly Facility in New Orleans.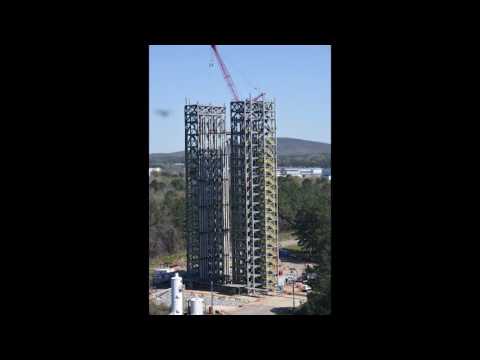 The 149-foot-long (45.4 meters) test article consists of a liquid hydrogen tank and equipment attached at each end to simulate the other parts of the 212-foot-long (64.6 meters) core stage, the backbone of the rocket. Together, the SLS liquid hydrogen and liquid oxygen tanks will feed 733,000 gallons (nearly 3 million liters) of super-cooled propellant to four RS-25 engines, producing a total of 2 million pounds of thrust at the base of the core stage.

The liquid hydrogen tank test article will travel by barge from Michoud to Marshall. When testing begins, the tank test article will be positioned between the towers, suspended beneath a crosshead.

A total of 38 hydraulic cylinders or "loadlines," each weighing from 500 to 3,200 pounds (approximately 230 to 1,500 kilograms), will be individually calibrated, outfitted with custom-built test cells to send and receive instructions and data, and then positioned at points all along the tank. At the base, 24 of the largest cylinders — 3,200 pounds each, about as heavy as a medium-sized car — will simulate the thrust produced by the RS-25 engines.

During testing, the cylinders extend and retract, pushing and pulling in different combinations against the test article, the test stand base and towers, applying millions of pounds of pulling and crushing force and up to 340,000 pounds (approximately 1.5 million newtons) of shearing or sideways force. During 30 or more test scenarios, instrumentation will capture more than 3,500 strain and detection measurements, temperatures, pressures, high-definition images and other information.

Careful attention to construction of the stand and the comprehensive testing is vital because every weld, every bolt, every connection, every measurement is important. "Everyone working on this knows that even the smallest things matter in such a big project," Stephens said.

Nearby, similar preparations have been underway since September 2016 on Test Stand 4697, where the SLS's 70-foot-tall (21.3 meter) liquid oxygen tank test article will be anchored in the crook of the L-shaped stand's arms. Because it takes some time for the cryogenic tanks to be brought to the precise temperatures and pressures required, teams also are preparing for some round-the-clock test sessions. A tank's complete test series might take up to four months.

As the new test stands move past the major construction phase, so does the job of Phil Hendrix. He's been the Marshall Center Operations construction project manager for both stands since they were just ideas on paper in 2012, and will continue to provide support as his day-to-day focus shifts to other center operations needs and projects. As the stands took shape, Hendrix said he could see the steelworkers and welders from across the country develop a sense of mission as they worked, and all delivered.

"It really comes down to people when you need to get anything done. And I think NASA brings out the best in people," he said. "It's the sense of awe and wonder about what's out there, about exploration, imagination, pride and patriotism. It's what happens because of our mission."



Sections
Technology
Topics
Astronauts, Huntsville AL, Hydrogen, Journey to Mars, Liquid Hydrogen, Mars, Moon, NASA, NASA's Marshall Space Flight Center, NASA's Michoud Assembly Facility, NASA's Space Launch System, National Aeronautics and Space Administration, New Orleans LA, Orion spacecraft, Tracy McMahan