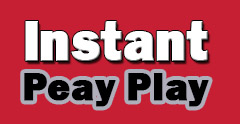 Clarksville, TN – Austin Peay State University's football team's turnaround this fall has been one of the best stories in all of college football, but November 18th, 2017 at Fortera Stadium, the Governors have a chance to make what was once thought to be almost the impossible probable with a victory versus Eastern Illinois.
The Govs enter the season's final contest versus the Panthers with a 7-4 overall record and a 6-1 mark in Ohio Valley Conference games, which currently puts them alone in second place in the leagues standings, with EIU sitting in third place and looking to tie the Govs for the number-two spot in the final regular-season OVC standings.
But while a win versus the Panthers would lock up sole possession of second-place finish in the standings for Austin Peay, the win could hold even more importance with the Govs looking to earn the program's first bid into the NCAA's FCS postseason championship tournament field.
Overall 24 teams will make up the postseason tournament field with 10 of those spots going to the different league champions around the country, including this year's OVC champion Jacksonville State, as automatic bids.
That will leave the Govs fighting for one of the 14 at large bids that will be available between the 10 participating conferences.
With a win versus Eastern Illinois, the Govs would make a compelling pick for the tournament field, having gone 8-1 versus FCS teams this fall, with the lone loss coming to OVC regular-season champ Jacksonville State – who is also currently ranked 2nd in the nation among FCS teams.
But even with that resume this season it won't be easy getting into the tournament field.
Heading into the final week of the football regular season, there are currently 29 teams with at least seven wins so far this season and another six teams coming into the weekend looking to win their seventh game — which would be about right with the Govs sitting 34th in last week's STATS FCS Top-25 Poll and 36th in the FCS Coaches Poll.
But even though the Govs having to battle it out with 35 other teams for 24 spots sounds like a lot to overcome, remember 10 of the 35 will automatically get in as league champions, so that makes it about 25 teams for 14 at-large spots.
You can also throw out a few teams that at even with seven wins will finish no better than third or even fourth in their conference's final standing, while a couple of others teams won't get looked at due to coming from leagues with low power rankings and thus being one bid (champion) conferences only — so that number drops to more manageable 20-or-so teams for 14 at-large spots.
I think the NCAA selection committee would have a tough time coming up with more than 14 teams out of that 20 that would be better selections this season than Austin Peay would be for the postseason.
But before all that can happen the Govs need to finish the season off with a victory this week versus EIU, wait and see what the selection committee says on Sunday, and see if the Govs can make a little bit more history this season.
About Chris Austin
Chris Austin is a graduate of Clarksville High School and Austin Peay State University.

Chris is a former Head Softball Coach for APSU, and assistant basketball coach for CHS.

Chris has worked at the Leaf-Chronicle, and WJZM News/Talk/Sports radio. Has also worked at the Sports Information Department at APSU, and has covered championship events for the Ohio Valley Conference and NCAA.

Chris is an avid sports fan and can be found at most Austin Peay State University sports events.

Web Site: http://www.clarksvillesportsnetwork.com
Email: chris_austin24@yahoo.com
Sections
Sports
Topics
APSU, APSU Athletics, APSU Football, APSU Men's Football, APSU Sports, Austin Peay, Austin Peay State University, Clarksville TN, Eastern Illinois, EIU, FCS, FCS Coaches Poll, Fortera Stadium, Governors, Govs, Jacksonville State, NCAA, Ohio Valley Conference, Ohoi Valley Conference, OVC, Panthers, STATS FCS Top-25 Poll