Banned Book Week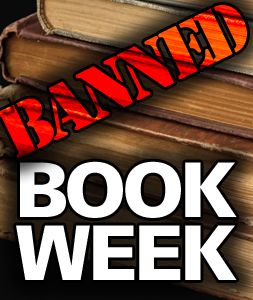 Banned Books Week – Celebrating the Freedom to Read. Observed since 1982, the annual event reminds Americans not to take this precious democratic freedom for granted.
Banned Books Week is sponsored by the American Booksellers Association, the American Booksellers Foundation for Free Expression, the American Library Association (ALA), the Association of American Publishers, the American Society of Journalists and Authors and the National Association of College Stores.  The Library of Congress Center for the Book endorses it.
Many bookstores and libraries across the nation join in the celebration with displays and readings of books that have been banned or threatened throughout history.  These include works ranging from the Bible to John Steinbeck's "Of Mice and Men."
Each year, the American Library Association's (ALA) Office for Intellectual Freedom receives hundreds of reports on books and other materials that were "challenged" (their removal from school or library shelves was requested). The ALA estimates the number represents only about a quarter of the actual challenges. "Most Challenged" titles include the popular "Harry Potter" series of fantasy books for children by J.K. Rowling. The series drew complaints from parents and others who believe the books promote witchcraft to children.
The challenges reported reflect a continuing concern with a wide variety of themes. Other "Most Challenged" titles include "The Adventures of Huckleberry Finn" by Mark Twain, for its use of language, particularly references to race; "It's Perfectly Normal," a sex education book by Robie Harris, for being too explicit, especially for children; and "I Know Why the Caged Bird Sings" by Maya Angelou, for the description of rape she suffered as a child.
Clarksville Online Articles about Censorship and Banned Books Week
Coming Soon!
While America Sleeps: A cautionary tale of books, baggage and bureaucracy
While America sleeps in the illusion of freedoms guaranteed by the Bill of Rights and the United States Constitution, America's gatekeepers (in the form of the the FBI, CIA, Homeland Security, Oval Office and even our Congress, all of whom have failed miserably at controlling illegal immigration in the USA) are hard at work finding new, creative, under-the-radar ways to press down ever harder that growing thumb of "security"  on the average American citizen.
Available now
Book Burning: Fueling flames of censorship
Though it seems hard to believe, the 21st century opened with a series of book burnings, with the most obvious target being the Harry Potter books by J.K. Rowlings. The burnings began with Harry Potter and a raging fire, but moved into subtler forms in the shape of governmental dousing not just of the flames but the books — any books –that fuel individuality, that encourage opposing points of views, that question the authority and 'the way things are." To those not sleeping at the wheel of their rights, it's scary out there. Intellectual caffeine required to stay alert to the threat.
Banned Books: Have you read one?
The books on shelves in school and public libraries are continually under fire by parents, patrons and organizational administrators seeking to remove said "offensive" books and make them unavailable. Render them "censored."What gets targeted? Well, the usual and obvious suspects: J.D. Salinger, J.K. Rowling. John Steinbeck. Mark Twain. Robert Cormier. And writers such as Maya Angelou – someone out there wants her "Caged Bird" silenced forever. Even revered children's authors including Maurice Sendak, Madeleine L'Engle and Judy Blume (whose penned scripted three of the top one hundred books).
Ending our boycott against the Customs House Museum
Just in time for banned books week I have an update on the boycott I called for last November of the Customs House Museum. I became offended when Executive Director Ned Crouch used his personal judgment that an artist's exhibit might offend some museum patrons as justification for requiring the artist to remove portions of it, all done in the name of protecting community sensibilities.
APSU screens 'Hollywood Librarian'
Ann Seidl's documentary film, The Hollywood Librarian: A Look at Librarians Through Film will be screened at Austin Peay State University Sunday, September 30 at 6 p.m. and again on Monday, October 1 at 4 p.m. in the Morgan Student Center, Room 303. Apsu is one of 87 sites in the United States and Canada to present this film. APSU's Woodward Library is coordinating the event.
While America Sleeps: Censorship masked as 'Chapel Library Project'
I 've been following the saga of the removal, regulation and control of access to books by people in prison. Religiously oriented books in particular.I read with great interest a New York Times commentary by Laurie Goodstein on the systematic purging of books on faith from prison bookshelves by chaplains under the Standardized Chapel Library Project. Those same chaplains are now being asked to review tome by tome any and every requested book before it "might" be returned to the shelves for access by inmates. As if chaplains have nothing else to do but serve as literary screeners (a.k.a. censors) for the prison system.
Censorship! When will they learn?
Small-minded people often tout the many blessings of using censorship to protect society, the children. The government tried it with COPA, which was then promptly blocked by the federal courts, due to the likelihood that the plaintiffs would prevail in their lawsuit against the government. The FCC is still doing it to broadcast television, and they want to expand their reach to cable TV, satellite TV, and satellite radio. Guess Howard Stern didn't run far enough away for them. Some Christians love the idea of burning books and other cultural material that they find ideologically unacceptable.