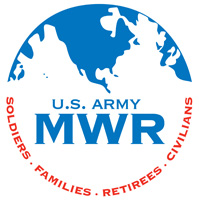 Fort Campbell, KY – Join MWR at The Zone to welcome the new year with free game play, a sampling of black eyed peas for luck and greens for money!
You have a chance to win one out of five $25.00 gift cards with a food or beverage purchase of $5.00 or more. The Zone will be open from 11:00am to 11:00pm (regular hours) on New Year's Day.
Thank you to our great sponsors for making this event possible! Premier sponsors: Fort Campbell Federal Credit Union and Mathews Nissan. Sponsorship does not imply Army endorsement. See AR 215-1, para. 11-8d.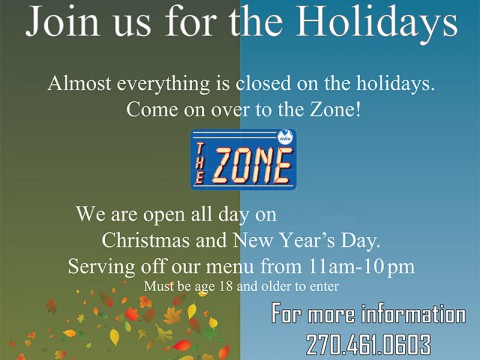 «Read the rest of this article»

Clarksville, TN – Dunbar Cave State Natural Area has been a State Park since 1973. The cave and its surrounding 110 acres have considerable scenic, natural and historical significance. The entrance offered shelter to prehistoric Native Americans as far back as 10,000 years.
Dunbar Cave State Natural Area will present many nature programs this summer. There are programs for children and adults.
Some of the upcoming events include: Nature Hike, Welcome Winter Hike and Trash Pickup Hike.
«Read the rest of this article»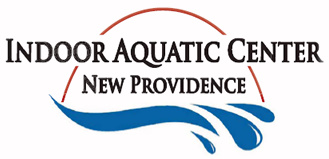 Clarksville, TN – Cheers to a splashing new year! Visit the Indoor Aquatic Center at New Providence this New Year's Eve for the 3rd annual New Year's Eve Splash!
The Clarksville Parks and Recreation Department is hosting a New Year's Eve pool party beginning at 8:30pm Wednesday, December 31st and ending at 12:30am on Thursday, January 1st, 2015. «Read the rest of this article»
Clarksville, TN - The residents of Dog Hill Historic District in downtown Clarksville, Tennessee announce the First Annual Illuminating Dog Hill holiday event.
You are invited to visit the district on the evening of December 20th to enjoy the candlelit luminaries which the residents of Dog Hill will have on display from dusk until 8:00pm. «Read the rest of this article»

Clarksville, TN – Join the City of Clarksville and Planters Bank for the 3rd annual Chocolate Affair, Saturday, February 7th at the Wilma Rudolph Event Center, 1190 Cumberland Drive. The event will feature sweet and savory samples from local businesses.
«Read the rest of this article»

Clarksville, TN – The Kleeman Community Center will continue its Fun Interval Training program in 2015. F.I.T.'s second session ends on January 15th, but will start back up for a third round on January 26th, continuing through March 26th at the Kleeman Community Center, located at 166 Cunningham Lane.
The class will meet Monday through Friday from 6:00pm to 7:00pm. Each day of the week focuses on a different muscle group and cardio activity to get your blood pumping and burn those calories! «Read the rest of this article»

Clarksville, TN – The weekly Clarksville Parks and Recreation Department Recreation Report provides Clarksvillians with a glimpse at the activities and events that are available from the Parks and Recreation Department for them to enjoy together as a family.
This weeks highlights include: Youth Dodge ball League, January Swim Lessons, Christmas on the Cumberland, and Olympic Style Archery.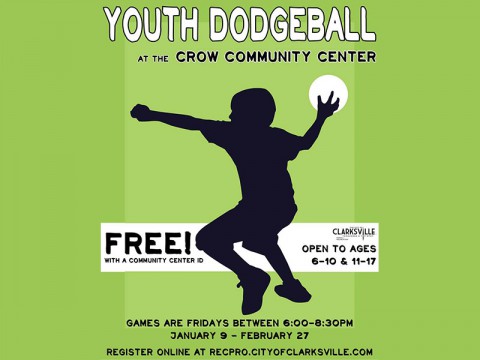 «Read the rest of this article»
Elkton, KY – Christmas in Elkton will be held on Saturday, December 13th, 2014 in Elkton, Kentucky. The day starts off with local businesses having open house, Christmas sales and free refreshments throughout the day. See the list below of participating businesses and other events going on during this day.
The Elkton Christmas Parade will start at 6:00pm, leaving Todd Central High School parking lot at 806 South Main Street, then going North on Hwy 181 to Public Square, exit square on West Main Street, then left on South Streets Avenue, then left on Sunset and back to TCCHS.
«Read the rest of this article»

Woodlawn, TN – Come and join us for a true Holiday Event for the entire family. We bring the history alive by portraying the Lewis family through actors who carry you back in time by candlelight to the 1800's.
Bring your family and enjoy an evening of holiday cheer. You may come for just the tour or enjoy the entire evening as you join us for an all you can eat Holiday Feast!
«Read the rest of this article»

Clarksville, TN – The Clarksville Parks and Recreation Department invites you to the Fort Defiance Interpretive Center Sunday, December 14th, 2014 from 3:00pm to 6:00pm, to experience the holidays as soldiers and civilians did in the 1860s.
«Read the rest of this article»