The Friends of Port Royal will host David Britton as guest speaker on Thursday, August 9, at Port Royal State Historic Park.  Britton is a Conservation Worker who resides at Port Royal Historic Park. For those who haven't seen Port Royal recently, a lot of improvements have been going on there, most of them created or directed by Britton under the supervision of Park Manager Robert Wells. He joined the Park staff about a year ago, bringing  his love of history and high energy into the effort of preserving the natural history that resonates at the Park.
The event will begin at 6:30 PM. Refreshments will be served. The Park is located at  3300 Old Clarksville Hwy, Adams, TN.  For more information, call  (931) 358-9696.
The Icehouse Cafe hosted Ben Wilson's 30th birthday bash again this year with music and a variety of other entertainment. In the packed, smoke free, Icehouse Cafe, a rowdy (in a good way) crowd, one-third of them over 50, clapped and hooted for the bellydancers, the headbanging sounds of the band, The Non-Professionals, and, pictured at left, musicians David Britton and guest of honor, Ben Wilson.
The Cafe event showcased ongoing displays of political and other art, including my own work, Evolution of Medusa (a.k.a. 'Bob," pictured at right) and a life-sized George Bush rendering with a 'select a saying" comic strip bubble, which can be photographed. «Read the rest of this article»
Though day was ghastly hot, well over 100 Clarksville residents came to "Cooling at the Cave" for that natural air conditioning to be found at the mouth of Dunbar Cave. Some tables had to be moved away from the cave entrance because guests were freezing there (due to the 58 degree air coming out of the cave!).

Many people began playing board games just as soon as they found a nice table to claim for their own for the day. They knew what they were doing because they'd done it before. People played games, listened to the band and socialized. The cookies were wonderful, the lemonade great and the helpers (Friends of Dunbar Cave) attentive, refilling my cup if I even looked like I was a bit thirsty.

It was a day of nostalgia for many folks; organizer Barbara Wilbur was right when she thought that this would attract a lot of people. I heard stories about how Dunbar Cave used to be. Many visitors remember the days when Roy Acuff owned Dunbar Cave and they came to the swimming pool, bowling alley, the lake with its paddle boats, and the sounds of music at the cave. «Read the rest of this article»
Those lazy, hazy days of summer that we wish could always be here, are back!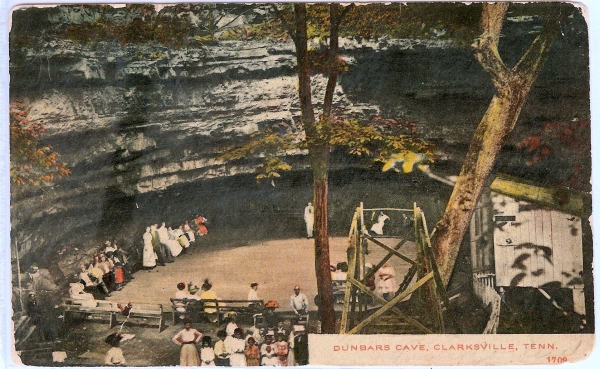 In the days of old, Clarksvillians spent summer afternoons at Dunbar Cave gathering cool breezes emitting from the mouth of cave while enjoying board and card games, live music and a general light-hearted afternoon of fun and frolic.
On Saturday, July 28th, from 4:00PM – 6:00PM, Friends of Dunbar Cave invite you, your family and friends to participate in a delightful afternoon reminiscent of those good old days at Dunbar Cave State Natural Area, 401 Old Dunbar Cave Road, in Clarksville, Tennessee
Tables and chairs will be arranged at the mouth of the cave where you will be transported back to the time when everyone played "board" games. Checkers, Chess, Monopoly, and cards will be available. However, you may bring your favorite game to share. The event is free and open to the public. Refreshments of will be available free of charge, but donations to the friends group are welcomed. «Read the rest of this article»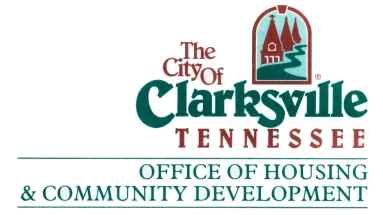 The Clarksville Office of Housing and Community Development is hosting a series of community workshops related to future development of the Red River and Brandon Hills area. The workshops will be held at the Burt School at 110 Bailey Road (off 8th Street at APSU) in Clarksville on July 31, August 14, September 4 and Sept. 18 from 7-8:30 p.m.
These workshops are designed to help determine the vision and future revitalization for both neighborhoods and will be facillitated by Nashville Civic Design Center with funding from the U.S. Department of Housing and Urban Development and the Clarksville Office of Housing and Community Development. «Read the rest of this article»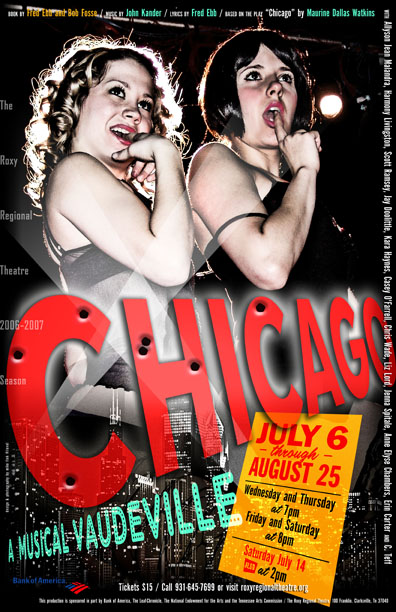 From the first shimmy of a garter and stocking-clad leg, the lingerie-laden Roxy production of Bob Fosse's Chicago romps across the stage with vaudevillian style that both charms and delights.
The show opens with a disclaimer that "all costumes have accidentally landed in North Dakota," which literally sets the stage for a classic Fosse opener: scantily clad dancers in bustiers, garters and sex appeal moving in the exotic angular motions that characterize Foss's distinctive choreography. The opening number, All That Jazz, sets this vaudevillian stage for jazz singer Velma Kelly's (Harmony Livingston) arrest for the murder of her husband and sister, and introduces the city's aspiring showgirl and newest murderess, Roxie Hart (Allyson Jean Malandra), who just offed a lying lover.
Both women land on "murderers row" in Chicago's Cook County Jail, in the care of Morton (Kara Haynes), prison matron whose hands are greased with payola. With the wheels of justice well lubed, we are gifted with lawyer Billy Flynn (Scott Ramsey), who job is to find a way, any way, to help his obviously guilty female clients get away with murder. He's good at it. «Read the rest of this article»
Miss Trelawney's sister did hand readings all night long at Hastings.  She recognized the colors of adventure, magic, self love, vitality, pure energy, and ability to see spirit, in all present.  In the process she met many wonderful and creative people all night like Cynthia Smith (AKA J. K. Rowlings) and her daughters Rebecca and Katie pictured above.  She met many parents who, even if their own backgrounds were quite different, create the safe space needed for children to find and use their own creative colors .  It was a validation of human spirit. 
Miss Trelawney's one grimm message is that our society has a menace that will take away all our beautiful colors if we let it.  It is the TV.  She warns that our good creative colors can be wiped out daily by this kind of death eater.   «Read the rest of this article»

The City of Clarksville, Tennessee and Bill Roberts Automotive will present the next Movies In the Park at Fairgrounds Park on July 28 as part of The Leaf Chronicle's Parks After Dark Series.
This month, the event will include a double feature with movies starring Harrison Ford as a legendary action-adventure hero. Pre-show games will begin at 7:15 p.m. and the movie will begin at 8:30 p.m. Both movies are rated PG. Admission is free and concessions will be available. «Read the rest of this article»
I just received owl mail informing me that Miss Trelawney will be at Hastings Bookstore tonight, the eve of the release of the new Harry Potter book.  She will be performing hand readings on children of all ages.  It is rumored that this is not the Miss Trelawney in the Harry Potter books, but her sister, Dee Dee. 
Fortunately or unfortunately, both sisters seem to have received "the gift" of reading spirit in crystal balls, tea leaves and hands.   The 7th and last book in the Harry Potter series will be released at 12 midnight tonight.  Grimm news that the Dark Lord has come into full power and can only be stopped by an unlikely hero is the breathtaking reality.  We wait to see if the pure hearts of the adventurous children can overcome the death eaters.  But what has this got to do with you?  «Read the rest of this article»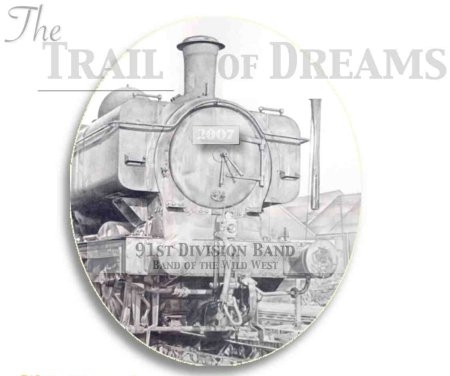 The next Concerts In the Park of the season is scheduled for Thursday July 26 at 7pm. in McGregor Park.  This month's concert features the 91st Division Army Reserves Band from Camp Parks, California.  The 91st Division Band, also known as The Band of the Wild West, will present their "Trail of Dreams" concert as part of their mission to support our troops and to foster support from citizens and promoting our national interests. The concert is free and open to the public. Special performances by the Pipe and Drums of the 91st Division will also be featured throughout the concert.
The band offers over a dozen downloadable audio clips and several videos via their website. «Read the rest of this article»