Clarksville, TN – I am not a runner.  I am barely a walker, but I have many friends who enjoy running.  My daughter has taken an interest in running and I could not be more proud.  The "Go Commando" half marathon this past weekend proves that this event is poised to be one of the best in the country.
The Clarksville Convention and Visitors Bureau took over managing this event after the previous organizer proved to be, how shall I put it, "unpopular".  I was not that close to the race when it first started, but I kept hearing things that weren't good. 
When that promoter tried to bring the race back to Clarksville, local sponsors and organizers were not willing to work with them.  The CVB wouldn't have anything to do with them either, and the race looked like it had no future here.  That is where the good people of Clarksville come in. «Read the rest of this article»
Clarksville, TN – The ongoing Clarksville Department of Electricity debate has raised a multitude of questions.  Most have not been answered. What we do know is that we haven't heard the end of that story yet.
But wait, there's more.
This week, I broke the story of Mayor Bowers and Mayor McMillan asking Airport Authority board member Jerry Clark to resign.  Since that story broke (on WJZM 1400am, and Clarksville Online), it is being debated whether he was asked to resign, or made aware of a law that says you can not do business with Montgomery County and serve on the board. It does not matter. What matters is that until this law is clarified, there could be some real serious issues for a lot of people. «Read the rest of this article»
I thought I'd seen and heard everything, until I heard about Synthetic Drugs. Synthetic drugs are substances that are produced in a laboratory from chemical reactions unlike naturally occurring drugs. Their structure can be chemically indentical to natural drugs like cocaine and opium. However, they are often created to either enhance the effects of other natural drugs or to prevent unwanted side effects.
The members of the ecstasy group are also classified as "designer drugs". They are structurally related to a controlled drug and produce certain psychoactive effects. They are made on the basis of the chemical structure of a given parent drug, and made specifically for sale on the illegal market to bypass regulations on controlled substances. «Read the rest of this article»
I've been a member of the media for so  long, I take many things for granted.  I've always approached a news story the same way, and that's try to get both sides of the story.  While I admit I've made tons of mistakes and had to apologize more than once, I just can't buy into the way the media game is played today.
There is no "breaking news" anymore. We have it sent to our phone, or computer.  You don't have to "turn on" the radio, or "read" the newspaper, or, (god forbid) turn the TV on, you just sit there, ( whatever), and the news comes to you.   So with that said, how does a talk show host, (radio or tv) get you to tune in?
ATTACK!  FIRE THE CANNONS! «Read the rest of this article»
A letter to the editor from Robert Eley, the pilot of the small plane that crashed in a field in Sango, TN
My wife showed me your article on my incident a few days ago and I wanted to thank you for being so accurate with the facts.
The emergency response was top notch by all.  I am blessed to have not harmed anyone and even more blessed of the generosity shown to me by complete strangers. My wife told me that when she would be standing near the roadway, passing cars would stop and not ask what happened, but was everyone okay. This in itself shows what a great community we have here in Clarksville TN. «Read the rest of this article»
In a Letter to the Editor, Clarksville Tennessee resident Terry McMoore lays out his support for Mayoral Candidate Gabe Segovia
Gabe Segovia was my city council representative for eight years and while serving as my council representative, I found I could always depend on him to be there if I had a problem or question.
As the average citizen and on the outside looking in there was a lot I didn't know about city government. He was always helpful in informing and educating me on the workings of government and especially city government. Additionally, while he served on the council from 1997 to 2005, he never missed a council meeting. His record is 96-0. He also served as vice-mayor of Clarksville for two years.
Segovia held monthly community meetings where he provided information to the public and citizens could present their concerns and ask questions about the city's actions and programs. Those meetings were not restricted to just residents of his ward; people from anywhere in Clarksville were welcome and many became regular attendees. «Read the rest of this article»
In a Letter to the Editor, Clarksville Tennessee resident Wanda McMoore lays out her support for Mayoral Candidate Kim McMillan
If you really want to know who you should vote for to lead Clarksville during the next four years, I am here to tell you, vote for Kim McMillan. I am casting my vote for the one candidate who has already proven that she is a leader and strong representative for Clarksville and Montgomery County, Tennessee.
In case you didn't know, or may have momentarily forgotten, Kim McMillan has served our community as a State Representative for twelve solid years, during which time her intelligence, leadership capabilities and interpersonal work skills helped to have her elected by her peers as the TN State House Majority Leader.  Kim has experience also in the state Finance, Ways and Means Committee as well as the State Budget Subcommittee.   Additionally, Kim served as Governor Bredesen's Senior Advisor. «Read the rest of this article»

As a community activist who has interacted with Clarksville Mayor Johnny Piper on several important issues, I have found that he sometimes lacks overall political manners. He also tends not to show respect for anyone who disagrees with him.
I have also dealt  with Clarksville-Montgomery County Director of Schools Michael Harris, who continues to ignore the fact that while black students comprise 27 percent of the students attending the Montgomery county school system, they are being suspension and expelled at almost twice the rate of the white students who comprise 62 percent of the population.
So in my opinion the listening and communication skills are not always the best attributes exhibited by either of these public leaders. «Read the rest of this article»
Update: On April 22, 2010, A representative from The Rogers Group admitted to an Oakland Hills resident that called on behalf of the Stop The Quarry movement the plot outlined in the satellite photo IS one of the two sites they are considering in the Todd County!
I was called from a neighbor a couple of days ago about a problem that might be arising that will affect all the homes off Exit 1 around the Trenton/Tylertown Roads.  She went to Kentucky yesterday to get a plat of where this Quarry will be built. It is shocking how close it is to our subdivisions on the North side of Interstate 24!
Below I have placed a copy of the plat, so you can see if it will affect your area.  We understand that this is being built right inside the KY line but they will be using Trenton and Tylertown Road to get to the Hemlock. Not to mention the blasts that will shake all of our homes!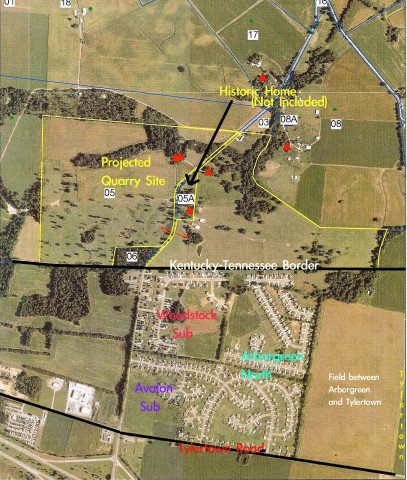 «Read the rest of this article»
The city-owned Clarksville Gas & Water is unconscionably raising our gas rates, without warning or explanation, and local media is not reporting on it. My January bill was at a rate of 34 cents per 100 cubic feet, and my February bill was at 51 cents per 100 cubic feet, which was a 50% increase over January's bill. Now my March bill is at a rate of 68 cents per 100 cubic feet, which is a 100% increase over January's bill! How much must CG&W charge us in order to create massive public backlash? Please join me, as I am ready to protest now!