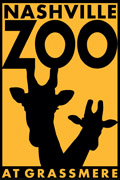 Nashville, TN – The Shell Station will soon be open for business. Nashville Zoo's newest interactive exhibit featuring Sulcata tortoises opens to the public this Saturday, July 4th.
"Nashville Zoo is thrilled to add another immersive experience that engages our visitors and connects them to the wild in a hands-on way," said Rick Schwartz, Zoo president. "We thank Scott and Tracie Hamilton for funding this exhibit and adding another great educational opportunity for our guests."
The Shell Station features up to 24 Sulcata tortoises that range in age from three to five years old.
«Read the rest of this article»