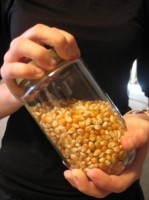 From the first time some nut case tampered with food by inserting poison in a package in the grocery store, manufacturers have become increasingly aware of packaging their products so that no tampering can occur.
That's great for keeping us all safe and I applaud their efforts—but I have a problem. Over the years, my hands have become increasingly weaker and I don't have the strength to break your codes!
I worked as the office manager for the music department at the University of Virginia for several years. The woman who had that job before me was quite tall and I'm quite short. The desk and computer equipment that fit her was a disaster for me. Because I was reaching up to type at a height for a taller person, I began to have difficulty with my hands and arms. Something resembling carpal tunnel syndrome resulted. I had to wear braces on my arms, go to physical therapy and take pain medication. Amazingly, after I was given a new desk and ergonomically sound computer equipment, I found that my hands and arms were getting better.
Unfortunately, the process had begun and has resulted in my having problems years later. My hands sometimes lose their grip and I drop things. I also have difficulty opening jars. «Read the rest of this article»