Topic: 101st Airborne Division Rock Band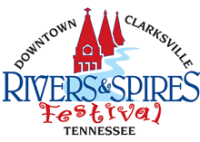 Clarksville, TN – The final day of the 2013 Rivers and Spires Festival began with absolutely glorious weather. The sun was shining and the sky was that special shade of blue you get after a spring storm. The crowds started showing up even before the 10:00am official opening time.
Dave Loos, Jr. from WJZM 1400 AM was on hand broadcasting Live from the Bill Roberts Thunder Road Automotive and Marine booth just down from the Roxy Regional Theatre. He spent the morning interviewing festival organizers and some of the sponsors.
«Read the rest of this article»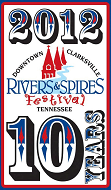 Clarksville, TN – The second day of the 2012 Rivers and Spires Festival started out just as glorious as the first, but by early evening rain had forced the premature closure of the event for the day. Saturday looks to be clear and cool with highs in the high 50′s.
The 101st Airborne Division Rock band opened the day on the Strawberry Alley stage which has been overhauled for the opening of the of the Screaming Eagle Trail during a special event held at the Rivers & Spires Festival. The 13th of 16 self-guided driving tours in the Discover Tennessee Trails & Byways program, The Screaming Eagle travels 353 miles from Nashville throughout other cities in Middle Tennessee. Clarksville's Strawberry Alley is one of the stops on the trail.
«Read the rest of this article»