Topic: 5th Special Forces Group
Written by Sgt. Justin Moell
5th Special Forces Group (Airborne) Public Affairs Office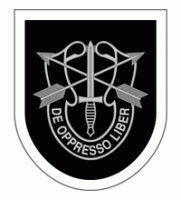 Fort Campbell, KY – Awarded for personal acts of valor, above and beyond the call of duty, the highest award a Soldier can earn during combat is the Medal of Honor.
Retired U.S. Army Maj. Drew D. Dix, native of Pueblo, CO, was awarded the Medal of Honor from President Lyndon B. Johnson on January 19th, 1969, for repeatedly leading a 20-man force of local fighters in to Chau Phu, Vietnam, multiple times, driving out the Viet Cong resulting in 14 confirmed Viet Cong Killed in action and a potential 25 more, the rescue of 14 United States and free world civilians, and capturing 20 enemy combatants, including a high ranking Viet Cong official, during the early days of the Tet Offensive.
«Read the rest of this article»
Written by Sgt. Justin A. Moeller
5th Special Forces Group (Airborne) Public Affairs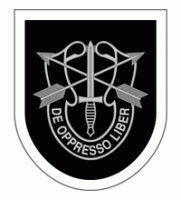 Fort Campbell, KY – Soldiers with the 3rd Battalion, 5th Special Forces Group (Airborne), welcomed their new commander July 1st, 2014.
During a ceremony held at Gabriel Field, Lt. Col. Lewis J. Powers relinquished command of the 3rd Bn., 5th SFG (A), to Lt. Col. Brent W. Lindeman.
"Under the command of Lt. Col. Powers, 3rd Battalion has successfully executed hundreds of missions of critical importance across the entire Middle East," said Col. John W. Brennan, commander of the 5th SFG (A). "From combat operations in remote locations of Afghanistan, to critical advise and assist missions in Iraq, and other locations throughout the Central Command's area of responsibility—3rd Battalion has always risen to the challenges before them and emerged victorious."
«Read the rest of this article»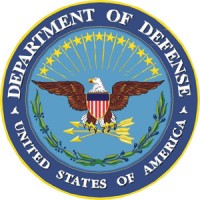 Washington, D.C. – The U.S. Department of Defense announced the death of five soldiers who were supporting Operation Enduring Freedom.
They died June 9th, in Gaza Village, Afghanistan, of wounds suffered while engaged in a combat operation.
The incident is under investigation. «Read the rest of this article»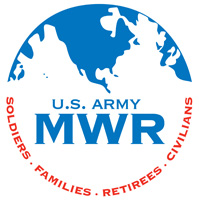 Fort Campbell, KY – Join the Fort Campbell community for our June Eagle Challenge Fitness Tour event. Fort Campbell MWR, along with 5th Special Forces Group (Airborne) and the 160th Special Operations Aviation Regiment (Airborne), will host a Warrior Challenge on June 21st.
This is Fort Campbell's second annual mud run and this year's course will bring different obstacles, along with a new set of fears to overcome!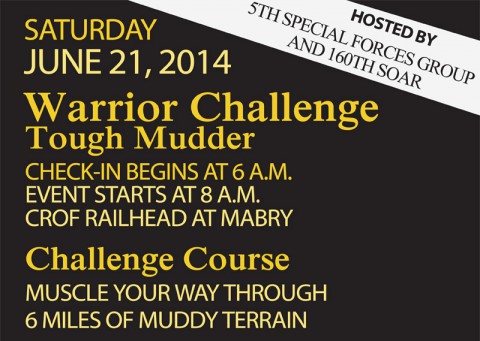 «Read the rest of this article»
Written by Maj. Brandon Bissell
5th Special Forces Group (Airborne) Public Affairs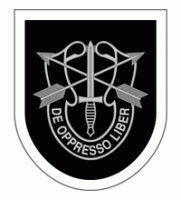 Fort Campbell, KY – Each year the 5th Special Forces Group (Airborne) family gathers on Gabriel Field to honor Legionnaires who paid the ultimate sacrifice.
Saturday, May 17th, was no different as it brought together the Group's Soldiers, Families, and friends, both past and present, to remember their fallen brothers.
Gabriel Field, named in honor of Specialist 5 James P. Gabriel, one of the first Green Berets to be killed in Vietnam, was memorialized with markers placed around the perimeter of the field.
«Read the rest of this article»
Written by Staff Sgt. Joel Salgado
3rd Brigade Combat Team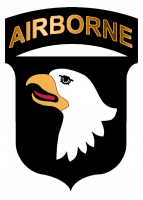 Fort Campbell, KY – Teams from 101st Airborne Division units and Fort Campbell competed in a series of marksmanship events on Tuesday during the 101st Airborne Division's Week of the Eagles.
"Competition breeds Excellence," said 1st Lt. Jonathan Pickens, the planner for the Week of the Eagles Marksmanship Competition. "It also helps build that competitive edge that we need to take to the enemy when we're deployed overseas."
«Read the rest of this article»
Four Special Forces Service Members Among Those Remembered for Memorial Day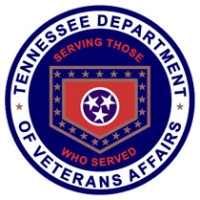 Nashville, TN - Tennessee Governor Bill Haslam joined Tennessee Department of Veterans Affairs Commissioner Many-Bears Grinder and Major General Terry "Max" Haston of the Tennessee Military Department to pay tribute to six Tennesseans who gave the ultimate sacrifice, including a service members previously missing in action for several decades. Haslam presented surviving family members with the Honor and Remember Flag and an Iris which is the official state flower.
Staff Sergeant Lawrence Woods of Clarksville was among eight service members killed in a plane crash on October 24th, 1964 and was the first Tennessean to be declared missing in action (MIA) leading up to the Vietnam War.  Woods was serving with the 5th Special Forces Group based out of Fort Campbell.  The United States Army Staff Sergeant was aboard a C-123 Provider aircraft that crashed when it was struck by enemy fire while resupplying the U.S. Special Forces camp at Bu Prang, Vietnam.  Lisa Szymanski, Steven Woods and Deborah Secriskey received the presentation on behalf of their father.
«Read the rest of this article»
Written by Maj. Brandon Bissell
5th Special Forces Group (Airborne)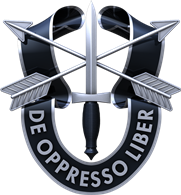 Fort Campbell, KY – A member of the 5th Special Forces Group (Airborne) family was recognized recently as the unit recipient of the Colonel Maggie Raye Volunteer Award.
The award was presented to Mrs. Winnie Tillinghast, a family readiness group (FRG) volunteer for 1st Battalion, 5th SFG (A) and spouse of Command Sgt. Maj. Adam Tillinghast, by Col. John Brennan, 5th SFG (A) commander, during a ceremony May 7th, at the 5th SFG (A) headquarters.
«Read the rest of this article»
Written by Staff Sgt. Christopher Klutts
20th Public Affairs Detachment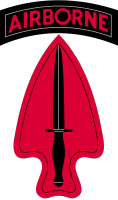 Fort Polk, LA – An American man has a heart attack on the third floor of a hotel that doubles as an evacuee holding area. Protestors chant for change outside a U.S. consulate. A small village is struck with measles and enemy artillery rocks a city – all of this happens between lunch and dinner.
By design, training scenarios are complex at the Joint Readiness Training Center in Fort Polk, LA. Hundreds of role-players assume fake identities and mill around a mock foreign country. Its landscape is dotted with towns and villages, the names of which change based on the real-world region a unit might operate in.
«Read the rest of this article»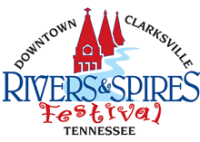 Clarksville, TN – The last day of the 2014 Rivers and Spires Festival continued to be the best in memory. The weather was absolutely flawless, neither too hot nor to cold. There wasn't a cloud in the sky throughout the entire day.
I rushed down to the Festival at 9:00am to catch the annual WJZM 1400 AM Clarksville in Review broadcast from the Festival. This usually is held at the Bill Roberts thunder road automotive tent on Franklin Street just down from the Roxy Regional Theatre. The program was already well underway when I arrived.
«Read the rest of this article»