Topic: Abigail Orusa
Unity is the quality or state of being made one.
That is exactly what happened during the first annual Unity Day Celebration on Saturday night. For at least one evening, our community was made whole. The purpose of Unity Day was to help unite the Clarksville community, it celebrated the accomplishments our community's leadership, and paid tribute to and recognized the hard work of non-profit organizations in Clarksville, TN; and It more than succeeded in reaching this lofty goal.
The event was the brainchild of Treva Gordon, the Founder and Publisher of the Convenient Shopper an advertising supported bi-monthly magazine. However, during the evenings ceremonies Clarksville Mayor Johnny Piper announced that Unity Day would be officially recognized by the City each year.
«Read the rest of this article»

Celebration of Unity Day presents Dr Bobby Jones with a Lifetime Achievement Award
On Saturday June 5th at 6:30pm,  we will celebrate Unity Day at Faith Outreach Church with guest honoree Ambassador Dr. Bobby Jones.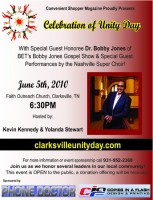 Dr. Jones is currently has the longest running TV show on cable TV for more than three decades…'The Bobby Jones Gospel Show.' We will also celebrate and recognize Clarksville's diverse leadership by honoring several local pastors and non-profit organizations in our community.
The purpose of Unity Day is to unite our Clarksville community and celebrate the accomplishments of our diverse leadership. We also will pay tribute and recognize our non-profit organizations. The event promotes unity among family as well as peace among people of all walks of life. Unity Day is created with a focus on family values and multiculturalism. «Read the rest of this article»