Topic: aggravated burglary

Clarksville, TN – On January 26th, 2013 around 7:15pm, officers responded to a residential burglary at 1121 Riverwood Place. The 48 year old female victim called and stated that someone had kicked in her front door damaging the door frame.
It appears someone entered through her front door and took a cream colored jewelry box and six gold rings valued at approximately $2,000. There were witnesses who saw a man exiting the apartment and provided officers a detailed description of the suspect.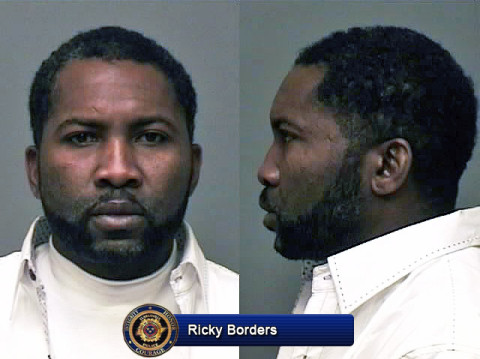 «Read the rest of this article»

Clarksville, TN – On January 15th, 2013, a man was attempting to buy drugs was shot in the foot and robbed in the the area of 31 Lincoln Drive. Mark Austin Ellis was identified as one of the robbers and an Aggravated Robbery Warrant was issued.
On January 19th, 2013, around 9:30am, Mark Ellis turned himself in at Clarksville Police Headquarters.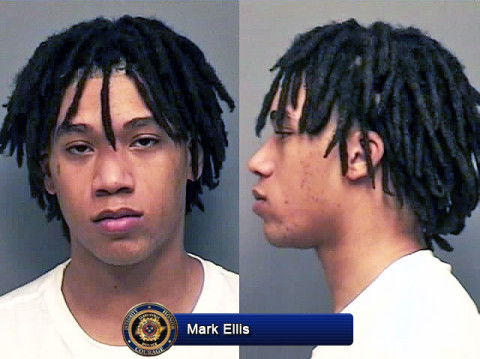 «Read the rest of this article»

Clarksville, TN – Clarksville Police have worked diligently to locate the owners of stolen property which was recovered after responding to High Point Road to take a runaway juvenile report.
On January 4th, 2013, Officer Sean Walden responded to a High Point Road address to take a runaway report on a 17 year old juvenile. While he was at the house, the foster parents found property which did not belong to anyone residing at the High Point Road residence. «Read the rest of this article»

Clarksville, TN – On January 8th, 2013, 5:20pm, Clarksville Police Officers responded to a Burglary of Vehicle at 608 Cleveland Drive after a watchful neighbor called 911 when she saw two males at her next door neighbor's house. One was attempting to break into a truck in the driveway while the other was by the garage door.
When officers arrived they found the truck was damaged by someone trying to pry the door open. It was also determined the residence and a shed had been broken into while the homeowner was away. «Read the rest of this article»

Clarksville, TN – On November 7th, 2012, around 3:45pm, Clarksville Police Officer Nathan Lee responded to a 911 call at the 900 Block of Riverside Drive when a woman recognized a man with warrants from a photo disseminated by the media.
When Officer Lee arrived, he immediately recognized the man as Michael Eli Gray, who was alleged to have been involved in an incident which occurred at 145 Tandy Drive.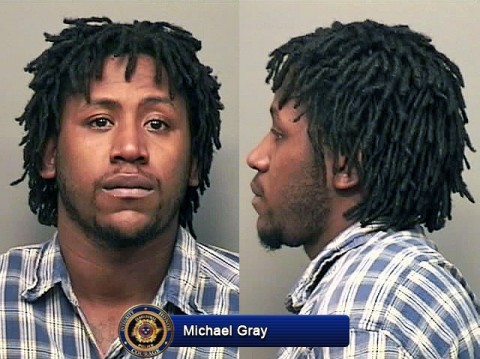 «Read the rest of this article»
Clarksville Police are looking for Michael Gray and Gregory Robinson, who have multiple warrants on file after severely beating a man over a landlord/tenant dispute.

Clarksville, TN – On November 2nd, 2012, around 12:45pm, Gregory Robinson walked through an unlocked door, uninvited into Apartment C, at 145 Tandy Drive and confronted a 34 year old who was inside and visiting the resident. The 34 year old man had sub-leased an apartment from Robinson.
After entering the residence, Robinson displayed a handgun and started demanding overdue rent money that the man owed. Robinson then started punching the man, struck him several times with a handgun, claimed to be a "Blood" gang member and would kill him if he did not get his money.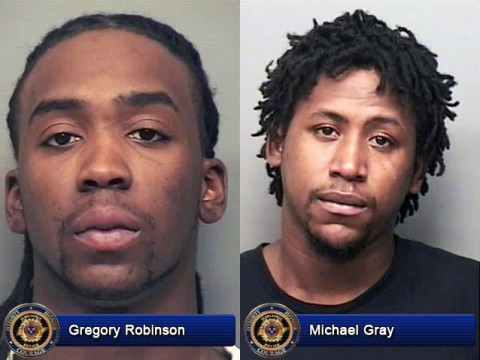 «Read the rest of this article»

Clarksville, TN – On October 19th, 2012, around 10:15am, a Dalewood Drive man came home, found someone had entered his residence and several items were taken. He found Kylan Brock, a man he knew but not authorized to be in the house, standing in the back yard with a beer in hand and another beer in his back pocket.
The homeowner told Clarksville Police Officers that when Brock was confronted about his presence in the backyard, he said he been inside of the residence and got the beer out of the fridge. Police were called, but Brock fled on foot prior to their arrival.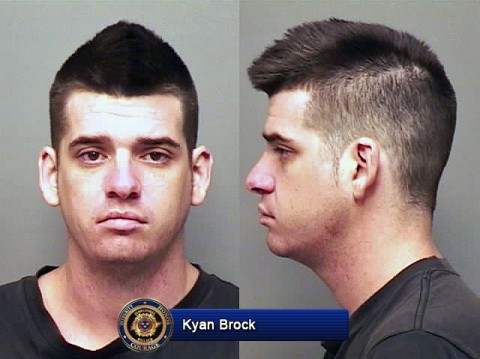 «Read the rest of this article»

Clarksville, TN – On October 2nd, 2012, around 9:15pm, Clarksville Police Officers were called to a McClardy Drive residence for a burglary in progress.
An 18 year old female arrived home and saw a bluish green car by her mailbox with a man standing outside of the vehicle smoking a cigarette. As she pulled into her driveway, she could see all the lights on in the house and the back and garage doors were open. She also could see two men inside of residence.
«Read the rest of this article»
After a shoplifter is caught, cited, and released, he makes a beeline to another store to shoplift and is caught again.

Clarksville, TN – On September 25th, 2012, around 8:15am, Clarksville Police Officers were called to Kroger's on Madison Street about a man who had taken several cases of beer and meat and left the store without paying.
The man, David Felts, was located by officers at the corner of Golf Club Lane and Crossland Avenue. He was pushing a Kroger's shopping cart down the street loaded with the stolen beer and pork ribs.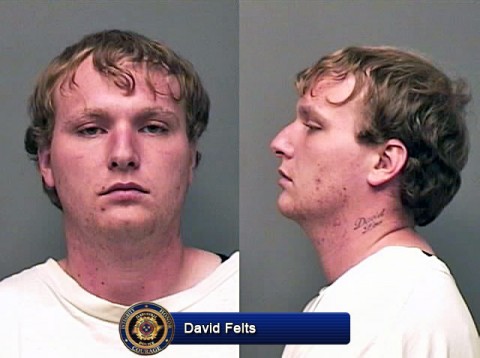 «Read the rest of this article»

Clarksville, TN – Four men, Gregory Elliot, Willie Collins, Timothy Ogburn and Lawrence Gillen were involved in a plan to forcefully take money from a Nottingham Drive man rumored to have a large sum of money as well as drugs.
They moved forward with their plan and approached the residence on September 5th, a little before 2:00am.
They spotted and approached a 30 year old man and a 29 year old woman who were sitting inside of a car outside of the house. A confrontation ensued resulting in the man being struck on the head several times with a handgun and the woman fleeing into the house and locking herself in a bedroom.

«Read the rest of this article»