Topic: Al Ansley

Clarksville, TN – On Wednesday, October 2nd, 2013, the Clarksville Police Department welcomed Castin Lanham, Matthew Drudy, Terrance Jackson, Michael Blackwell, and Michael Hackney.
The new Officers' friends and family, along with Chief Al Ansley and other City Officials, gathered at the City Hall, while all five Officers were sworn in by Clarksville Mayor Kim McMillan.
It is our pleasure to introduce all five officers to our community.

Clarksville, TN - On August 3rd, 2013 in Columbus,  Ohio,  Chief Al Ansley went before a group of CALEA (Commission on Accreditation for Law Enforcement Agencies) Commissioners for a hearing to determine whether the Clarksville Police Department would be awarded Reaccreditation.
After the hearing, Committee  recommended to the full commission that the Clarksville Police Department receive Advanced Accreditation.  Chief Ansley accepted the award that evening.
«Read the rest of this article»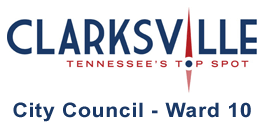 Clarksville, TN – I don't know if there is a Guinness Book record for long council meetings, but I believe we would qualify after Thursday's regular session. The meeting started at 6:55om Thursday and ended about 2:20am Friday morning.
Things started mild enough, then got feisty and progressed downhill to the point that at the end of the meeting Councilman James Lewis stormed over to Councilman David Allen as they were leaving and said he would see him outside. Police were requested to go outside to ensure the situation did not turn into a knock down and drag out affair.
So basically, it was a regular night at the Clarksville City Council. «Read the rest of this article»

Clarksville, TN – On Friday, May 31st, 2013 the Clarksville Police Department training room was filled with friends and family to celebrate the promotion of five members of the Clarksville Police Department.
As a family member pinned their new badge on each recipient, Chief Al Ansley proudly announced that Sergeant Ty Burdine and Sergeant Liane Wilson will now hold the rank of Lieutenant.
«Read the rest of this article»
Clarksville, TN – First, this is a change to Clarksville Police Department policy, not City Code or State law.  State law requires that funeral processions be led in a safe and appropriate manner. The old policy, quite frankly, did not meet this standard.
Second, and this is where the bulk of misinformation has resulted, the number of vehicles in a funeral procession is not (and cannot be) limited. The revised policy is that for funeral processions led by 1 police vehicle (approximately 95% of those involving CPD), the CPD officer can only be responsible for getting seven cars safely through intersections and other traffic conditions. «Read the rest of this article»
Clarksville, TN – In response to questions received about the Clarksville Police Department's updated policy on funeral processions, Clarksville Mayor Kim McMillan and Clarksville Police Chief Al Ansley have requested that the Public Safety Committee place the topic on the meeting agenda for Wednesday, March 20th, 2013.
The meeting will take place at 4:00pm in the City Hall Conference Room, 4th Floor, 1 Public Square in downtown Clarksville. «Read the rest of this article»

Clarksville, TN – Clarksville Police Chief Al Ansley presented Officer Seth Paugh with a Lifesaver Award, Friday, for his actions at a structure fire at 306 Blaine Court.
On February 5th, 2013, Officer Paugh arrived at a structure fire and could see the interior of the residence was consumed in smoke. Officer Paugh questioned a neighbor about a vehicle located in the residence's driveway.
«Read the rest of this article»

Clarksville TN – When Sheriff Norman Lewis died last year, Montgomery County lost a very powerful and  popular public figure.  Norman Lewis left a legacy that would be hard to follow.  The Sheriff of Montgomery County has had a history of being a tough, "no nonsense" lawman, who was a powerful, influential, commanding, and politically connected figure.
Remember Joel Plummer?
Well, meet Sheriff John Fuson.
«Read the rest of this article»

Clarksville, TN – On December 14th, 2012, a room full of friends, coworkers, and well-wishers were at the retirement ceremony for Clarksville Police Officer Danny Greene and Clarksville Police Detective Larry Boren.
The mood was jovial and there was a little bit of roasting going on.
«Read the rest of this article»

Clarksville, TN – Today, Clarksville's Commissioner of Finance, Debbie Frazier, administered the oath of office to five new Clarksville Police Officers.
This is a significant milestone for the Clarksville Police Department. It is the first time in recent memory, the Clarksville Police Department has attained its authorized law enforcement personnel levels of 273 sworn officers.
«Read the rest of this article»