Topic: APSU President

Clarksville, TN – For the fifth consecutive year, Austin Peay State University is one of the best colleges in the nation to work for, according to a recent survey by The Chronicle of Higher Education.
In addition, APSU is the only four-year university in Tennessee to make the national publication's "Great Colleges to Work For 2016" list.
«Read the rest of this article»

Clarksville, TN – The Clarksville Area Chamber of Commerce recognized five award winners at its 2016 Annual Membership Dinner and Gala on Thursday, June 23rd. Chamber Chairman Tommy Bates and Membership Chairman Brandi Bryant presented the following awards.
«Read the rest of this article»
APSU Sports Information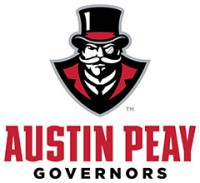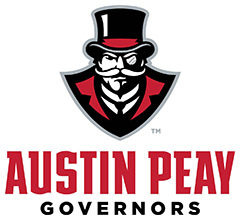 Clarksville, TN – Austin Peay State University will add beach volleyball to its intercollegiate athletics program for Spring 2017, the university announced Thursday, May 5th. The addition will be the 16th Governors athletic team – and 10th team in its women's portfolio – competing at the Division I level.
"Austin Peay State University is committed to providing opportunities for female student-athletes," APSU President Alisa White said. "Beach volleyball is one of the fastest growing sports among NCAA schools, and I know students and fans alike will enjoy watching coach Taylor Mott's team compete."
«Read the rest of this article»

Clarksville, TN – On April 26th, during Austin Peay State University's Annual Scholarship Donor Dinner, Wayne Ard, and his late wife, Marianne, and Ron Morton were honored for their strong support of the University.
Ard, president of Ard Construction,received the 2016 Tennessee Board of Regents' Award for Excellence in Philanthropy. Morton, owner of the largest number of H&R Block franchises in the country, was presented with the University's 2016 Academic Advocate Award.
«Read the rest of this article»
Concert part of ceremony to unveil newly renamed Fortera Stadium

Clarksville, TN – On Saturday, April 23rd, Austin Peay State University and Fortera Credit Union celebrate a new era in Governors Football with the unveiling of the newly renamed Fortera Stadium, capped off with a concert by Nashville recording artist Maggie Rose in the stadium lot.
Rose's performance will conclude a day's worth of activities, beginning with a noon baseball game, as the Governors take on Eastern Kentucky in Raymond C. Hand Park. At 1:00pm, Governors Softball will compete against Jacksonville State at Cheryl Holt Field.
«Read the rest of this article»
APSU Sports Information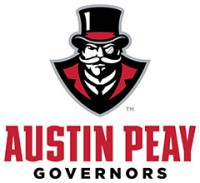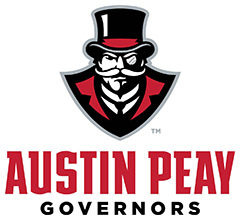 Clarksville, TN – Austin Peay State University's historic Governors Stadium will soon don a new name through a partnership with Fortera Credit Union. The 25-year, $2.5 million agreement will see the home of APSU football be renamed Fortera Stadium.
Crews will begin work to install signage reflecting its new identity in the days to come as the University and Fortera prepare to celebrate a new era.  A celebration will take place Saturday, April 23rd at the home entrance of the stadium, following the final day of spring football practice. The event is free and open to the public.
«Read the rest of this article»
Tennessee State Representative Curtis Johnson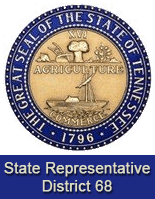 Nashville, TN – The Montgomery County Legislative Delegation had the honor of meeting with Austin Peay State University President Alisa White and six students from their honors program this week. They came to the Legislature to showcase their undergraduate research and what they're working on at the moment.
The faculty that accompanied them was the Provost and Vice President for Academic Affairs, Dr. Rex Gandy, Director of Business and Community relations Carol Clark, and the Director of the Honors Program, Dr. Linda Barnes. These students are very bright and creative and deserve recognition.
«Read the rest of this article»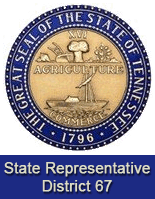 Nashville, TN – Several bills sponsored by Tennessee State Representative Joe Pitts (D-Clarksville) moved along in committees last week. This is a general update on the bills and events on the Hill from last week.
House Bill 1514/Senate Bill 1730 (Sen. Kerry Roberts (R-Springfield) the bill that will create the memorial sign program in honor and memory of innocent victims killed by drunk and/or impaired drivers, known as the Tyler Head Bill, passed the Transportation Full Committee and is headed to the Finance, Ways and Means Sub Committee.
«Read the rest of this article»

Clarksville, TN – Kristopher Phillips ('91), a nationally recognized advancement professional, was recently named executive director of the Austin Peay State University Office of University Advancement. Roy Gregory previously served in that position until he retired last June after 24 years of service to APSU.
"We're excited to have someone of Kris's caliber lead our advancement efforts," Derek van der Merwe, APSU vice president of Advancement, Communication and Strategic Initiatives, said. "He understands the intricacies of raising money for institutions of higher education, he is considered a national leader in his profession and his expertise will help guide our advancement team to provide more opportunities for deserving young men and women who wish to earn a college education."
«Read the rest of this article»

Clarksville, TN – Austin Peay State University, which turns 90 next year, recently experienced a late growth spurt. Earlier this week, the campus grew by about 10 acres when the school finally closed on property previously owned by the Jenkins and Wynne auto dealership.
The $8.8 million purchase marks one of the largest expansions in the University's history, and it now connects the 182-acre College Street campus with downtown Clarksville.
«Read the rest of this article»