Topic: Austin Peay

Clarksville, TN – With the top three offensive leaders from last season lost to graduation, including three-time first-team All-Ohio Valley Conference performer Lauren de Castro, this year's Austin Peay softball team was going to have to have several players step up and do their best to replace those numbers lost to graduation.
One of those that have answered the need has been sophomore first baseman Christiana Gable, who has proven through the first half of the season to be among the best in being able to drive runs in when the opportunities presents themselves.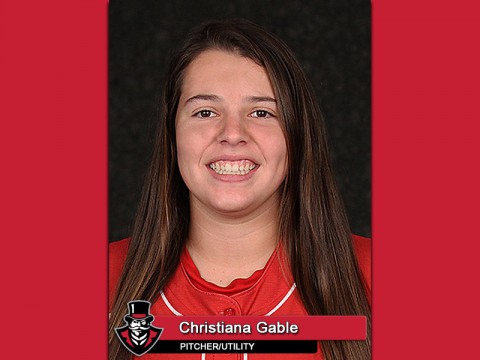 «Read the rest of this article»

Clarksville, TN – An old saying in college sports is 'a good thing about freshmen is that they become sophomores' and the 2015 Austin Peay State University baseball team is living up to that adage.
After a three-year run that saw two regular-season Ohio Valley Conference titles, three OVC tournament championships, three trips to the NCAA Tournament and an average of 40 wins per season, the Govs missed the post season in 2014 with a squad that featured 13 freshmen on its 33-man roster.
«Read the rest of this article»

Clarksville, TN - Spring sports for Austin Peay always have to deal with the possibility of bad weather, but so far this spring the weather had more than proven to be the Governors main opponent over the first month of play.
Baseball, softball, tennis, golf and track and field have all felt the grip of the late winter weather forcing game time changes, postponements, cancellations and even venue changes just to try to get their respective seasons in.
«Read the rest of this article»

Clarksville, TN – Some athletes play big and others play big when the lights shine brightest and Austin Peay track and field standout Breigh Jones continues to show she is one of the best to ever run for the Lady Govs.
«Read the rest of this article»
Austin Peay Sports Information

Rock Hill, SC – Austin Peay State University's softball team couldn't shake off the rust of a 15-day weather induced layoff Saturday, February 28th in the opening day of the Winthrop Adidas Tournament, with the Lady Govs falling to Appalachian State 13-7 and to Winthrop 11-3.
«Read the rest of this article»

Clarksville, TN – Over the years there have been more than a few outstanding seasons put together by Austin Peay women's basketball players, but the 2014-15 season being authored by point guard Tiasha Gray may go down as the best all-around season of all time.
With one final regular-season game remaining against Southeast Missouri — and what is almost an assured spot in the Ohio Valley Conference tournament – it's not surprising the junior guard is leading the team in scoring, assists and steals, but also tops the team in rebounds.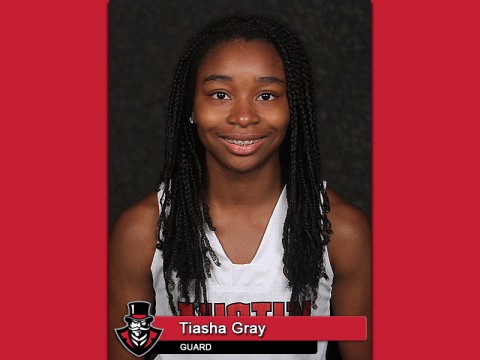 «Read the rest of this article»

Clarksville, TN – With his junior season winding down, Austin Peay men's basketball standout Chris Horton is starting to pile up some impressive numbers, that by the end of his senior campaign may put him in the realm among some of the best to ever wear the Governors uniform.
This past weekend versus Tennessee Martin, Horton not only became the 33rd Austin Peay basketball player to score at least 1,000 points in a career, but just the seventh player all-time to have at least 750 rebounds to go with those points.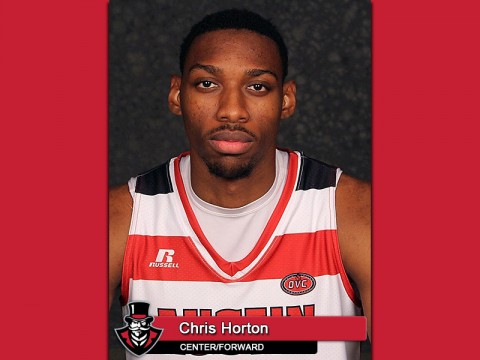 «Read the rest of this article»

Clarksville, TN – Austin Peay State University's baseball team opens its 2015 regular season Friday, February 13th versus Niagara looking to get off to a good start in what hopes to be a return to the top of the Ohio Valley Conference after suffering growing pains and injuries in 2014.
The Governors had 13 freshmen on last years' squad, including eight that played significant time, which led to some growing pains for a team that had won the conference's tournament the three previous seasons.
«Read the rest of this article»

Clarksville, TN – The past two seasons Austin Peay State University's softball team went into the final weekend of the regular season with a chance to make the Ohio Valley Conference post-season tournament – only to come up short.
But as they open their 2015 regular season this weekend at the Mississippi State Bulldog Kickoff Classic, the Lady Govs hope to clear that final hurdle and make a return to the postseason.
«Read the rest of this article»

Clarksville, TN – For student-athletes in college it's more than just about the sports that they play and classes they attend, it's about learning to giving back to the community and citizenship.
Austin Peay State University's Athletic Department and its student-athletes continue to show that they live up to that standard and be a good neighbor and supporter of the Clarksville community.
«Read the rest of this article»