Topic: Bikers who Care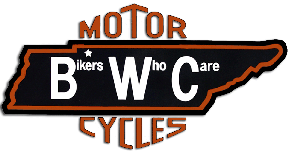 Clarksville, TN – The good folks from Bikers Who Care are back with their 15th Annual Bikers Who Scare Haunted House.
BWC member Steve Eckart says this year's scare fest is bigger and better than ever, with lots of new rooms and more live actors.
"We are a 100% volunteer organization, and all the money we raise goes to BWC Children's Charities," Eckart said. "We love doing this, and we have hundreds of people go through here each weekend. It just gets bigger every year."
«Read the rest of this article»

Montgomery County, TN – The Christmas spirit was in full force over the weekend as the Montgomery County Sheriff's Office (MCSO) and Bikers Who Care (BWC) passed out cash to unsuspecting residents.
Deputy Jonathan Inman and Ethan Moss, along with Billy Hughes, Tony Janusas, and Jerry Ashworth with the BWC distributed $2000 to citizens on Saturday. They stopped motorist or shoppers and gave them $100.00 each in cash.
«Read the rest of this article»

Clarksville, TN – On Saturday, December 19th, 2015, Bikers Who Care (BWC) partnered with the Montgomery County Sheriff's Office and the Clarksville Police Department to hand out money to random Clarksville residents.
CPD's Officers Brad Crow (BWC member) and Coz Minetos, along with BWC members Booger Watson, Steve Eckart, and Bill Langford handed out money to shoppers at local businesses.
«Read the rest of this article»

Clarksville, TN – Jaquez Willis is on a mission. His determination to earn his high school diploma is so great that he walks seven miles from his home near Northwest High School in Clarksville, Tennessee to the Continuing Education Center on Greenwood Avenue where he is enrolled in Adult Education.
Then he walks seven miles home. Day after day, his goal gets a little closer and the hope in his heart grows a little bigger.
«Read the rest of this article»
Clarksville, TN – On Saturday, May 9th, Hilltop Supermarket held a Spring Festival event, "Karing for Kenai". The event was a fundraiser for Kenai Payes Langley who was diagnosed with a rare form of cancer.
Kenai is a beautiful 13 year-old-young lady who lives in Clarksville, TN, with her mother and older sister, Hailey. Kenai is battling Stage 3 Clear Cell Adenocarcinoma Cancer. She has 8 tumors in the surrounding areas of her reproductive system.
«Read the rest of this article»
Services to Military Families with Exceptional Family members proposal also advances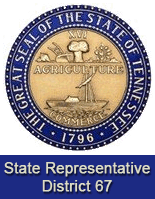 Nashville, TN – Legislation to declare September 18th each year as Carbon Monoxide Awareness Day passed by the House of Representatives on Monday, March 30th, and is now headed to the Governor for his signature. Senator Mark Green (R-Clarksville) was the Senate sponsor.
"Declaring September 18th as Carbon Monoxide Awareness Day, in perpetuity, was the brainchild of Skylar Hughes, a former student of Katy Over, one of the Bikers Who Care who tragically lost their lives on that fateful day," Tennessee State Representative Joe Pitts said.
«Read the rest of this article»
Tennessee State Representative Joe Pitts chosen by peers to serve as Secretary of the Tennessee Legislative Veterans Caucus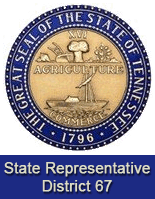 Nashville, TN – House Bill 800 (Rep Joe Pitts, D-Clarksville)/Senate Bill 56 (Sen Mark Green, R-Clarksville) would authorize students who are members of the National Guard or a Reserve unit of a branch of the United States military and who are eligible for the Tennessee Promise Scholarship, but cannot enroll in college in the fall term immediately following completion of high school due to certain military commitments, to enroll in the first term beginning after completion of such commitments without losing eligibility for the scholarship.
The bill passed the Education Administration and Planning Full Committee on Tuesday, March 10th and is currently in Finance, Ways and Means.
«Read the rest of this article»
Tennessee Representative Joe Pitts
Carbon Monoxide Awareness Day legislation advances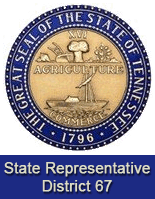 Nashville, TN – A bill designed to help veterans and their spouses find employment was defeated in the Consumer and Human Resources subcommittee of the Tennessee House of Representatives this week.
The bill, sponsored by Representative Joe Pitts (D-Clarksville), would have enabled private employers to create written policies giving preference in hiring honorably discharged veterans, their spouses, widows and widowers.
The bill failed by a quick voice vote with no questions or discussion by the committee.
«Read the rest of this article»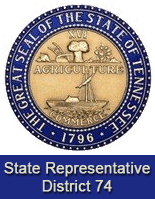 Clarksville, TN – Tennessee State representative John Tidwell has entered into a battle with Tennessee state troopers that unfairly ticketed motorcyclists while incorrectly citing a law that Tidwell authored.
A group of riders complained to Tidwell about a recent incident in which they were pulled over by a state trooper for allegedly not wearing Department of Transportation-approved helmets.
The trooper then made the riders wait on the shoulder of the interstate for 45 minutes, while a friend brought the appropriate helmets from Nashville.
«Read the rest of this article»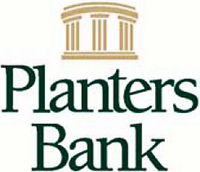 Hopkinsville, KY – Planters Bank announces the promotions of Amanda Vinson to Vice President/Commercial Lending and Jessica Shaw to Commercial Banking Officer.
Vinson joined Planters Bank in January 2005 as a customer service representative and was later promoted to credit analyst, senior credit analyst, and assistant vice president. Vinson graduated from Houston County High School and received a B.B.A with a concentration in Finance from Austin Peay State University in 2002. She is married to Dane.
«Read the rest of this article»