Topic: Bill Brock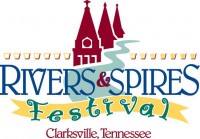 Clarksville, TN – Due to unseasonably chilly weather and a blustery wind, the third day of Rivers and Spires looked like it was going to end with a whimper rather than a bang, the victim of the unpredictable spring weather. However as the afternoon wore on, more and more people showed up to enjoy all that the festival had to offer. "The crowd hung in even though we had monsoon winds and rains, and I think it says a lot about this festival, and how much people enjoy it" said Festival Manager Doug Barber.
«Read the rest of this article»

Protest George Bush's visit to Nashville!
Dear NPJC (Nashville Peace and Justice Coalition) Community,
President George W. Bush is coming to Nashville as an appearance for GOP Senatorial candidate Bob Corker. This $2,100-per-person fundraiser at the Leows Vanderbilt Plaza Hotel will be held on August 30th. The honorary chairs for the event are Senate Majority leader Bill Frist, Sen. Lamar Alexander, and former Senators Howard Baker, Fred, Thompson, and Bill Brock. «Read the rest of this article»