Topic: Bill Haslam
TBR Adopts Policy on Firearms, approves MTSU request for building name change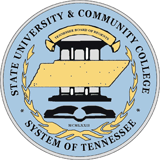 Nashville, TN – The Tennessee Board of Regents has approved the lowest increases in undergraduate tuition since 1983.
Tuition rates at the six TBR universities, 13 community colleges and 27 Tennessee Colleges of Applied Technology will increase an average of 2.6 percent for the 2016-17 academic year.
The action, taken during the TBR quarterly meeting at Northeast State Community College, represents the lowest average increases in more than 30 years. The increases are within the range recommended by the Tennessee Higher Education Commission.
«Read the rest of this article»
Alternative Residential Program part of Governor's Public Safety Action Plan

Nashville, TN – Tennessee Governor Bill Haslam today announced with Major General Max Haston of the Department of Military and Department of Children's Services (DCS) Commissioner Bonnie Hommrich that Tennessee has been approved by the U.S. Department of Defense for a National Guard Youth ChalleNGe program.
«Read the rest of this article»
Tennessee State Representative Joe Pitts
Part 1 of 3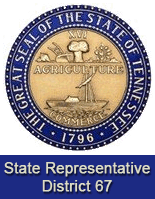 Nashville, TN – This Legislative Update is Part 1 of 3 regarding three bills passed this year by Tennessee State Representative Joe Pitts.
Public Chapter 1039 – The legislation was sponsored by State Representative Joe Pitts (D-Clarksville) and Senator Kerry Roberts (R-Springfield). This bill was brought to the House and Senate sponsors by Gina Head-Heiber, mother of Tyler Head who was killed by an impaired driver in Clarksville on his way to class at Austin Peay State University.
«Read the rest of this article»
Date Changes Due to Legislation; Shop Tax Free in Tennessee July 29th-31st

Nashville, TN – Tennessee's sales tax holiday will now be one weekend earlier than it has been in the past, due to a 2016 law change. Starting this year, the sales tax holiday will be held during the last weekend in July, instead of the first weekend in August each year.
From July 29th through July 31st, Tennessee shoppers can save nearly 10 percent on clothing, school supplies and computers, as students prepare for the back-to-school season.
«Read the rest of this article»

Nashville, TN – Newly approved captive insurance legislation further modernizes and enhances Tennessee's reputation as the go-to domicile in the captive insurance industry.
Approved by the General Assembly earlier this year, the 2016 legislation represents the third update to the Revised Tennessee Captive Insurance Act of 2011, which first allowed the captive insurance industry to flourish in Tennessee.
«Read the rest of this article»
FOCUS Act Aligns Structure of Tennessee Higher Education to Meet Drive to 55 Goal

Cookeville, TN – Tennessee Governor Bill Haslam today signed the Focus On College and University Success (FOCUS) Act at a ceremony on the campus of Tennessee Technological University.
The legislation organizes and empowers Tennessee's public colleges and universities to increase student success and the number of Tennesseans with a postsecondary credential.
«Read the rest of this article»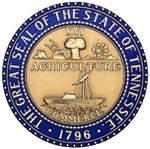 Nashville, TN – This week, the Family Action Council of Tennessee, a prominent conservative organization in the state, announced they have awarded State Representative Jay Reedy (R–Erin) with the 'Family Champion' award — the organization's top honor available to lawmakers.
The Family Champion designation is given only to those legislators who have a perfect 100% voting record on legislation related to the promotion of family, life, and religious liberty.
«Read the rest of this article»
Tennessee State Representative Curtis Johnson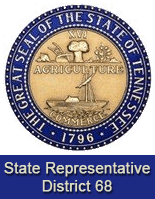 Nashville, TN – The 109th Tennessee General Assembly adjourned on April 22nd, 2016 to become a part of Tennessee history with passage of major legislation to reduce crime, cut tax burdens, spur job growth, accelerate the state's success in K-12 education, boost the number of college graduates, curb drug abuse and curtail drunk driving.
State lawmakers also passed significant legislation to ease traffic congestion, reduce child abuse, aid farmers, increase access to healthcare and medication, increase voter participation and provide a safer environment for the elderly.
Following, please find a copy of some of the highlights of this year's legislative action.
«Read the rest of this article»
Tennessee Fallen Heroes Medal Posthumously Awarded

Nashville, TN – Tennessee Governor Bill Haslam joined Tennessee Department of Veterans Services Commissioner Many-Bears Grinder and Major General Terry "Max" Haston of the Tennessee Military Department to pay tribute to seven service members killed in action to include four Marines and one Sailor killed in Chattanooga on July 16th, 2015.
«Read the rest of this article»
Employers in Middle Tennessee Lead the State in Job Opportunities

Nashville, TN – The Tennessee Department of Labor & Workforce Development (TDLWD) reported Friday almost 200,000 jobs were posted on the Jobs4TN.gov website in April 2016.
That marks a record number of job opportunities employers across the state have advertised on the site.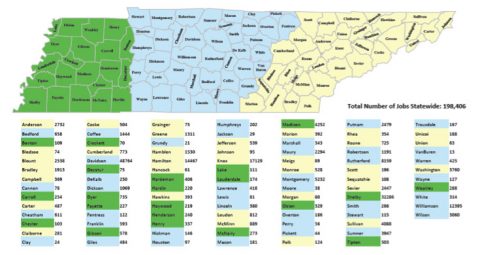 «Read the rest of this article»