Topic: Brian Prentice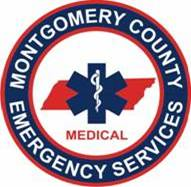 Clarksville, TN – Wednesday morning, around 9:45am at the EMS Station 23 across the street from the Hilltop Market at 385 Highway 149, a member of the on duty EMS crew smelled smoke, and when checking for the source found the garage where their ambulance was parked engulfed in flames.
As one of the crew responded to the fire, the other called for support from area Fire Departments; units from Clarksville Fire Rescue, Cunningham Volunteer Fire Department, East Montgomery Volunteer Fire Department, Palmyra Volunteer Fire Department, and the Woodlawn Volunteer Fire Department responded to help fight the flames which were under control within 20 minutes of the initial call being placed.
«Read the rest of this article»

Montgomery County, TN – The ten Reserve Deputies, out of a pool of 50 applicants, that were accepted into the Montgomery County Sheriff's Office program August 31st graduated the required 86 hour training course.
"These deputies donate their time to assist patrol, assist in extradition, service of warrants and more," said Sgt. Brian Prentice, who has been in charge of the program for 30 years, adding that they each pay $800.00 to become a reserve, as they have to buy their own equipment.
«Read the rest of this article»
The 29th Annual Oktoberfest brought to you by the Clarksville Edelweiss Club will be held on October 2nd (4:00pm – midnight) & 3rd (2:00pm – midnight) at 790 Economy Drive, off of Hwy 76, by I-24′s Exit 11. Load up the car, bring the whole family, and do the chicken dance with a 6′ tall chicken! Enjoy music by Pros't and Die Mitternachters. The Woodchopper Dancers from Toledo, OH will be performing several times each night. There are carnival rides for Kids of All Ages. This is your chance to experience the wonders of Germany right here at home in Tennessee! «Read the rest of this article»