Topic: Bridge Inspections

Nashville, TN – Tennessee Department of Transportation reports Thursday, July 12th through Wednesday July 18th (excluding weekends), from 9:00am-12:00pm, there will be one lane periodically closed on I-24 in both directions in Robertson and Montgomery Counties to move equipment between mile marker 18 and mile marker 12 in order to trim vegetation overhanging the roadway.
One lane will remain open. «Read the rest of this article»
Tennessee in Motion is a monthly column by Tennessee Department of Transportation Commissioner Gerald Nicely
As heavy rains fall on Tennessee, TDOT's bridge inspectors await notifications from an automated program called "Bridge Watch." Flooding can undermine the structural integrity of certain bridges in the state, so TDOT utilizes this program to alert the department of any potential problems with bridges due to heavy rains.
The most common cause of bridge failure is the undermining of a bridge structure because of scour. Scour is the erosion of a stream or river bed due to excessive stream flow. TDOT has classified 897 bridges in Tennessee as scour-critical, which means bridges could experience a catastrophic failure or become structurally unstable as a result of a destructive flood event.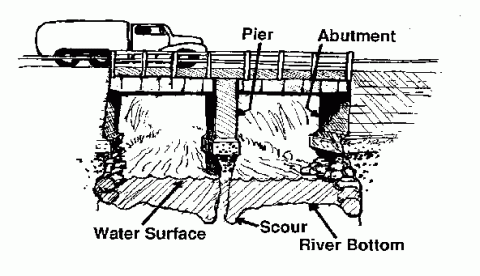 «Read the rest of this article»